Speed, content, Internet penetration, more languages, better platforms, hi-res screens — Indians want it all

Roopinder Singh
TECHNOLOGY transforms lives and as we look at the year ahead, we see many ways in which it will make inroads into the way we live our day-to-day life. Most Indians own a mobile phone, 70 per cent according to one estimate. Indian mobile phone rates are among the lowest in the world, and thus we expect even more value-added services. Only what people will find useful will survive, not bloatware. On the other hand, mobile phones will provide the needed fillip to increase the digital penetration of the vernacular market. Growth will be increased by reaching out to the users in their languages.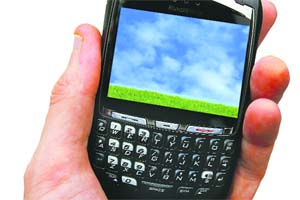 e-books will make a huge progress. More and more dedicated devices are making inroads. The Indian offering Wink competes with a plethora of imported devices, including the Apple iPad, Kindle, Nook and Sony e-reader, all of which are available here. Wink had the added advantage of offering content in 14 Indian languages! As cell phones become smarter, they are going to be used also as e-book readers, further adding to the appeal of these e-books.
Indian language content will also become less of babble because of increasing adoption of Unicode standards which will make the electronic content generated in these languages accessible to various computers and other devices. Till now, the penetration of Indian languages has been low. So far Hindi has 57,823 articles, Telugu 45,963, Marathi 31,400, Tamil 25,263, Gujarati 17,142 and Malayalam 14,830. Punjabi was an early mover, but not much content has been posted online.
An insurgency of the digital kind was unleashed by the WikiLeaks website. Its exposes embarrassed the US government, and many who dealt with them. The website has a huge trove of documents which it is threatening to release in the coming months. Wikileaks has changed the way diplomacy will be conducted, and even if it is shut down, expect something like it to come up in its place.
Net shopping is on the rise as Indians seek convenience and bargains online. The Indian Railways' website for online booking of tickets was the top travel website in India, with 77 lakh visitors last April. We book our cinema tickets online, have started doing our banking online, with increasing adaption and greater discounts, this trend will rise.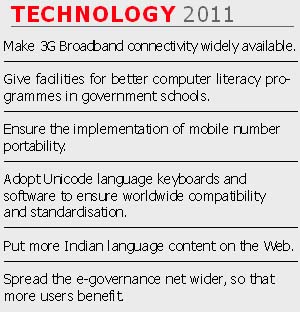 We admit that there are times when we have to move out of WiFi range, but rising prices, especially of petrol, have hit middle class homes hard. Many people want to go for the electric car option, and in the coming year, there will be many offerings. R
eva had an early advantage, but could not muster the numbers. With Mahindra coming in, Reva will get a fillip and provide a green and cheap mode of transport for Indian commuters. Expect new models from them and other electric car versions from established internal combustion engine players like Hyundai, GM and Tata.
We already have the building blocks of our cyber future; we will get better computers, more engaging games and more informative software in the coming year. The Internet, already a part of our lives, will become indispensable; even those people who do not have access to it will use it, through others.
This article on Technology was printed in the New Year Supplement of  The Tribune titled 2011 The Year of Reckoning. If you haven't read it, please click here to read this really great edition.