Kairon: Punjabi dynamism, American accent, lasting legacy

Roopinder Singh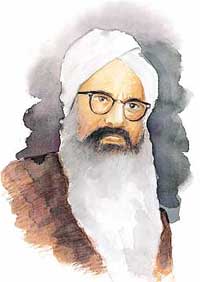 Sardar Partap Singh Kairon was born on October 1, 1901
IT was 1963. The occasion — the inauguration of the Bhakra Dam. Foreign journalists had been invited by the State government and were told that the Chief Minister of Punjab, Sardar Partap Singh Kairon, would address a press conference.
There was some of sniggering — Kairon was not known for his sartorial elegance or urban sophistication. People wondered how he would address the foreign reporters. At the press conference, the confident Kairon spoke in English with an American accent. At the end of the meet, one reporter got up and said: "We have been asking ourselves 'Who after Nehru?' Well, we have received an answer today."
This was one of the anecdotes that Sardar Hukam Singh, a former Speaker of the Lok Sabha, often narrated.
The foreign correspondents should not have been so surprised. Kairon, his appearance notwithstanding, was quite cosmopolitan. Khushwant Singh recollects when he asked Kairon the question about what men and which books had the most influence on him. Pat came the answer: "Abraham Lincoln, Lenin, Tilak, Gandhi, Patel and Nehru. As for the books, Uncle Tom's Cabin still remains my favourite."
But then Kairon was not someone you could slot easily. Partap Singh was born on October 1, 1901, in Kairon village. He was one of the five children of Nihal Singh, a retired soldier who was active with the Singh Sabha movement and was a pioneer of women's education. He founded a Sikh school for girls in his village, Kairon. Partap Singh did his schooling in the village, and then went to Khalsa College, Amritsar, from where he left for the United States of America in 1919.
Like most immigrants of that time, he had to work hard. He plucked fruit and worked as an industrial worker for the Ford automobile company. He also studied and was awarded a Master's degree in political science by the University of Michigan.
During his stay in the USA, he came in contact with the Ghadar Party activists. He returned to India in 1929, and for a while pottered around. He started a weekly paper in English, The New Era, from Amritsar on April 13, 1931, that was closed down when he became active in politics.
Kairon joined the Akali Party initially, but later changed over to the Congress and was jailed on three occasions. He spent a total of five years in jail.
He entered the Punjab Legislative Assembly as an Akali nominee in 1937, defeating the Congress candidate, Baba Gurdit Singh of Sarhali. Kairon was a member of the Legislative Assembly of Punjab for 26 years. From 1947 to 1949, he was a minister in the Gopi Chand Bhargava's Cabinet and from 1952 to 1956, was a minister in the Bhim Sen Sachar cabinet. On January 23, 1956, he was sworn in as Chief Minister, and shortly thereafter again in April 1957. He held the position for eight years.
As Professor Harbans Singh says: "First as the Development Minister and then as the Chief Minister, Partap Singh Kairon led Punjab in all-round progress and change. Much of his work in the government was concerned with vital details, the removal of hurdles, the creation of opportunities and the psychology and will for work, and the belief in change."
He did singular service in resettling refugees from East Punjab and during his tenure Punjab made significant progress in creating educational, medical, and other infrastructural facilities. His special contribution was in the field of consolidation of fragmented land and creating an irrigation network, both through canals and tubewells. On a different note, he was responsible of affecting an attitudinal change in the popularising of rearing and consumption of poultry in Punjab.
As Kairon said during a debate in the Punjab Vidhan Sabha on September 18, 1963 on the no-confidence motion moved against him: "Mr Speaker, the per capita income of Punjab was Rs 321 in 1952-53 when the Constitution commenced and the new government came into power. At that time the country's per capita income was Rs 256 which means that our income was Rs 65 more than the all-India figure. Our per capita income rose to Rs 331 by 1955-56. Whereas, our income was Rs 65 more than the All-India (in 1952-53), it was Rs 75 more than the national figures in 1955-56. This means that the difference had increased by another Rs 10.
"Punjab's per capita income in 1961-62 was Rs 401 as compared to India's average of Rs 293. How come that I have done all this? This party and its government have achieved this after channelising people's energy. People have been given land, electricity, factories and roads."
He was bitterly opposed to the demand for Punjabi Suba and faced various kinds of communal tensions as Chief Minister without conceding much and without compromising on his basic principles. He was a man of vision. Many houses in Leh have Kairon's portraits. He is credited with having provided roads and introduced potato cultivation, thereby significantly improving the local agrarian economy there.
Kairon was a man of the masses who would often enquire from his visitors the health of their family members as well as that of their livestock, not necessarily in that order. At the same time, in a special commemorative issue of Quami Ekta, Balwant Gargi recollects that he spent a long time with Kairon discussing the former's tour of Japan, the USA, England and Europe where Gargi had been lecturing on Indian theatre.
This was the time when Kairon was very busy because of the war with China in 1962. He made singular contribution in mobilising the masses and in gathering gold from the villagers for the national war effort. In fact, Punjab made the biggest contribution of gold to the national treasury. He was also an institution builder. The Kurukshetra University, and Punjabi University, Patiala, owe their existence to him.
Jawaharlal Nehru said about him that: "In terms of patriotism, initiative and public spirit, in my considered judgement, in the whole of India there is not another man who can measure up to Sardar Partap Singh Kairon." The same man during the fag end of his life had to face charges of irregularities and corruption that ultimately forced him to leave office in 1964. The commission of enquiry exonerated him in most cases. But some of the allegations stuck.
He continued to be involved in public service and might have staged a comeback had he not been shot dead by gunmen on February 6, 1965.
Kairon was a multi-faceted personality. He had a larger-than-life image that influenced the shaping of the then Punjab in numerous ways. In developing Chandigarh as the new capital of the partitioned Punjab, for example. Old-timers particularly remember the fight he had with a venerable politician from what became Haryana about the importance and feasibility of Sukhna Lake.
His contribution in the development of PGI, despite opposition from senior members, is also recollected. He is also credited with the development of Faridabad as an industrial hub, the first example of someone exploiting the periphery of the national Capital.
Some old timers treat Kairon as a living entity. His memories are still alive in their minds. His legacy at least is still alive in Punjab and Haryana. More than 36 years after he died many lives are still impacted by what Kairon did. What more could a man want as an epitaph?