Here was a man who had risen from a small village, Gah, now in Pakistan, right to the top of the power pyramid. His two terms as Prime Minister placed him in history books for achievements that were aplenty. But these will be haunted by the failures of his government and the taint all around him.
Last Word
by Roopinder Singh
THE BJP swept him out of power even as his bags were packed well before the poll results came in. One of the things he was most concerned about was which books to take with him to his new house. He continued working till the last day, and said he had no plans to take any holiday once he demitted office. Why, his family remembers him taking a holiday only once in his life!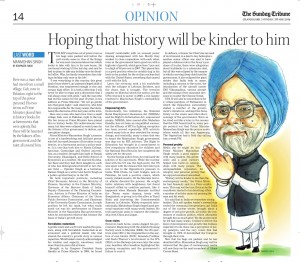 "I owe everything to this country, this great land of ours where I, an underprivileged child of Partition was empowered enough to rise and occupy high office. It is both a debt that I will never be able to repay and a decoration that I will always wear with pride," said the man who had led the nation for the past 10 years in his address as Prime Minister. "Do not go gentle into that good night," said observers, who held him responsible for the many scams that dominated the discourse of the last years of his term.
Here was a man who had risen from a small village, Gah, now in Pakistan, right to the top. His two terms as  Prime Minister have placed him in history books. His achievements were many, but they were eclipsed in recent years by the failures of his government to deliver, and corruption charges.
Prime Minister Manmohan Singh's journey is one of a hardworking and brilliant person who left his mark because of his talent in academics, as a bureaucrat and as a policy-maker. It is one that took him to Hindu College,
Amritsar; Cambridge and Oxford universities, as a student; brought him back to Panjab University, Chandigarh, and Delhi School of Economics as a teacher. He married Gursharan Kaur and they had three daughters, each of who has distinguished herself in her chosen field — Upinder Singh as a historian, Daman Singh as a writer and Amrit Singh as a public-spirited lawyer in the US.
He held important positions, including Chief Economic Adviser in the Ministry of Finance, Secretary in the Finance Ministry, Governor of the Reserve Bank of India, Deputy Chairman of the Planning Commission, Adviser to Prime Minister of India on Economic Affairs, Chairman of the Union Public Services Commission, and Chairman of the University Grants Commission. In each position he left his mark, but what really stood out was his performance as Finance Minister in the Narasimha Rao government, when he introduced reforms that became the basis of India's growth story.
Formidable credentials
A gentle smile and a soft voice marked his presence, along with formidable credentials as an economist and a political leader who had steered the country's growth story in various capacities. World leaders warmly acknowledged his wisdom and sagacity, sometimes much more than his peers did at home.
Brought in by Congress President Sonia Gandhi as Prime Minister in 2004, he found himself comfortable with an unusual power sharing arrangement with her. Mostly they worked in close cooperation with each other, even as the government had a good run with a high rate of growth, which grew from 7 per cent to a high of 9.6 per cent in 2007. This placed him in a good position when he notably dug in his heels as he pushed for the civilian nuclear deal with the United States, something that caused a rift with the Left.
Later, the economy took a hit worldwide with the collapse of Lehman Brothers, and the chaos that it brought. The terrorist attacks on Mumbai shook the nation, yet the UPA returned to power in 2009, a win largely credited to Manmohan Singh's stewardship of the government.
Empowering Acts
Domestically, two initiatives, the National Rural Employment Guarantee Act (NREGA) and the Right to Information Act, empowered people. NREGA, later named after Mahatma Gandhi, has not been an unqualified success; but the efficacy of RTI in fighting corruption has been proved repeatedly. RTI activists scored many hits as they searched for wrongdoings, and ironically, many a scam that was to haunt the Manmohan Singh government was dug out by RTI activism. The Right to Education Act brought in a commitment to free compulsory education for children and the National Food Security Act completed the safety net for the poor.
On the foreign policy front, he continued the policies of his successors. While the nuclear deal with the US was the high point, the US was upset with the clauses that were later put into it due to the Opposition's pressure in India. With China, he built bridges, and on Pakistan, he took a positive stance, which nearly yielded results, till the Mumbai terrorist attacks derailed the process. He sought better relations with neighbours, but found himself stifled by coalition partners, like it happened when Mamata Banerjee scuttled the Teesta water sharing treaty with Bangladesh, or giving in to the allies in Tamil Nadu and boycotting the Commonwealth Summit in Colombo. Widely respected internationally, Manmohan Singh forged good personal equations with many world leaders. He took particular pains to improve the relationship with China and Japan.
Scam stains
However, back home, scams dogged his government. Beginning with the Adarsh Housing Society scam in Mumbai (2008); the 2G spectrum scam (2011); the irregularities in the auction of coal blocks (2012); Sunanda Pushkar and Sashi Tharoor's involvement in the IPL (2013); or the Railways job scam later the same year, headline after headline highlighted the growing corruption and the government's failure to curb it.
In defence, a former Air Chief was accused of involvement in a deal to buy helicopters, another senior officer was said to have played a dubious role in the Army's purchase of trucks, there were allegations about kickbacks in a submarine deal, but all this was eclipsed by the manner in which a serving Army chief sued the government. It also eclipsed the giant strides that India took in space, including a mission to the moon, the introduction of the aircraft carrier INS Vikramaditya, various aircraft and the raising of two mountain divisions to counter the Chinese threat.
UPA II will also be remembered for a virtual paralysis of Parliament in which the Opposition successfully stalled a number of the government's initiatives, and kept the focus firmly on the scams and other shortcomings of the government. Even as he stood out like a lotus in the morass that the UPA found itself in, many people pointed out that Prime Minister Manmohan Singh was the person under whose watch all this was happening. The Opposition had a field day calling him a weak PM.
Personal probity
Media shy he might be, but Prime Minister Manmohan Singh struck a good rapport with many leaders. His gentle smile and a good memory helped him build on relationships with many people. The unimpeachable reputation for integrity and personal probity that he enjoyed remained unscathed.
"History will be kinder to me than the contemporary media," the Prime Minister had famously said in a Press conference. This may well be true. Even as he the countdown started to his demitting office, a number of articles came out praising the man and his work.
It is said that in India we remember strong leaders. This soft-spoken leader's stewardship cooled the communal temperatures, got India out of the nuclear winter, brought about a degree of inclusive growth, all within the constraints of coalition politics, which ultimately brought him so much grief. Yes the government he led had many scams, it failed to deliver the kind of development and growth that Indians expected it to do, there was a perception of policy paralysis, and the very voters that had brought in UPA II demolished the Congress through their vote.
Now that his bags are packed, and he has demitted office, Manmohan Singh may well be relieved that the gaze of contemporary media will now focus on the next incumbent of 7 Race Course Road.
This article was published in The Tribune on May 18. Illustration by Sandeep Joshi