profile by Roopinder Singh
SHE has worked hard to make history interesting-when she found that her lectures reached only a few who attended her classes at St. Stephen's College, Delhi. She reached out to a wider audience by writing a book, and another, and more, including one specifically to make history interesting to children, Mysteries of the Past: Archaeological Sites in India (National Book Trust, 2002). Upinder Singh, the co-winner of the Infosys Prize in Social Sciences: History, is indeed an outstanding historian of ancient and early medieval India. She was selected by a jury headed by the Nobel Laureate Prof. Amartya Sen.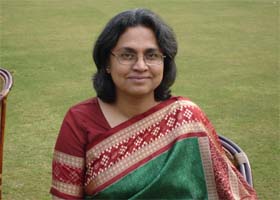 The prize has been launched by the software giant to honour "outstanding researchers who will make a difference to India's future", and the annual award for each category is Rs 50 lakh, which in this case will be shared between her and her co-laureate, Prof. Abhijit Banerjee, Ford Foundation International Professor of Economics at the Massachusetts Institute of Technology, Cambridge, USA, who won it for the category of Social Sciences: Economics.
Upinder Singh's first book, Kings, Brahmanas, and Temples in Orissa: An Epigraphic Study (AD 300-1147) published by Munshiram Manoharlal, 1994, was based on her doctoral thesis which she had earned at McGill University, Montreal, Canada.
A volume, Ancient Delhi (Oxford University Press) followed in 1999. Her recent books include The Discovery of Ancient India: Early Archaeologists and the Beginnings of Archaeology (Permanent Black, 2004); Delhi: Ancient History, edited by her, (Social Science Press, 2006), A History of Ancient and Early Medieval India: from the Stone Age to the 12th century (Pearson Longman, 2008).
As the citation of the Infosys Prize says: "Professor Upinder Singh is being recognised for her rich contributions as an outstanding historian of ancient and early medieval India. Depth and breadth of her scholarly research are matched by a rare ability to communicate her findings to a broad audience of students and intellectually curious non-specialists."
A student of History Honours at St Stephen's College, Delhi, Upinder Singh did two postgraduate degrees, an M.A. in History and an M.Phil. in History, both from the University of Delhi. She completed her Ph.D at McGill University and came back to teach at St Stephen's College, before joining Delhi University.
She is a recipient of the prestigious Daniel Ingalls Fellowship at the Harvard-Yenching Institute, Harvard University (2005). In 1999 she was awarded the Ancient India and Iran Trust/Wallace India Visiting Fellowship to pursue research in Cambridge and London. During this period, she was also a Visiting Fellow of Lucy Cavendish College, Cambridge. In 1985 she was awarded the Netherlands Government Reciprocal Fellowship to pursue research at the Instituut Kern, Leiden. She is the National Co-ordinator for History at the Institute of Life Long Learning at the University of Delhi, which aims at creating a large corpus of high quality and exciting e-learning material for undergraduate students all over the country.
Her many students testify that she has "inspired and trained a younger generation of historians to adopt innovative methods in the study of early Indian history. A wonderfully creative historian, Singh is a key figure in rejuvenating the study of early history and archaeology in India."