The Sacred Grove
By Daman Singh
HarperCollins.
Pages 237. Rs 200.
Reviewed by Roopinder Singh
ASHWIN is smart, young, opinionated, and confused-a bundle of contradictions, that is, a teenager of today. He lives in a small town, and is the son of a 'big' man, the district collector. As for his mother, we are soon informed that he is expecting. Soon after she realises that she is pregnant, she goes about "as thought she has been dropped from the Indian cricket team," says the first-person account of the youngster.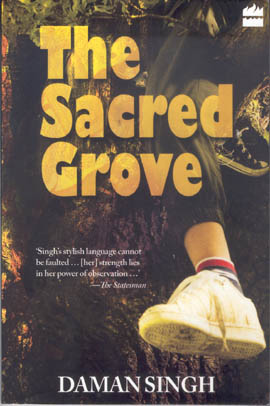 Welcome to the world of a 13-year-old, as envisioned by Daman Singh. The author, a student of mathematics, now writes works of fiction.. Ashwin's world revolves around his parents, servants and friends, in that order. Like many children, he doesn't see his Papa much during the day. "He was asleep when I left for school. I was asleep when he came home from office."
He aims to master 'Counter-Strike', a video game in which players join either the terrorist or counter-terrorist team. "Of course, we (his best friend Ravi and him) decided to be terrorists." Both teams try to complete their respective missions while getting rid of the other team. The game has been gifted to Ravi by his parents for Children's Day.
"Naturally, my parents gave me nothing," says Ashwin who cracks the game in three hours and becomes a hero in the eyes of his classmates, his victory telegraphed over the grapevine with such efficiency that he starts receiving congratulatory calls by the time he reaches home.
While he can crack 'Counter-Strike', he needs help in cricket, which the staff at home is ready to provide, by bowling to him all the time so that he can bat. His driver, Rafiq, puts him in place and among the fielders for the first time. Rafiq also helps him with the game. They become friendly, and this results in his playing a major role in Ashwin's growth.
Ashwin's cocooned existence unravels as he grows up and spends more time with his friends, his visiting aunt and even his driver. Obviously, while solving mathematical equations and building statistical models, the author retains a keen sense of awareness about her surroundings, and thus there is an authentic feel about the book and its description of a small town. The main characters are wholesome and we tend to identify with them quite easily. Rafiq, Ravi, Ganesh, Soma, Gloria, Sadhna Ma'am, Ram Singh, Mishra the SP, we have met them all in our lives.
The author introduces us to the mysterious Sacred Grove, which Ashwin sees for the first time in the company of his friends. It becomes a school project for them and soon thereafter a flashpoint of violence for the local administration, which means his father, and the new SP.
How the idyllic setting of the town in which Ashwin is the crown prince is disturbed can well be a metaphor for the nation as the venue of an innocent excursion into the wild becomes a communally charged hotspot, which is exploited cynically by the politically ambitious. Along the way, some lives are lost, much property is burnt and looted, and the lives of many are scarred. Rafiq's brother, the physically-challenged Rehan, who had also become Ashwin's friend, is also killed in the subsequent violence.
When Ashwin seeks to understand the riot that has taken place, his father tells him: "Some people believe that other people are different. They consider themselves better than the others. They think that they deserve more than others. And they need to prove this to everyone, especially to themselves. A small problem between the two sides becomes a big problem. And then things like this happen."
In the book, we see Ashwin as a rebellious and caring son, a loyal friend with streaks of pettiness, an indifferent student with flashes of brilliance, a nerd with love for cricket-in short as the kind of a youngster who we are all familiar with.
Ashwin's tantrums and how his parents deal with them, the secret hideout, jealous friends, boring elders, the coming-of-age story of the book has it all. What raises it above its genre is the substratum of social tension that runs through it. Through the protagonist, the author says a lot as she explores relationships, inter-religious interaction, and the working of the bureaucracy.
The 13-year-old can see a lot of that is going on around him, and through his eyes, we see a lot. Spending a few hours with Ashwin is a good idea. You may even want to visit his world again. I do.
The review was published in the Spectrum section of The Tribune on August 22, 2010.
Please click here to read a review of Daman Singh's earlier book Nine by Nine.