Arjan Singh DFC: Marshal of The Indian Air Force
By Roopinder Singh, 2002. Pages 88.
Rupa & Co, New Delhi 110 002, India
Review by Dr. I. J. Singh
Of the multitude who strut across the world's stage prancing as heroes, few really have what it takes. Air Marshall Arjan Singh belongs to the small band that has the right stuff, so he has deservedly become a legend in his own lifetime.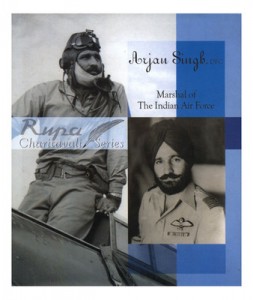 Arjan Singh has been honored by two nations — Great Britain where he earned his wings and India whose Air Force he served for 30 years and shaped into a fighting force. He won the coveted Distinguished Flying Cross barely five years out of flying school at the young age of 25. At his alma mater, the Royal Air Force College, Cranwell, Marshall Arjan Singh has taken the salute of the passing out parade twice. He served India, whose Air Force he commanded in the war against Pakistan in 1961, and was awarded the Padma Vibushan for his command and courage. India's victory in that war was in so small measure due to the heroism of its Air Force and the vision of its Air Chief Marshal, Arjan Singh. But for some obscure reason he had to wait until 2002, fully 33 years after retirement, to be accorded the highest honor that a grateful nation could bestow – the rank of Marshall of the Indian Air Force. Such are the ways of politics and bureaucracy of India.
In his 30 years with the Air Force, Arjan Singh flew just about every plane that India had in its arsenal – from the Westland Wapiti to the much-vaunted Soviet MIG-21.
The colorful flyer Arjan Singh can also boast of an equally enviable post- flying career. He served ably as the Ambassador to Switzerland with concurrent accreditation to the Vatican. He followed this by a stint as High Commissioner to Kenya and to Seychelles at a particularly critical time when Idi Amin ruled neighboring Uganda. He was appointed member of the Minorities Commission and later as Lieutenant-Governor of Delhi.
A distinguished man, a real hero, a life lived — and all very ably documented by Roopinder Singh in very readable style, for which he deserves immense thanks and acknowledgement.
The book is apparently one volume of a series called "Charitavali Series" by the publishers, Rupa & Co. They briefly present the lives of great kings, leaders — indeed the movers and shakers — of India It is an ongoing project and the 19 books in the series include those on Akbar, Amrita Shergil, Ashoka, Rabindranath Tagore, Mother Teresa, and M S Subbulakshmi…. If others in the series are similar to this book, they will be rousing and stimulating to the young. And that seems to be the purpose of these small books. An eminently attractive and useful project. I couldn't help thinking that the subject (Marshall Arjan Singh) has depth of character and complexity of achievement that are touched upon but not explored in detail.
As examples I point to his sojourn as Lieutenant-Governor of Delhi, and a few years earlier his futile efforts to convince the Indian government to undertake active measures to restore peace in Delhi in November 1984, when thousands of Sikhs were killed in a 3-day murderous frenzy. Marshall Arjan Singh drops cryptic comments and hints about the inexplicable behavior of politicians; I wish they had been further explored. I want to know what makes the man tick, what really turns him on and what can get his dander up? What touches his soul and what turns his stomach? And there must have been occasions for both in his enviable life.
Roopinder Singh, I know, has the talent and the instinct of an investigative journalist. In this book he does not go into as much detail as I would like. But perhaps I am being unjust; it does not appear to be his mandate for this small inspiring and stirring book meant for young readers.
Roopinder writes well and smoothly. He captures the readers and holds their interest. He does justice to his subject. I wonder if he would consider an enlarged, companion volume that probes Marshall Arjan Singh underneath the stiff upper lip and his formidable military aura. Serious readers of Indian political bureaucracy or military history would welcome it and learn something.
The book is marvelous for young readers, but it left me hungering for more.
I. J. Singh
New York University
September 29, 2002
This review was published in The Sikh Review, Calcutta.
Dr. I. J. Singh is Professor and Coordinator, Anatomical Sciences, New York University. He is also the author of four books on Sikhism.