The Tribune-Chandigarh Plus

Scholars speak of returning to teachings of great Gurus
Tribune News Service
Chandigarh, April 12
UT Administrator Gen S F Rodrigues (retd) releases the Hindi translation of 'Guru Nanak: His Life and Teachings' by Roopinder Singh (extreme right) along with Mr H K Dua, Editor-in-Chief of The Tribune (extreme left) and eminent historian Dr B N Goswami.It was an august gathering that came together for the release of the Hindi translation of Roopinder Singh's 'Guru Nanak: His Life and Teachings' by UT Administrator Gen S F Rodrigues (retd) today at the Government Museum and Art Gallery, Sector 10.
In the presence of scholars and city stalwarts, the honoured guests on the dais spoke of the urgent need to return to the teachings of our great masters.
"We must take joy in the fact that we are uniquely Indian and the time has come for us to get back to the values that evolved from our own culture because we are truly a special people," said Gen Rodrigues.
Stressing on the need to get involved in "the revolution of a new resurgent India", he went on to explain that it was imperative to introspect and search within ourselves and give practical shape to the ideologies of the great saints like Guru Nanak Dev.
Guru Granth Sahib, he said, contained more seminal truth, spiritual value and humanism than any other book in the world and that needed to be imbibed.
Also speaking on the occasion, Mr H K Dua, Editor-in-Chief, The Tribune group of publications and also the guest of honour at the function, underlined the importance of tradition. "Every parent passes a message to their child. The message speaks of love, of humanity. But as one grows older, it is not the message which loses its relevance, it is we who forget it and cannot rise above our egos, individual or collective."
The message, he emphasised, was simple but it is we who complicate our lives. "Guru Nanak Dev never went to any university but he gave us the greatest truth and the book released today is significant for that. It does not belong to any one religion and we need to realise that."
The historical relevance of books like these came from eminent city-based historian, Dr B N Goswami who highlighted the importance of the visuals in the book. "The principle source of our information, visually, is the Janam Sakhis because faith is greater than history," he said.
It is not the quotations that will come out when you talk to people about Guru Nanak Dev, but the stories and that is valuable. It is a visual documentation and Roopinder's book brings a large number of images to the common man which help in making the simple message of Guru Nanak Dev accessible to people, he reiterated.
Overwhelmed by the spontaneous response to the book, Roopinder Singh said he was "very grateful" and the "release of the book came with a lot of emotion".
And taking note of Mr Dua's suggestion of bringing the book out in more languages, he said that a Punjabi translation was being worked upon.
The morning had a special piety to it for the legacy of love that Guru Nanak Dev spread so long ago seemed to come back and envelope the gathering, as it continues to do for those who live the faith.
This news item was published in The Tribune on April 12, 2007
The Tribune: Lifestyle
Legacy of faith
Gayatri Rajwade
A city-based author narrates Guru Nanak's message in a simple and contemporary way
He grew up surrounded by the teachings of Baba Nanak but when he finally sat down to write his book, 'Guru Nanak: His Life and Teachings', it was a bindaas author approaching his typewriter!
Senior journalist and writer Roopinder Singh has come a long way since then. Today, at the launch of the Hindi translation of the same book, it was an emotionally overwhelmed author who took to the dais. The memories engulfing him were of his father, the eminent Sikh scholar Giani Gurdit Singh, who passed away in January this year. "I am grateful to my father who put me on this path and to my mother who shaped me into what I am today," he said.
The book which first came out in English in 2004 has gone in for a second edition and after the Hindi translation that was released today; a Punjabi translation is on the cards next. However, the book actually happened quite by chance, "I had just finished writing a biography on Marshal of the Indian Airforce, Arjan Singh, DFC, when the publisher, R K Mehra of Rupa came up to me and said I was to do a book on Baba Nanak for them," he recalls.
The rest as they say is history, but not before Roopinder's mother looked disbelievingly at the enormous task that had been undertaken. "She went to her library and took out 32 books from her personal collection and told me do the basic reading before discussing anything with her," he laughs.
While the 'compulsory' reading was not too difficult, it raised more questions than it answered. The quest was simple, to communicate Guru Nanak's message to a contemporary audience in a simple way. But, was there a need for another book? "Guru Nanak's message is eternal and it is as relevant to the world today as it was then; but the message needs to be told and retold a 1000 times and that is the only reason why another book on His life is needed," explains Roopinder.
He choose English as a medium of writing primarily because Roopinder felt what could he possibly tell Punjabis about Guru Nanak? However, the book has found its audience with the release of the second edition in English.
"I have made some changes but they are largely stylistic; certain concepts needed to be explained more clearly and now the book does not take anything for granted," he says. These changes have also been incorporated into the Hindi translation and Roopinder is quick to point out that no real corrections were needed except for a misplaced apostrophe in the English edition which he trusts the readers to find!
But, the real treasures in the book are the visuals. "It was important to have a visual element in the book to bring home the message more clearly and this is where the Janam Sakhis came in," explains Roopinder.
While, the line sketches are courtesy the museum in the city ('of Nain Sukh whose work is most powerful') the other coloured Janam Sakhis belong to Bhayee Sikandar Singh  Bagrain, a private collector.
Today, with reprints, translations, and the works in the offing, this author is working hard to keep two valuable legacies alive—one of the path his father put him on and the other of his father's passion for this faith.
This item was published in The Tribune on April 12, 2007
---
Guru Nanak in Hindi: Press coverage in English
The Indian Express had the following report: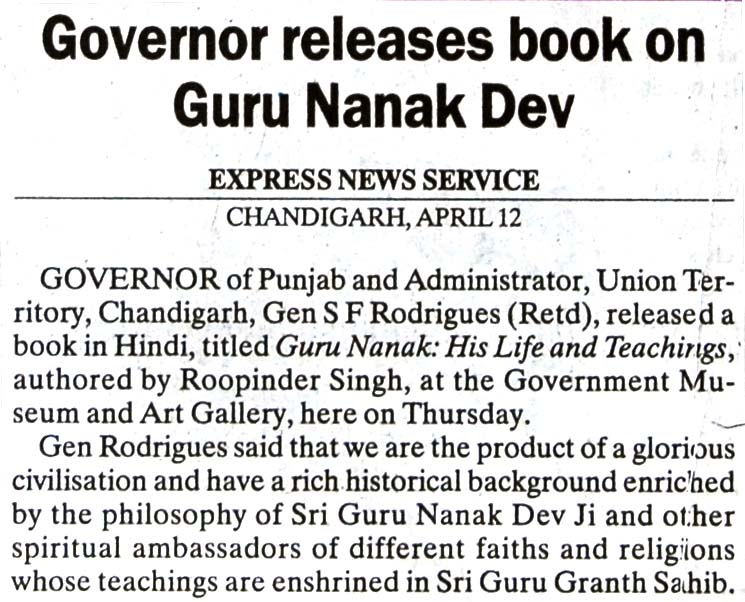 Governor releases book on Guru Nanak Dev
Express News Service
Chandigarh, April 12: GOVERNOR of Punjab and Administrator, Union Territory, Chandigarh, Gen S F Rodrigues (Retd), released a book in Hindi, titled Guru Nanak: His Life and Teachings, authored by Roopinder Singh, at the Government Museum and Art Gallery, here on Thursday.
Gen Rodrigues said that we are the product of a glorious civilisation and have a rich historical background enriched by the philosophy of Sri Guru Nanak Dev Ji and other spiritual ambassadors of different faiths and religions whose teachings are enshrined in Sri Guru Granth Sahib.
The following item was published in Simplicity.
Spreading the word
Roopinder Singh's Guru Nanak His Life & Teachings has now been translated into Hindi. Up next, a Punjabi version.
To reach to a larger audience, the younger generation, even children, and communicate simply and in a contemporary fashion, the life and teachings of Guru Nanak, prompted Roopinder Singh to write, a beautifully illustrated book, Guru Nanak His Life and Teachings (published by Rupa & Co.) back in 2004. And now, the Hindi edition of the book has been released, simply for the same purpose, to spread the word further. "The book has done wonderfully well outside Punjab and Rupa felt that through a Hindi edition, we would be able to reach out to more readers," explained Roopinder, at a release function. In fact, readers can also look forward to a Punjabi edition of the book soon.
As to why it was not done in Punjabi first, Roopinder says he initially felt what could he tell Punjabis about Guru Nanak and so, the non-Punjabi reader was his target audience. "But when I began the extensive and hard research, I realised there was al lot of confusion even about the basics as there was lot to know about him and so, I went back as far as possible". For the Hindi edition, which is the work of three translators, some additions have been done in the form of interaction with people and also inputs by NRIs, to make it more universal and it took about a year to translate it from English to Hindi. Special stress has been laid on discussing the morning prayers, Japiji, establishment of sangat and langar and the Guru's message for improving the status of women.
Guru Nanak, founder of Sikh religion, was born in 1469 and declared that there was only one God and travelled far and wide to spread the word. The book comprises detailed maps of the Guru's travels and visuals, reproductions of rare 18th century Pahari miniature paintings and a series from a 19th century janamsakhi, that has never been published before. "All captions are highly descriptive, while footnotes act as hyperlinks", explains Roopinder, who describes the writing of the book as a fulfilling journey, an edifying experience.
---
Rodrigues releases book on Guru Nanak in Hindi

Times News Network
Punjab Governor and Chandigarh UT administrator SF Rodrigues called upon people to go to their roots and rich traditions and to work together for building an new "Resurgent India" based on humanism, social equality, compassion, tolerance and harmonious living, as preached and practiced by Guru Nanak throughout his life.
Addressing a gathering after releasing a book title Guru Nanak: His Life & Teachings (Hindi) by Roopinder Singh, at Museum and Art Gallery, here on Thursday, Rodrigues said Indians are the product of glorious civilization and have a rich historical background enriched by the philosophy of great masters like Guru Nanak and other spiritual ambassadors of different faiths and religions. All these teachings profess the concept of oneness of mankind, inner transformation, reality of one god and selfless service to the needy.
Appreciating the reported move of reviving the glorious traditions of Nalanda University, Rodrigues said or is essential for us to evolve a supportive culture and impart qualitative education in our universities and educational institutions, based on moral, ethical and spiritual values to help the younger generations to be concerned and responsive citizen.
He said he has already asked the vice-chancellor of Guru Nanak Dev University, Amritsar, to conduct a study in this regard. Similarly, he has requested the vice-chancellor of Panjab University, Chandigarh, to identify retired experts, professionals and mentors to contribute in different fields of endeavour concerning society, through their expertise, knowledge and experience.
---
Nanak, as ever
Eternal are Guru Nanak Dev's words and his message. But today, more than ever, we need to reiterate his teachings. This belief was echoed at Government Museum auditorium where City journalist & writer Roopinder Singh's book Guru Nanak – Jeevan Aur Sikshaayein, a Hindi translation of his earlier published English book Guru Nanak -His Life And Teachings was released.
As Governor Punjab and Administrator, Chandigarh Administration Gen S F Rodrigues (retd) released the book, he reminded that we, the product of Macaulay's minutes of meeting, needed to take a re-look at where we were moving & how we'd evolved. It was time, he asserted, we reclaimed our ancient heritage & pedestal of our culture from where we had been dethroned.
Hailing Guru Granth Sahib as the book that contains more seminal truths and spiritual beliefs than any other, he underlined the significance to go back to basics of Nanak's thinking.
Guest of honour H K Dua, editor-in-chief, The Tribune too talked of how Guru Nanak Dev stood for love and more pertinently love for fellow human beings transcending the barriers of religion. He asserted that Nanak's message was simple. Only our lives today had become complicated as we were forgetting the values the great guru espoused.
Eminent art critic and historian Dr B N Goswamy professed that Nanak of belief and faith is different from Nanak of history and often faith is greater than history. He talked of janamsakhis, disputed and debated upon, but they remain extraordinary accounts. He referred to how one learns so much through images and Roopinder too has used several significant images in his book. The author, he held, had simplified the message that went with those images and made it accessible to us.
The writer himself stressed the urgent need to retell Guru Nanak's teachings, if possible, a thousand times. On the need for Hindi translations, he said since English edition had done well outside Punjab & fewer books on Nanak in Hindi were available, it was the right step. A Punjabi version too is on the way.
(NONIKA SINGH)