Farewell, Marshal
IAF's grand leader
Marshal Arjan Singh effortlessly transcended stereotypes. This teetotaller dapper fighter pilot was a soldier's General and also a successful diplomat.
Roopinder Singh
India has lost a great man. The Indian Air Force's only 5-star officer — a towering personality in all respects — Arjan Singh, DFC Marshal of the Indian Air Force, was a gentleman, soldier, and a diplomat. Above all, he was a leader who led from the front—in peace, war and even in philanthropy.
Arjan Singh effortlessly transcended stereotypes.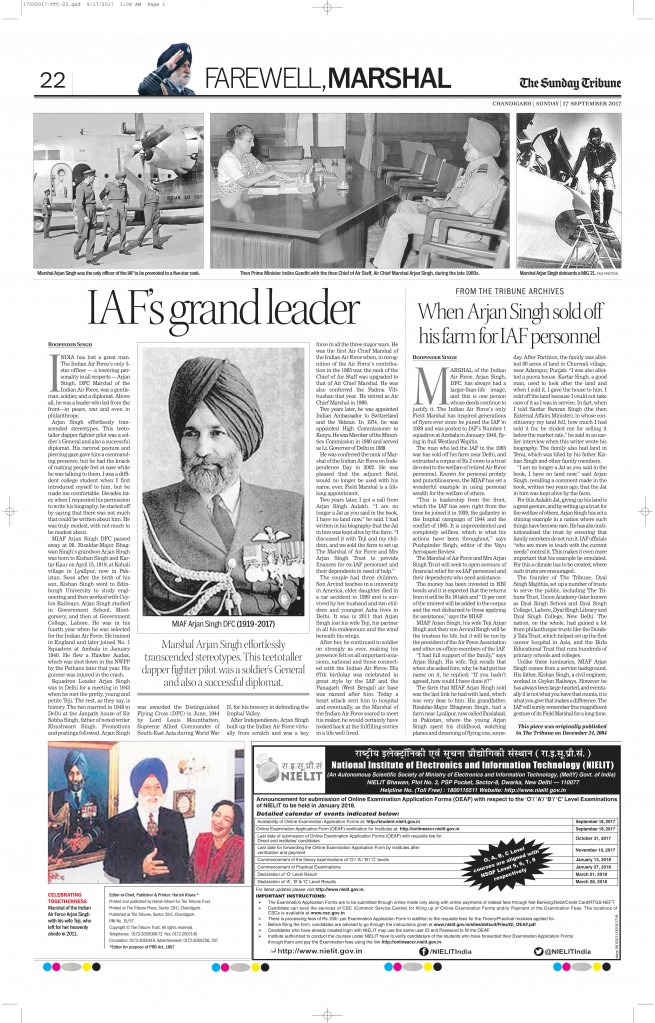 This teetotaller dapper fighter pilot was a soldier's General and also a successful diplomat. His ramrod posture and piercing gaze gave him a commanding presence, but he had the knack of making people feel at ease while he was talking to them. I was a diffident college student when I first introduced myself to him, but he made me comfortable. Decades later, when I requested his permission to write his biography, he started off by saying that there was not much that could be written about him. He was truly modest, with not much to be modest about.
MIAF Arjan Singh DFC passed away at 98. Risaldar-Major Bhagwan Singh's grandson Arjan Singh was born to Kishan Singh and Kartar Kaur on April 15, 1919, at Kohali village in Lyallpur, now in Pakistan. Soon after the birth of his son, Kishan Singh went to Edinburgh University to study engineering and then worked with Ceylon Railways. Arjan Singh studied in Government School, Montgomery, and then at Government College, Lahore. He was in his fourth year when he was selected for the Indian Air Force. He trained in England and later joined No. 1 Squadron at Ambala in January 1940. He flew a Hawker Audax, which was shot down in the NWFP by the Pathans later that year. His gunner was injured in the crash.
Squadron Leader Arjan Singh was in Delhi for a meeting in 1943 when he met the pretty, young and petite Teji. The rest, as they say, is history. The two married in 1948 in Delhi at the Janpath house of Sir Sobha Singh, father of noted writer Khushwant Singh. Promotions and postings followed. Arjan Singh was awarded the Distinguished Flying Cross (DFC) in June, 1944 by Lord Louis Mountbatten, Supreme Allied Commander of South-East Asia during World War II, for his bravery in defending the Imphal Valley.
After Independence, Arjan Singh built up the Indian Air Force virtually from scratch and was a key force in all the three major wars. He was the first Air Chief Marshal of the Indian Air Force when, in recognition of the Air Force's contribution in the 1965 war, the rank of the Chief of Air Staff was upgraded to that of Air Chief Marshal. He was also conferred the Padma Vibhushan that year.  He retired as Air Chief Marshal in 1969.
Two years later, he was appointed Indian Ambassador to Switzerland and the Vatican. In 1974, he was appointed High Commissioner to Kenya. He was Member of the Minorities Commission in 1980 and served as Lt. Governor of Delhi in 1989.
He was conferred the rank of Marshal of the Indian Air Force on Independence Day in 2002. He was pleased that the adjunct Retd. would no longer be used with his name, ever. Field Marshal is a life-long appointment.
Two years later, I got a call from Arjan Singh Aulakh. "I am no longer a Jat as you said in the book, I have no land now," he said. I had written in his biography that the Jat in him was kept alive by the farm. "I discussed it with Teji and my children, and we sold the farm to set up The Marshal of Air Force and Mrs Arjan Singh Trust to provide finances for ex-IAF personnel and their dependents in need of help."
The couple had three children. Son Arvind teaches in a university in America, elder daughter died in a car accident in 1999 and is survived by her husband and two children and youngest Asha lives in Delhi. It was in 2011 that Arjan Singh lost his wife Teji, his partner in all his endeavours and the wind beneath his wings.
After her, he continued to soldier on strongly as ever, making his presence felt on all important occasions, national and those connected with the Indian Air Force. His 97th birthday was celebrated in great style by the IAF and the Panagarh (West Bengal) air base was named after him. Today a heart attack sent him to hospital and eventually, as the Marshal of the Indian Air Force soared to meet his maker, he would certainly have looked back at the fulfilling sorties in a life well lived.
This tribute was published in The Tribune on September 19, 2017