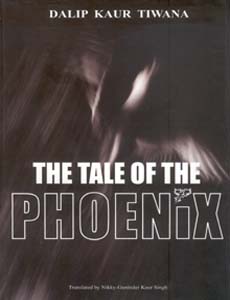 The Tale of the Phoenix
by Dalip Kaur Tiwana. Tr. Nikky-Guninder Kaur Singh. Unistar Books. Pages 104. Rs 195.
Review by Roopinder Singh
London is where Nirmal, the protagonist, lives with his family and Punjab is where his heart is. "I wonder about these desires that have led us so far from our homeland. Like birds, we have landed in alien countries, on alien soil. To make money? What our earnings, will we ever be able to return to our country? Will we ever return home," Nirmal asks.
Did he ever leave home? Through his wife, Kalian, and his daughter, Nehmat, affectionately called Neha, at home he has recreated a little Punjab, and it is in this geographical entity that his persistent attachments lie, in the form of his mother and his special teacher. Women dominate Nirmal's life, with whom we travel along a stream of emotions, both temporal and spiritual.
He appreciates his wife, without really understanding her. As he says: "Sometimes I think Kalyani is either very clever, or very naive. You won't believe it, I even tell her things that people would ordinarily hide from their wives. She smiles at everything I say, just like Mona Lisa. I can't make out if there is self-assurance, detachment, irony, helplessness, or all of these fused together in that smile."
The book is largely set in Patiala, the city to which the author belongs, and it recreates a world she is familiar with — that of academics. The novel, originally published in Punjabi as Katha Kuknas Di in 1993 by Navyug Publishers, has as its backdrop the troubled decades of the 1970s and 1980s when extremism raised its head. The novel won the Nanjanagudu Thirumalamba Award in Karnataka.
"Madam" has a different connotation in India and in the US, and translators have to keep cultural sensibilities in mind. One of the embarrassing encounters that this reviewer had in the US was an encounter with a woman employee of the Post Office in New York, who reacted rather violently to being addressed as "Madam", which to her was a pejorative term.
However, the translator, Nikki, who belongs to Patiala and has now made the US her home, has retained the expression as it is used in India, as a mark of respect, and her American collaborator, Elizabeth Siler, too has endorsed this decision. The predominant influence on Nirmal's life is his teacher and much more — Madam Bharati.
What starts as a student-teacher association becomes a deep relationship, one that many students will recognise — the idolising of the teacher, learning about life and relating to the world through the mentor — is a privilege many of us students have had and cherish still, decades later.
Nirmal is a caring person, who responds well to the interest that his Madam shows in him even as she teaches him English, and by doing small chores and being there for her, he begins to play a role in her life. Bharati, who has lost her father, lives with her mother, a brother Ravi and sister Guddi. With a broken engagement behind her, Madam is wary of getting into any relationship, but Nirmal manages to break down her self-imposed barriers with his persistence and sincerity, and becomes a part of the family.
Nirmal's life is in England, where he migrates and eventually raises his family. Here also lives Karminder, the man with whom Bharati broke her engagement because she did not want to live in England, away from her family. Ironically, Bharati's siblings too immigrate to England and Bharati is left back home, taking care of Aunt Gautami, a child widow, the daughter of their family priest. At one point, she marries a shady Professor Sayal who makes her life miserable, but gives her the joy of her life, her daughter.
Dalip Kaur Tiwana pens down a dark tale, but there is a strong spiritual content in it, both in the way Bharati lives, as well as in the teachings enunciated by Aunt Gautami. The women are strong, become role models and seem self-sufficient, but are they really? Why did Bharati marry so late? Is she as unselfish as Nirmal believes her to be? Are even these seemingly strong single women seeking what they give others—strength and support? Is the world of the non-resident Indians one of success in lands of opportunity or one where they still yearn to be in the land of wide meadows and the times of warm friendships?
Tiwana explores human nature, love and longing in this novel, and the translation reads well. It is fluent, while retaining the Punjabi flavour, for example, "her mother was a suicide". Katha Kuknas Di will now reach a wider audience, as it surely should.
The review was printed in The Tribune on March 1