Arjan Singh DFC – Marshall of the Indian Air Force
by Roopinder Singh. Rupa. Pages 88. Rs 95.
Review by Major General Himmat Singh Gill
IN these depressing days of a scam a day, a biography of a living legend of our armed forces, the first Marshal of the Indian Air Force, Arjan Singh, brings some hope that all is not lost yet. This intrepid soldier stands out as an example of how one man with his dignified behaviour and soldierly élan, can truly be called a leader of men and of a mighty force that he has so energetically lead with distinction in war and in peace over the last many decades.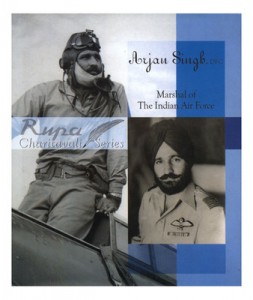 Roopinder Singh, now on the editorial staff of The Tribune, has put together a very readable account of an ace pilot who handled with distinction every assignment, be it in the Air Force, in the field of governance or in diplomacy. As Ambassador to Switzerland and the Vatican, and later as High Commissioner to Kenya, he rubbed shoulders with the high and mighty. Back home he served with the Minorities Commission of India and later on became the Lieutenant Governor of Delhi in the V. P. Singh government in 1989. While with the commission he said, "There were not too many problems of the Sikhs, since by nature they are problem-solvers themselves. However, I must point out that the Muslim community does have many problems of marginalisation". In 1984 when the anti-Sikh riots took place, he narrates that he, along with Kuldip Nayar and Patwant Singh, went and met President Zail Singh and asked him to call out the Army without delay. Arjan Singh says, "He (Zail Singh) attempted to contact the Prime Minister and the Home Minister but without success. Unfortunately, the deployment of the Army was delayed till the evening. As a result, many lives were lost. It was a politically inspired situation which went out of control by omission and commission and I do not blame any particular community for it". Polite yet firm, the Marshal has his own way of spelling out the truth. Ever a farmer at heart and a son of the soil, he, as the Lieutenant Governor of Delhi, ensured that the farmers whose lands were bought out by the builders and the Delhi Development Authority, were paid reasonable rates of compensation.
Born at Lyallpur, now in Pakistan, Singh was commissioned into the IAF in 1939, and shortly thereafter awarded the Distinguished Flying Cross in 1944 during World War II. He commanded the IAF station at Ambala and was the Deputy and Vice Chief of Air Staff, before being selected to command the elite Air Force in the critical days of the Indo-Pak war of 1965, when he was awarded the Padma Vibhushan. He retired from the IAF in 1969, but continued to lead an active life. In 2002, at long last, one has to say, because this recognition should have by right come to him much earlier (Manekshaw who was the COAS in the 1971 war became the Field Marshal well before Singh), this soldier-cum-diplomat was appointed the Marshal of the Indian Air Force. The NDA government did what the Congress governments should have done long ago. Roopinder Singh, in his taut and captivating account, written in simple yet effective prose, has brought centre stage a man who never asked for anything himself, not even the honorary Marshalship of a force that he had nurtured from its very inception in the early days in the NWFP, when the single-engined Wapiti aircraft that he so ably flew as a youngster, was the mainstay of the IAF.
Arjan Singh set exacting standards for his command, and sent home many who had not done well in the 1965 war. "You have to maintain discipline. If someone has done wrong, punish him, if he has done well, reward him", he states. How one wishes that some of our very senior armed forces commanders remember this piece of advice from a war veteran. There is no dearth of testimonials that Singh has earned from his superiors and peers. In 1965, Defence Minister Y. B. Chavan said while referring to him, "When he is asked to go on a new task, CAS walks as a dancing bird. A real fighting Sikh: and yet how soft and gentle". And then again Chavan said, "Air Marshal Arjan Singh is a jewel of a person; quietly efficient and firm, unexcitable but a very able leader". Recently, George Fernandes said about him, "The significant changes that you brought about in the structuring and functioning of the Air Force took it towards becoming a strong professional force. Successive generations of officers and men in the Indian Air Force have looked up to you as a father figure".
Some of the photographs from the Marshal's personal collection that appear in the book are, indeed, priceless. From his earlier days at the RAF Flying College at Cranwell in UK, to the active flying days with the fearless Baba Mehar Singh and Pritpal Singh, to the pinning of the DFC by Admiral Lord Mountbatten at the Imphal airstrip in 1944, and then in an achkan and chooridar pyjama with bride Teji on their wedding day, all bring to mind an active and energetic personality, who lived life to the hilt. Now that a beginning has been made with this book, this writer hopes that Arjan Singh will find time to pen down his memoirs in his own words for posterity.
A delightful read of a man who towers above most of today's Generals, Admirals and Air Marshals. And also above the majority of our politicians, who somehow persist in calling themselves leaders.
The review was published in The Tribune on Sunday, September 15, 2002