"There was that Mother (Mother Teresa) and there is this mother," said Raghu Rai at the end of "Hazaron Khwahishen  …."his lecture-cum-slide show in Chandigarh, recently. He was pointing to a lady in the audience who had commented on Rai's presentation. Her words had found much resonance with Rai and the audience, both, because of what she said and how she delivered her message.
* * *
Prime Minister Manmohan Singh was beaming, as any father would, at the success of his daughter, Prof Upinder Singh, who had released a book on Indian history at the Taj hotel in Delhi. As I congratulated him and his wife Gursharan Kaur, she asked me to convey her regards to my mother, her teacher.
* * *
I was preparing to deliver a lecture on the murals of Guru Harsahai when I looked behind my shoulder and saw my mother looking at me. No, not really, but it sure felt like that since her portrait hung over the wall behind me. She was the only woman among all other distinguished gentlemen, who had been Vice-Chancellors of Punjabi University, Patiala.
* * *
As I near five decades of living with the very visible presence of my mother, I have learnt to share her with others and realise how much this lady means to so many people whose life she touched as a human being and as a teacher. She is someone who has seen life change, and has transformed herself from someone who was a part of a purdah-practicing society to a leader who liberated herself from convention, in ways quite gentle, feminine and firm. In the process, she made many inroads into a world dominated by men, stood out as an achiever in her chosen profession of teaching where she rose to the highest possible position of a Vice-Chancellor, and then went on to blaze new trails as Chairman of Staff Selection Commission, New Delhi, again the first, and till now, the only woman to hold that position. For me, as I have seen my mother's journey unfold before me, it has been an experience of watching women's empowerment take place, both at home and among her many colleagues, students and friends.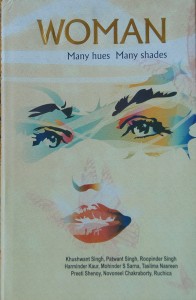 What I have seen around me has changed so much in the five odd decades of existence, but let's look at the world as it was for women about 90 years ago, when Inderjit Kaur Sandhu was born, to gain a better picture of where the journey started from.
What did you do if you were a woman born at that time?  If you were poor, you grew up, learned "womanly" skills like cooking, sewing, knitting, etc., got married and raised children. If you were from a rich family, you grew up in comfort, learnt how to behave like a lady, picked up conversational skills, maybe a bit of poetry and singing, were educated in the scriptures and …. got married, raised children…
Women's education in Punjab is old, the first boarding school for women opened in 1894 and a school for women was started in Barnala by Bibi Pardhan Kaur, daughter of Baba Ala Singh, the founder of the Patiala dynasty. The kings of Patiala had an interest in education and provided their capital city with fine educational institutions.
Inderjit Kaur was privileged in that her father, Col Sher Singh Sandhu, was a progressive and liberal person. He and his wife Kartar Kaur had celebrated his eldest daughter's birth with the same fanfare that accompanied the birth of a son in a feudal society.
Col Sher Singh had made a name for himself by opting for a career in the Army which took him and his family to remote regions, including the North-West Frontier Province and Peshawar. Like most Army children, Col Sher Singh's five children—two sons, Jagjit Singh and Gurmit Singh, and three daughters—lived in their hometown, Patiala, and the "family stations".
Although it was still rare, girls from 'good' families did go to school during those days, and Inderjit Kaur and her sisters Gurdev Kaur and Amarjit Kaur studied at Victoria Girls School, Patiala. Childhood was spent in idyllic surrounding of a loving family and a huge house with a garden full of inviting fruit trees.
After she earned her matriculation, it was time to pursue higher education, although her paternal grandfather advocated that the young, attractive girl be married off. The young Inderjit Kaur, with her father's support, asserted her right to study further and got her way.
By this time Col Sher Singh was posted inPeshawar, and his daughter went to Lahore, where she did her BT at RB Sohan Lal Training College. She earned an MA in Philosophy from Government College, Lahore. This was done as a hostel student, since her parents wanted the best facilities for their daughter, who was one of the first girls from Patiala to be so well educated.
The student became a teacher even before her results were out! Inderjit Kaur taught at Victoria Girls Intermediate College, which she officially joined on December 16, 1946, after her result was announced.
This was a time of flux and the idealistic teacher with a fiery spirit led her students to help out the families that were displaced a few months later by the Partition. There was an influx of refugees from the area that fell in Pakistan. Inderjit Kaur became an activist and helped form the Mata Sahib Kaur Dal, of which she was Secretary.
"With the active support of our chairman, Sardarni Manmohan Kaur, wife of Sardar Gian Singh Rarewala, we rehabilitated around 400 families at Patiala. For collection of money and goods, at first we would target our own families, friends and relatives and then we would go out and collect food and clothes…for many people we went to, it was a unique experience to see girls from "good" families asking for things from neighbours, acquaintances, friends and even otherwise unknown families for the people in need.  Initially we were embarrassed but we got over it because of our cause and the good we saw, we could do by distributing to the needy," she recollects. She even faced initial opposition at home, but as she says, it is not by rebelling that you get your way; it is by handling responsibilities and proving yourself that you pave your way to success.
The Dal even sent out four truckloads of such material to persons in Baramulla, Kashmir, where the Patiala Army had come to the rescue of the locals. She was instrumental in setting up the Mata Sahib Kaur Da School, Patiala, for mainly refugee children. "Since we saw how helpless women were, we organised training in self-defence for women refugees and took part in it…I topped the shooting competition," she recollects with a smile.
"Soon after Partition, I saw that some marooned Muslim women were being exploited, and with the help of a Muslim friend inPakistan, and by pushing the Indian bureaucracy, I was able to get hundreds of women into Pakistan," she recollects.
It was back to teaching again for Inderjit Kaur and among her students was her sister, Gurdev Kaur, who recollects "Bhenji used to prepare so much for her lectures that at times we would hear her muttering in her sleep, and then I would have to hear it again the next morning!"  Her students did her proud and they include Mrs Gursharan Kaur, Punjabi writers Dalip Kaur Tiwana, Ram Sarup Ankhi and Balbir Momi; Hindi writer Kishan Kanta; Ramnika Bedi, who became an MP from Madhya Pradesh and many educationists like Prof Avtar Kaur.
Even as she taught, the urge to learn was still alive in Inderjit Kaur. She loved the Punjabi language and when the chance came, she was in the first batch of students who did their Masters in Punjabi, something she is intensely proud of.
When we look at old photographs, we see a faded sepia print of a young girl standing among stalwarts of Punjabi educationists. Inderjit Kaur was the lone woman on the governing council of Khalsa College, Amritsar (1950-1953). Standing out in a world of men is a position that she is used to, having been a pioneer in many ways, and in the process having become an exemplar for many a woman she taught. For her education was the only vehicle for learning as well as cultivation. The teacher had an aim of building the student's character. Education also meant inculcation of culture in the student through history and literature.
Government College for Women, Patiala, was a "home" for a decade after which she was to move, as Professor of Education at the State College of Education, Patiala, followed by a stint in the Basic Training College, Chandigarh (1958-1967), where she held the charge of Vice-Principal.
Chandigarh was a new town, full of opportunities and Inderjit Kaur was training teachers who would educate youngsters. Even decades later, her students-turned-teachers would spread around the world and would visit the family from other countries like Ethiopia and the UK, America and Canada.
By this time she had married Giani Gurdit Singh, an eminent Punjabi writer, who was also a member of the Punjab Legislative Council (1956-1962). She had told her parents that she wanted to achieve something before getting married, and that she would not marry a typical aristocrat who would drink and make merry. "I was looking for someone more enlightened, who would give equal rights to women."
The couple had made Chandigarh their home and had two children. I was born in 1960, and my brother Ravinder Singh in 1961. At that time our home was one where eminent people often came together, they included writers like Sirdar Kapur Singh, ICS, Dr M. S. Randhawa, Prof Pritam Singh, Prof Sant Singh Sekhon, Acharya Hazari Prasad Driwedi, Jai Chander Vidya Alankar, Balbir Singh Dil, Attar Singh, actor-writer Balraj Sahni and political leaders like Partap Singh Kairon, Giani Kartar Singh and Darbara Singh. Inderjit Kaur would hold her own as these meets turned into literary interactions, even as she hosted these stalwarts.
If you look at dedication of the latest edition of Giani Gurdit Singh's most famous book Mera Pind, you will see the photograph of his muse, his wife. What many people don't know is that she edited the work as it came, and was the valued in-house critic for the writer. Mera Pind won two UNESCO prizes and, till this day, is recognised as a landmark in Punjabi literature.
Patiala exerted its claim on its daughter and in 1968 she took over as Principal of Government College for Women. By this time we were young children and for me most of the memories of seeing and recognising signs of women's emancipation in people other than my mother, start at this point.
I had always realised that education had made my mother stand out among other women; it was the tool that had shaped her mind and given her the ability to make a difference.
At Patiala I was to realise another important aspect of liberation for women—mobility. It came in the form of a Pearl moped, owned by a delicate Asha, who battled the infirmities of polio with courage and dignity. She used her moped to move around, but preferred to allow my brother or me to ride her moped to the pump, thereby avoiding the unwanted attention of attendants for whom a woman rider was such an oddity.
Miss Khosa, on the other hand, was a physical training teacher, much an institution on her white Bajaj, which she rode with abandon. Such was her presence and aura that there were times she turned back striking boy students, who had come to ask the girls to join them, by simply staring at them from the gate and telling them to move on because they were disturbing the girls' studies.
To my mind, the administrator in my mother bloomed during this assignment. The fete at the college was a first and it broke stereotypes, allowed the parents to participate in the growth of their children's college, and gave her the leverage to raise funds from the government for the science wing. Within a short span of three years, she had added a science wing to the college and the strength of the students increased exponentially.
Of course, many of her students would get married soon after they left college and I remember confronting her and saying that all that she was doing was preparing better educated brides to for the society instead of girls who could contribute to humanity through their professional skills and abilities. "There has to be a bridge; they will train their daughters as career-oriented women," she pronounced. I did not agree, for years, till I saw some of her former students bring in their daughters for such courses.
Inderjit Kaur is particularly proud of the way in which co-curricular activities were encouraged and traditional folk dance gidda revived. Taking the college girls to participate in the Republic Day parade with the gidda troupe gave the traditional Punjabi folk dance national exposure.
Guru Nanak Quincentenary Celebrations were held on a global scale by Punjabi University, Patiala, in 1969 when Guru Nanak Mehima Kirtan Darbar was organised at GCW. It was well appreciated, especially by foreign scholars, who were provided with translations of shabads from Gurbani in the form of beautiful booklets.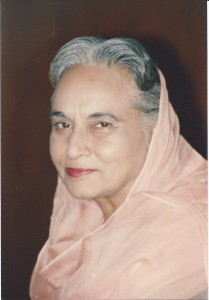 Eventually, it was time for us to move to Amritsar, where my father had become involved in religious work. Inderjit Kaur became Principal of Government College for Women, Amritsar. Here the college had good infrastructure and staff and she could concentrate on improving the academic environment.
I particularly remember the visit of Sant Puran Singh of Pingalwara to the college. The saintly figure was received with great fanfare and with his simplicity, dedication and strong message on the environment and the need to serve those less fortunate than us, he left a strong impression on his audience. Another visitor to the college was the then Governor of Punjab, M M Chaudhury, who was to be her direct boss soon.
Inderjit Kaur returned to Patiala as Vice-Chancellor of Punjabi University, a position she held from 1975 to 1977. She energised the university, mainly by working like a maniac and leading from the front. I remember files waiting for her at home between breakfast and office timings and after dinner. Between office hours and dinner, the house was full of people, many colleagues and visitors from Patiala, including her proud parents, who would often drop by to see their daughter.
She would check how her PhD students were doing, and this would spur them on to carry on their research with more vigour. "I am very happy that we were able to publish a large number of books and have more students complete their PhDs during that time," she says.
Hazara Singh, who headed the publishing department of the university, did a great job and he often remarked: "Madam managed to get us to do a lot of work, and we did it so willingly. It was very satisfying."
No wonder, Dr M. Santappa, Vice-Chancellor of University of Madras, once remarked at a VCs' conference that he was surprised that more books had been published by the university at Patiala than from his university. "Madam, how can you do it?" he wondered aloud.
One of her decisions is still discussed in the university. Inderjit Kaur allotted a house of higher category to the late Professor L M Joshi. When some people protested, they were told: "I have given the house to his books. He had no space to keep them in his old house. When you have so many books, I will give a bigger house to you, too."
As the only woman Vice-Chancellor in India, Inderjit Kaur represented the country at various international conferences. She attended the Conference of the Association of Commonwealth University at Wellington, New Zealand, and represented India at the International Conference of the Executive Heads of Universities, held in Boston,USA, where she was among the three women university heads in the world. Such visits generated generous media coverage, something she handled with élan.
While she often remembers her visits abroad with fondness because of the students she met, the purpose of her going to the UK was to deliver the 1976 Guru Nanak Lecture at University of Hull, UK, on "Guru Teg Bahadur, Nanak IX". She also spoke at the School of Oriental Studies, London, during the same trip. She lectured at various universities during her foreign tours.
She resigned in 1977 just before her term ended, because of political differences with the government that came to power. This was followed by a two-year sabbatical in Chandigarh. By this time we had grown up and while my brother went to Government College for Boys, Chandigarh, I studied at St Stephen's College,Delhi.
Women had made tremendous strides in various fields. They had made a place for themselves in the arts, in science, diplomacy and with Indira Gandhi at the helm, even in politics. Yet, there were some bastions that remained to be stormed.
Inderjit Kaur was appointed Chairperson, Staff Selection Commission,New Delhi, in 1980 for a five-year term. Delhi can be intimidating for those who make their way there from other cities, but she took to it like a duck to water. I finally had a home in Delhi where I could move into from the college campus, and my father got very busy with the work of Kendri Sri Guru Singh Sabha and, along with Sardar Hukam Singh, in setting up the Guru Granth Vidya Kendra, Mehrauli, to which Inderjit Kaur contributed immensely.
As for professional work, she is credited with streamlining the examination process of the commission. She made the staff announce and stick to schedules for results. She lay down of norms for objective evaluation that are in use till today.
As Chairman, she administered the vast network of four regional offices and thousands of centres where examinations were held. Much depended on the goodwill of the state governments for conducting examinations, and they were handled with tact, and when necessary, firmness. At times there were more than a hundred thousand candidates for a single test.
To take one example, the commission handled 6.7 lakh applications for examination during 1983, out of which there were 4.6 lakh candidates for clerical grade examination alone. In all, the Staff Selection Commission provided candidates for over 20,000 vacancies. To interview such candidates, she had to fly to various regional centres of the commission and there were times when she was travelling 20 days a month. When her colleague Amar Singh, Member of the commission, wondered how she was always well-prepared for the interviews, no matter what the subject, she just smiled. Actually, she worked at it.
She was always a voracious reader, with practically a photographic memory. Now she read more, and focused on what was likely to come up during the interviews. While she could be unsparing in setting standards for herself, she was also widely recognised as a fair and objective interviewer, who believed in placing the candidates at ease instead of intimidating them.
Inderjit Kaur was a leading votary of the objective-type examination system and, in 1983, she delivered a keynote address at a workshop-cum-seminar on objective tests held at Aligarh Muslim University, Aligarh. Interestingly enough, her predecessor at Staff Selection Commission, Mr Hamid, had taken over the AMU as Vice-Chancellor.
She was Chairman of Staff Selection Commission,Delhi, till 1985, after which she moved to Chandigarh.
To my mind, a truly liberated woman is one who has come to terms with life, and her position in it. After notching up one achievement after another, Inderjit Kaur took it easy at home, devoted her time to her family and her gardens. Giani Gurdit Singh and she had taken distinctive paths intellectually and worked on different aspects of knowledge, but when she realised that her husband needed her, Inderjit Kaur re-invented herself and became his greatest support in his research and writing. After he passed away in 2007, she co-edited and published Giani Gurdit Singh 1923-2007, a bi-lingual (Punjabi-English) book on him and his work.
Today, she could be expected to rest on her laurels, but Inderjit Kaur has devoted herself to preserving and furthering the legacy of Giani Gurdit Singh. Inderjit Kaur is a woman, who has freed herself from the need to prove herself by forging a distinctive path. Now, in preserving her husband's heritage, she is doing what needs to be done — a true liberation beyond seeking fulfilment in self, one that needs to be saluted.
***
As many of my friends know, my parents have been a significant part of my consciousness for long. I am attaching some links to previously written articles where they figure prominently: