Ready for Takeoff: A Leadership Story
By Sachit Jain.
Rupa. Pages 253. Rs 195.
PEOPLE who do not earn their living through writing often pen down something because they feel that what they truly believe in needs to be shared with the world. For Sachit Jain, this is a simple mantra: "To be a successful boss, be nice, listen to your workers, keep channels of communication open, and take advantage of your wife's intelligence and experience."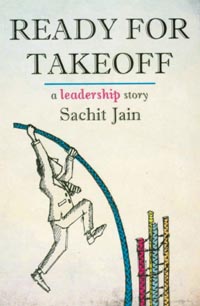 A boss is traditionally a tough, no nonsense, go-getter who drives his team mercilessly, even as he goes out for important things like a round of golf. Here too, the protagonist, Anurag Amar Sachdeva, Ass to his friends and, often himself, is a golfer till he becomes a boss, and finds no time for the game, but more and more time for the family.
The introduction gives the reader various facts about the book and the author's experience in setting up a steel unit for his father-in-law in Baddi, Himachal Pradesh. Making it a work of fiction gives him a degree of flexibility and Anurag is the author's doppelganger. Anurag's experiment of running a steel mill on behalf of an investor, instead of just breaking it up and selling it, as he had done in the past, makes a credible setting for the author to explore the "you don't have to be abrasive to be successful" mantra.
Through Aunrag you explore the working of a big manufacturing unit and the complex interpersonal equations of various people working in it. However, with good intentions, drive and dedication, he works at understanding the processes and personnel that he now had to deal with. Anurag soon makes effective headway in improving efficiency and along with it workers' satisfaction.
The book reads well as a work of fiction, and even as a reader goes along with Anurag on this journey, there are times when the management mantras and meeting summations get a bit too long, and then at these places, the author uses numbered paragraphs that remind us of PowerPoint presentations! Yet, it still makes sense, and here the importance of the message overshadows the shortcomings in the writer's craft.
What comes through with remarkable clarity is the ring of authenticity in the prose. These are not contrived situations, they are ones which the author has been a part of, and thus, the reader is quickly drawn into them. Apprehensions with a new management coming in, resistance to change, empire-building within an organisation, insecurities of senior people, grouses of junior employees-all these are so easy to relate to.
Anurag makes good use of his wife's inputs, though a bit late in the day. But then, he is not to be blamed. How difficult it is for a working male to acknowledge that there are many parallels to their "heavy" management problems, with the kind of issues that their spouses sort out in their homes. After he teams up with his wife, and takes her help, Anurag explores the meaning of leadership in a memorable encounter.
Don't expect too much human drama as this rosy and feel-good story interspersed as it is with a substratum of management theories, which at times dominate the discourse. But here we have someone who has tested them on the anvil of experience in the real life. When he says an organisation can and should create an environment where employees are happy, readers tends to sit up and nod their heads in agreement. Even if they might just harbour a sliver of apprehension at the idea of involving their spouse in their work life, they want to be part of the change that can happen. The author's message gets through, and that should make him happy.
This review by Roopinder Singh was published in The Tribune on November 14, 2010