In Punjab, educating daughters is a tradition
PUNJAB has a higher female literacy rate than the national average, and in fact for both urban and rural sectors, it is higher than most of the states, says a new study by the National Sample Survey Organisation (NSSO). Punjab's female literacy rate for rural areas is 56 per cent, against the national average of 53.5. In urban areas, it matches the national average of 77.
The distressing fact about the killing of unborn daughters that is still widespread in the state has eclipsed the major achievement in women's education.
In fact, the tradition of female education in Punjab is an old one. Bhai Takhat Singh started Sikh Kanya Mahavidalya, Ferozepore, in 1890. The first boarding school for girls opened in 1894. A school for women was started in Barnala by Bibi Pardhan Kaur, daughter of Baba Ala Singh, the founder of Patiala dynasty.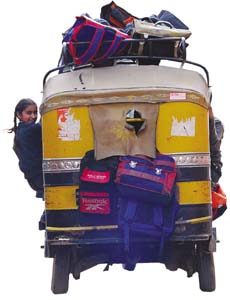 Educated women were looked up to, and in villages, women of families that could afford the expenses were sent to school and college for education. At the turn of the 20th century, many women attended college. Because of cultural sensitivities, most of the girls were sent to colleges that were set up exclusively for them, and thus you have such fine institutions that trace their origins to pre-Independence days as Sarup Rani Government College for Women, Amritsar (established in 1932), Government College for Girls, Patiala (1942), Government College for Women, Ludhiana (1943), and Hans Raj Mahila Maha Vidyalaya, Jalandhar (established at Lahore in 1927, shifted to Jalandhar in 1948).
While the British Indian government set up the basic infrastructure for modern education in India, the Singh Sabha and DAV movements, as well as the Sikh Education Society run by the Chief Khalsa Diwan, all emphasised the need to set up educational institutions for the uplift of women.
Punjabi women have done the state proud by their achievements. Mrs Serla Grewal, a Panjab University student, reached the top in the civil service, starting from the office of Deputy Commissioner, Shimla, to become the Principal Secretary to the Prime Minister and Governor of Madhya Pradesh.
Mrs Inderjit Kaur Sandhu, who studied at Lahore and Patiala, was Vice-Chancellor, Punjabi University, Patiala, and Chairman, Staff Selection Commission, New Delhi. Dr Kiran Bedi, a former student of GCW, Amritsar, reached the top of the Indian Police Service.The late Mrs Beant Kaur was India's first woman pilot.
Creatively, women have done extremely well. The late Amrita Pritam and Dilip Kaur Tiwana are among the top eminent writers in Punjabi. Rani Balbir Kaur and Neelam Man Singh have successfully straddled the world of academia and Punjabi theatre. Amrita Sher-Gil was a legendary artist. Delhi-based writer Ajeet Cour and her artist daughter, Arpna Cour, are rooted in Punjabi culture.
Many of the people who rose high in their profession came from rural areas, though often they had to get to urban centres for their education. Today, there are many rural colleges too, which have excellent educational facilities.
In a study of the changing lifestyle and social transformation of rural Jat Sikh women in Punjab, Dr Amarinder Sandhu, a sociologist, found that an increasing number of people send their daughters to school. Once they are educated, women withdraw from farm work, and seek career options, especially in teaching and nursing.
She found that people look at education as an investment which helps their daughters in gainful employment, fetches them a better match and helps them in cases of separation or widowhood. However, but many lamented that if the daughters are educated too much, it becomes difficult to find a suitable match. Education has also led to a sharp increase in the age when girls get married. Interestingly, she also found that people educate daughters more than the sons; because they say that the returns are going to be good, "because boys know that they can fall back on property, whereas the girls just want to get out of the rural ethos." The NSSO study supports this finding, since the male literacy rate in Punjab (85 urban, 75 rural) is below the national average.
"Girls are being educated to work, though the desire to have a girl child is generally still not there," says Lucy Haugh, who has studied women, both in India and in her native US since 1965.
She has touched a raw nerve there. Along with the high literacy rate has come the news that Punjab still has a shameful record of a high female foeticide rate. Only when this stops can it be said that the Punjabis are truly educated in the real sense of the word!
This article by Roopinder Singh was printed on the Education page of The Tribune on November 25, 2008.