It has been a long journey for Chandigarh-based realistic artist Rahi Mohinder Singh. RM started by drawing on a slate. Today his works hang in Parliament, writes Roopinder Singh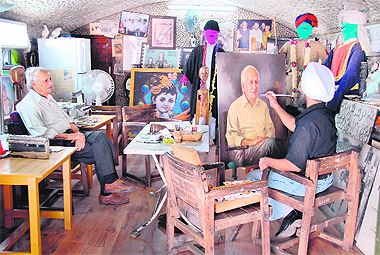 He calls himself a rahi or a traveller, and his journey into the world of art took him to Andretta, where he was inspired by the legendary artist Sobha Singh. It has been a long journey for Rahi Mohinder Singh, the Chandigarh-based realistic artist, who started by drawing on a slate with chalk.
The journey from slate to canvas is an interesting one. It took him through painting the bodies of trucks on which he was a "child-specialist" who painted the likenesses of Guru Gobind Singh, and freedom fighters like Chander Shekhar Azad and Bhagat Singh. He drew extensively and had started making pen-portraits of other older passengers in the train back home.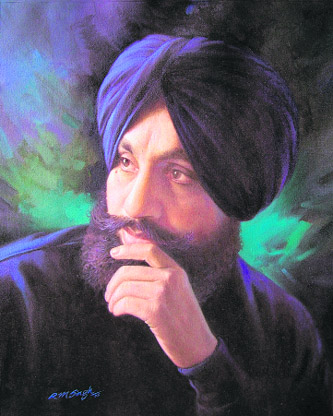 How did he get on the train? Well, his village, Bharoli Kalan, in Gurdaspur district, had only a primary school, and after Class V, he was sent off to Pathankot, about 3 km away. Like other children, he hitched a ride on a train to go to and fro to school.
"I was drawing a sketch one day when a passenger asked me, 'Will you draw my portrait?' I agreed and quickly drew a pencil sketch. As my home came near, I tore off the sheet from my copy and he gave me Rs 1!" This started a wave and soon everyone, co-passengers as well as guards, TTs etc, all had their portraits made.
Today his works hang in Parliament, and are in the collections of the Department of Religious Studies, University of California, Santa Barbara, USA, and many private institutions. He has illustrated books for the Singapore Sikh Education Board with the support of Ministry of Education, Singapore, and also for state textbook boards of both Punjab and Haryana. Prime Minister Manmohan Singh unveiled his portrait of Giani Gurmukh Singh Musafir which hangs in Parliament. His portrait of Nek Chand, the creator of the Rock Garden, Chandigarh, earned him much appreciation.
"I had adopted Sobha Singh as my guru even before I met him," says the artist, who was born in 1965. While my father, Mehar Singh, encouraged the artist in me, he was looking for a guru who could take me under his wings. I was painting and earning money, but he wanted me to be a shagird of an artist. One day, I saw a full-page feature in Dharamyug, Hindi magazine, on Sobha Singh and his works. I framed the page and told my father that I had found my guru.
It was much later, in 1983, that RM was introduced to the great artist at Andretta. "Do your parents know what you are doing," asked the artist, whose parents had discouraged him from purusing art as a vocation.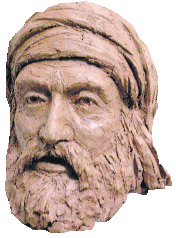 "On the contrary, my father, and my grandfather, Pritam Singh, had both encouraged me. My grandfather was a great craftsman. He also made mirrors, and once he had fashioned a plate camera under the guidance of a British officer. They made two cameras and from him my grandfather learnt the art of photography. Both he and later, my father, had a portable studio with which they would go to fairs held in different parts of Himachal Pradesh and take photographs on glass plates. Later, they shifted to photographic paper," recalls RM. Inexpensive Soviet-era books brought by vans operated by Punjab Book Centre, Chandigarh, exposed the young mind to Russian artists.
Andretta became a transit home for the young RM. He would stay with Sobha Singh for a few days, and then go back to Palampur. It was the great artist who encouraged him to join Government College of Art, Chandigarh, from where he earned his bachelor's degree in applied art in 1989. Even as a student, he was much in demand. He started working for the weekend edition of the Indian Express while still in college. Readers of The Tribune became familiar with his work after 1990, when his illustrations appeared regularly in weekend supplements and special pages of the paper.
At Art College, he was exposed to works of European artists like Ruben, Michelangelo, Leonardo Da Vinci, and US artists like John Singer Sargent and Norman Rockwell, whom he admires greatly.
"RM Singh has a great understanding of the Punjabi way of life, which is why we commissioned him to illustrate the series on teaching Punjabi. He has illustrated books and they are being used not only in schools in Singapore, but also neighbouring nations," says Bhajan Singh, a retired official of the Singapore Education Service.
The artist from Bharoli Kalan has travelled far on his artistic journey, and it is with interest that we will follow the journey of this Rahi.
The article was published in the Saturday Extra section of The Tribune on December 4, 2010.