We are all proud because of the charitable act of one  —  Wipro chairman, Azim Premji, who is said to be India's third-richest man, has committed $2 billion to charity, to education specifically. Premji has long and fairly silently been involved in various initiatives to help education of children. Now, he has upped the ante and given what is estimated to be about nine per cent of his personal wealth to the cause. The point to note is that he has given his personal wealth, not funds generated out of his company profits.
Is he alone? Not at all. Let's look at the following instances that have been in the news recently:
The Tata Group gave $50 million to Harvard Business School.
Infosys co-founder Naryana Murthy and his wife Sudha gave $5.2 million to Harvard University. Murthy's alma mater, Cornell, was the recipient of his largess earlier.
Infosys co-founder Nandan Nilekani and wife Rohini gave $5 million for the Yale India Initiative.
HCL founder Shiv Nadar has promised to give one-tenth of his wealth for charity. He is worth $4 billion.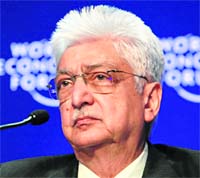 You have, of course, realised that the examples given above are of people who earn their living from computers, either by using them or by making them in the last case. While IT has, by no means, a monopoly on large-scale charitable donations, it has been in the news recently, and certainly in the public eye, nothing can match what Bill Gates has done in donating billions and billions of dollars for a number of charitable causes.
By no means are the IT barons alone in this, India has a long history of businessmen giving back to society, mostly for religious, educational and medical charities. Prominent among them have been the Tatas and the Birlas, but others like the Bajaj family, and near home the Modis and the Thapars have set up various educational institutions for the public. Earlier, the Mahrajas gave liberally to educational institutions far away from their own kingdoms. Patiala was a big contributor to Aligarh Muslim University; Khalsa College, Amritsar, had various wings dedicated to the states that had contributed liberally to its construction, and so on. Even now, various alumni organisations, notably the Patiala Health Foundation, set up by Patiala Medical College alumni, contribute materially and otherwise, to their alma mater.
There is, however, a significant difference. The IT entrepreneurs are basically first generation, and they did not come from wealth. They have made money, and have demonstrated social responsibility by dipping into their personal fortunes and giving out of them.

IT has turned out to be one field where ethical, enterprising, bright and hard-working people can realise their dreams and more. Since setting up an IT enterprise is not as capital intensive as other industries, IT has also helped many bright people with ordinary middle-class economic backgrounds achieve success. A culture of giving back to society has been nurtured in the industry and although as compared to Western standards Indians do not contribute much to charity, the IT industry as a whole has made a great positive contribution in giving back to society.
IT is slowly transforming the way things are done. Just go to an e-sampark kendra in Chandigarh and you will see how easy it has become for time-strapped people to take care of their chores, like paying bills and requesting various government departments for services, including passports. Every time a result is announced, everyone makes a beeline for the Internet, because all results are today, as a matter of course, posted online. A decade ago, this was revolutionary, and a decade before that it was unheard of. The digitisation of land records may finally help us get rid of the notorious patwaris who have a stronghold on all property matters.
However, in matters of donating personal wealth, there is still a degree of reluctance, perhaps because of a feeling that there is overall corruption and no one wants to give money unless he or she knows that it will be used well. However, here too, the change is welcome, especially when one sees it among the rank and file of IT companies.
During a visit to the Chandigarh IT Park, we saw a group of young employees teaching older people. We were told that they had taken it upon themselves to teach the security guards, employed by a contractor, to brush up their reading and writing skills. It was heartening to see the mutual respect with which people from different socio-economic backgrounds and age were treating one another.
As one sees IT transforming life, the extent of intangible differences that are coming about in our life because of IT are becoming even more obvious. And the best part is that the people at the top are leading the way, as they should.
The column by Roopinder Singh was published in the Lifestyle section of The Tribune.