Tribute to Billy Arjan Singh

by Roopinder Singh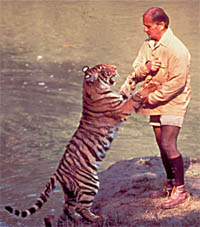 He was born as a royalty, spent his childhood in palaces and died in the wilderness that he so loved. Billy Arjan Singh, passed away on January 1 night, after a brief illness. He was 93. He lived at Tiger Haven, his home near the Dudhwa National Park, the sanctuary that he put on the wildlife map of the nation, about 250 km from Lucknow.
Great-grandson of Maharaja Randhir Singh, the ruler of Kapurthala, Billy was born on August 15, 1917, at Gorakhpur, in what was then the United Provinces. His father, Raja Sir Harnam Singh, was a Member of the Panjab Legislative Council, a Member of the Kapurthala Council of State and an Honorary Fellow of Panjab University.
Billy studied in Lucknow and was commissioned in the British Indian Army in 1940. Later, in 1945, he settled down at Palia. The farm brought him in touch with nature, and also the way in which wild animals were being threatened by human encroachment of their natural habitat, and the commercial exploitation of the forests which were rich in sal and teak trees. Hunting expeditions, mounted during the Raj, depleted the population of natural predators like tigers and leopards.
"Billy started as a hunter, and turned conservationist with a tremendous passion. In this he found support from even the then Prime Minister, Mrs Indira Gandhi, who herself had a great interest in wildlife," says Shaminder Boparai, who has just finished an illustrated book on Billy.
Palia was his home; it was where he spent his life with his beloved Tara, Harriet, Juliette and Eelie, all of whom are buried near his final resting place.
The Padma Bhushan was conferred upon Billy Arjan Singh for his conservation efforts in 2006. He had received the Padma Shri in 1975. In 2004, he was a joint winner of the J. Paul Getty Award for Conservation Leadership which is administered by World Wildlife Fund, and he was the first Asian to do so.
Billy, who never married, wrote prolifically about his adopted children—the predators like leopards and tigers who were his family. His books include The Legend of the Maneaters, Prince of Cats and A Tiger's Story.
The Tiger of Dudwa, Billy Arjan Singh had a larger-than-life image which was the subject of many articles, books and also of television series. He lived a life that he wanted to, on his own terms, in his beloved forests, in the company of animals that he loved. His dogged determination, achievements and courage made him a legendary figure in his lifetime.
This tribute was published in The Tribune on January 3, 2010.