The Freethinker's Prayer Book and Some Words to Live by
By Khushwant Singh Aleph, New Delhi. Pages 189. Rs 495.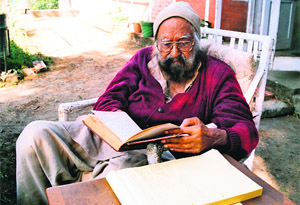 THE well-known agnostic has brought out a prayer book. This should not come as a surprise because Khushwant Singh had been interested in religion for long. He started out as a young Sikh, performing rituals and reciting gurbani, something that he still listens to regularly. "Over the years, I came up with a religion of my own. I had very simple rules: Ahimsa —non-violence above all— work as worship; honesty (even about one's dishonesties); helping people in need; silent charity; and respecting and preserving the natural world. I may have failed to live by these rules sometimes, but I have tried to do so to the best of my ability."
Many who know him well, say that he has been faithful to his religion. "For all its imperfections, life is a great gift, and l have tried to get as much out of it as I could. l have feasted my eyes and senses on all that is beautiful in the world: its mountains and lakes, seashores and deserts; the break of the monsoon and the scent of wet earth; good food from all parts of the world, vintage wines and the finest Scotch whiskey; western classical music and shabad-kirtan; the fragrance of flowers and herbs and the shade of mighty trees; birdsong at the break of dawn; classical literature; and beautiful, spirited women, preferably with the gift of gossip."
There it is, from the acidic pen of the man with malice towards one and all. Not too many years ago I called on Khushwant Singh at his cottage in Kasauli. I had taken some friends with me and we were having tea when he mentioned that he was reading the Guru Granth Sahib. "Yes, around this time in life, people often do," I quipped.
He totally ignored me for a while, and regaled my friends, especially a vibrant young lady who had been "dying to meet him", to an evening of bawdy limericks, and some spiritual gems that he was compiling. As the sun set and it was nearly time for us to depart, he focused on me and started quizzing me about a particular passage of gurbani. The sacred is seldom far from the profane on his tongue.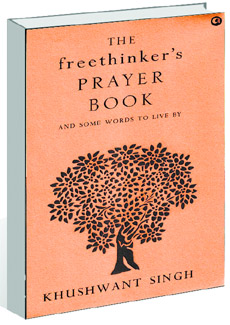 Yet, he is a master of both. He collaborated with scholars like Dr Trilochan Singh, Prof Jodh Singh, Sirdar Kapur Singh and Bawa Harkishen Singh to bring out The Sacred Writings of the Sikhs, which was published by UNESCO in 1960. A History of the Sikhs, which he first published in 1963, has become a definitive account that established his reputation as a scholar long before he became the popular journalist and columnist. He has written and translated from Guru Granth Sahib and many other spiritual texts and produced a number of significant volumes on spiritualism.
Khushwant Singh has a well-deserved reputation of stating his mind, and he has done so even in the introduction of this book. In these pages, you find gems from the Guru Granth Sahib, the Bible, theUpanishads, the Vedas, the Bhagvad Gita, the Talmud, Tao, the Ching.
Among the prophets, mystics and saints, you encounter Prophet Mohammed, the Buddha, Guru Nanak, Guru Amar Das, Guru Tegh Bahadur, Lal Ded, Sant Ravi Das, Kabir, Meera Bai, Bulleh Shah, the Dalai Lama and St Francis of Assisi. Among the "philosophers, poets and other wordsmiths," we meet Shakespeare, Faiz Ahmed Faiz, Amir Khusro and the English poet George Herbert, whose Lament, if memory serves me right, we had the privilege of listening to that memorable day in Kasauli. This well-produced book is a beautiful collection of quotations that needs to be kept by the bedside, readily available to those who wish to reach out to read, feel and understand profound thoughts, most elegantly expressed.
This review by Roopinder Singh was published in Spectrum magazine section of The Tribune on October 7, 2012.
You may also be interested in reading reviews of:
The End of India by Khushwant Singh 2003
In The Name of the Father by Rahul Singh 2004
The Illustrated History of the Sikhs by Khushwant Singh 2005