THE picture in The Tribune brought a lump in my throat. There was Marshal of the Indian Air Force Arjan Singh DFC, and his two children, having just bid farewell to Teji Arjan Singh, MIAF's wife and companion for 63 years, and whose soul had soared into the skies on April 15.My mind went back to the time, a decade ago, when I had first visited the Kautilya Road residence of India's only living Field Marshal. It was Teji who put me at ease, and made me feel relaxed enough to pursue the subject that had brought me to their door.
"What will you write about me, there's not much to write about," MIAF said when I told him that I wanted to write a book on his life.
"Oh! There is much, just let me do it," I replied. Eventually, he agreed to a series of interviews that laid the foundation of his first biography.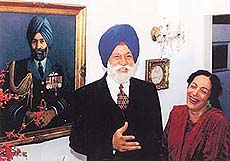 The person who helped me even more than him was the gracious and graceful lady, who had chronicled her husband's journey in life with a thoroughness and meticulousness that showed her love for her man who had swept her off her feet and then made her his life partner.
Teji was born on October 22, 1930, in Sargodgha district of Punjab, now in Pakistan. Pretty, young and petite, she was still a student of Convent of Jesus and Mary in Delhi when, in 1943, she fell for the dashing Squadron Leader Arjan Singh who was visiting Delhi and staying in her father's house.
They were married in Delhi, in the Janpath house of Sir Sobha Singh, on February 15, 1948. Twelve Harvard aircraft, flying in the formation "A" and "T" flew over the house in their honour, a gesture authorised by Air Marshal Elmhirst, the then Chief of Air Staff. The couple moved to Ambala Air Force station. Teji recalled how, as the CO's wife, she was expected to give advice to other wives, who were otherwise elder to her.
The next year, Air Commodore Arjan Singh took over as Air Officer Commanding, Operational command and moved to Delhi, where they spent most of their life. That very year their daughter Amrita was born. Her brother Arvind followed three years later, and then came the youngest daughter Asha.
Known for her kindness and graciousness, Teji was the perfect host who put visitors at ease as soon as they entered her home, be it the Air House, an ambassadorial residence, a Raj Bhavan or the imposing Kautilya road residence.
She was, indeed, the wind beneath the Marshal of the Indian Air Force's wings, his inspiration, his support. They worked together to achieve their goals. In 2004, MIAF Arjan Singh DFC sold off his farm near Delhi, and entrusted a corpus of Rs 2 crore to the "Marshal of the Air Force & Mrs Arjan Singh Trust" devoted to the welfare of retired Air Force personnel. When Teji asked him why he had put her name on it, he replied: "If you hadn't agreed, how could I have done it?"
This middle by Roopinder Singh was published on the Editorial Page of The Tribune on March 20, 2011.
Please click here to read more about Marshal of the Indian Air Force Arjan Singh DFC