The Press Council of India had decided that on the National Press Day, we would deliberate on 'The changing face of Indian media'. The District Journalist's Association, or the Zila Patarkar Parishad, Panchkula, had invited me to speak on this very topic on Sunday.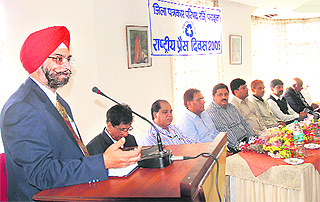 It's always daunting to speak to one's colleagues, and it became more so when I found that I was the only one who addressed them in English—the rest of the proceedings were largely in Hindi, where I have limitations, especially in speaking formally. The audience was multilingual and this proved no impediment.
The Tribune's Chandigarh edition had a rather extensive report on the event. Please click here to read it.