Apple brings about major changes in the best-selling tablet in the world that will enhance user experience
Roopinder Singh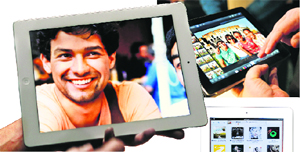 IT looks no different than its predecessor, but it has already set aficionados' hearts aflutter, and with a fine sense of sophisticated marketing, Apple is calling its latest offering Resolutionary. 
iPad—just that, no prefixes, no suffixes. Apple's latest product dispensed with the naming conventions with the same elegance that the company has dismissed computing conventions, to give a product that is easy-to-use, one that people find useful and a great addition to their lives. It weighs a little more than its predecessor
On the day Apple released iPad in California, I met Stella, in Chandigarh. The four-year-old uses her parents' iPad with practised ease to draw and express herself. For this little chatterbox, the iPad is just another device; she is not intimidated by it in any way.
A child can use it! That's what Apple would be proud of. 
iPad is heralded as the icon of the post-PC world. The device was introduced only in April 2010, and it took just four months to sell over a billion of these devices, and by the time iPad2 was announced on March 2, 2011, almost 15 million iPads were in the hands of people who had downloaded millions of applications for their use.
Retina display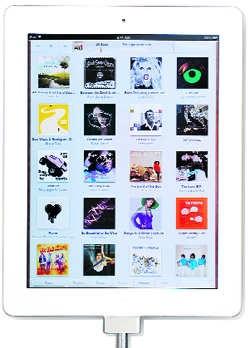 iPad, the latest one, offers some great goodies, and has significant improvements over its predecessors. The most visible change is, of course, the Retina Display with 2048-by-1536 resolution for the 9.7″ screen. This is an eye-popping resolution that is familiar to the users of the iPhone 4 family. 
The first two models of the iPad had a resolution of 1,024-by-768 pixels, and the new one is four times of that. This high resolution, according to Steve Jobs, when he introduced it for the first time for the iPhone, is enough "that the human eye is unable to distinguish individual pixels when (the phone or the tablet is) held at a normal distance."
Nitpicking purists do point out there is a difference in the pixels-per-inch on the iPhone 4S' (326 ppi) and the iPad (264 ppi). Thus the iPad has 20 per cent less pixel density, but then you hold the iPad at a different distance from the eye than the iPhone, and thus the debate goes on…
New processor
It is really difficult to pack in so many pixels and thus the need for a powerful processor, the dual-core A5X chip. Apple has, however, boosted the graphics component to four cores. In the tablet's technical specifications, it calls it "quad-core graphics." This allows the iPad to handle the increased pixels of the higher-resolution screen with ease and fluidity that you expect an Apple tablet to have.
Can take dictation
The 5-megapixel iSight camera is a bit of a disappointment, since it is akin to its counterpart in iPhone 4, rather than the one on iPhone 4S, which has an 8 megapixel camera. The iPad offers HD video capture at 1080 p, which is similar to what iPhone 4S has. Video capture and a FaceTime camera for video chat are the standard offerings with the high-speed LTE wireless broadband as optional. 
The iPad also features speech-to-text dictation, which can be a boon for those who find it difficult to type on a virtual keyboard. You touch a microphone icon next to the space bar on the on-screen keyboard, and viola! You can dictate and see the words you speak typed—that too in English, French, German and even in Japanese! The full-featured voice assistant Siri, is, however, not yet available. 
Now, we all know that the hardware improvements mean more to nerds than to ordinary users. Others can give similar or even better hardware, and notably Samsung and Sony have done so. 
Apple's strength has also been been its application (app) store through which customers can download apps that they want for the activities that they would like to do. 
Apple provides more apps than anyone else, and more people make apps for Apple than they do for any competitor. Thus you have apps for every kind of thing—the most popular categories include games, books, entertainment, education and lifestyle. 
App my world
How popular are these apps? Shortly before the latest iPad was unveiled, a customer in China download the 25 billionth app from the App Store, which offers 5,85,000 apps!
Its closest competitor, the recently re-named Google Play, can't match it in numbers, although it has been seen that most of the popular apps are available on practically all platforms, including Android, Windows Phone 7, RIM BlackBerry, and even Symbian, Nokia's practically defunct smart phone operating system, which recently made waves for being the OS platform on which Nokia demonstrated its latest 41 mega pixel camera phone.
Apps contribute in great measure to the experience of using the iPad. No wonder Apple used its strength in music and showed off its GarageBand, app, which has many features to make music, and allows as many as four musically inclined individuals to collaborate, over wi-fi and make a recording that can be edited and posted online. Then there is the Apple iPhoto, with rather advanced features that make optimal use of the touch screen as well as the new display. 
Faster connectivity
As the world moves on to 4G, so has Apple. The new iPad supports 4G or Long-Term Evolution network (LTE), as it is known in the US. It holds the promise of blazingly fast 72Mbps (megabits-per-second) connectivity. It also downshifts its performance to support 3G standards. 
Of course, we know that in India 4G support is still awaited, and even 3G is patchy, at best. So, Indians will probably get the best connectivity when they take their iPads along with them on holidays abroad, but still, the promise is great and in metros at least, there is hope that this feature will be useful for us. 
Availability
Right now, iPad is available in Apple's retail stores in the US, and also through the online Apple store. The best part is that it costs the same, as its predecessor did. (see box). Apple has also retained the 16 GB version of its earlier iPad2, and has announced that it is dropping its price by Rs 5,000 in India. 
The new iPad will be available in India by the end of the month, but then there is often a lag as supply tries to fulfil demand. Soon many people will purchase the latest tablet, even as others wait eagerly to get one for themselves.
The post-PC world is here. We will either have it in our hands, or look over the shoulders of others to see its rich display and the fantastic graphics.
What's different about it l Retina display, with a resolution of 2048×1536,
l3.1 million pixels at 264ppi
l A5X Processor, quad-core graphics
l 5 megapixel iSight camera
l 1080p video recording
l Voice dictation, similar to Siri without the
l questions
l 3G & 4G LTE connectivity
l 10 hour battery life, 9 hour battery on 4G
l 9.4mm thick, weighs 1.4lbs
liOS 5.1
Prices
Both black & white models will be available, as usual:
New iPad with Wi-Fi Prices
l 16GB Wi-Fi – $499
l 32GB Wi-Fi – $599
l 64GB Wi-Fi – $699
New iPad with 4G LTE Prices
l 16GB 4G LTE – $629
l 32GB 4G LTE – $729
l 64GB 4G LTE – $829
This article was published in the Trends supplement of The Tribune on March 17, 2012.