India became the latest battleground in the war for supremacy between the top international computer companies, heralding a win-win situation for the consumer. Sallying forth into a battle is the biggest international player, Apple, a company that has set the bar for portable personal computers that use a touch-screen as a primary input device.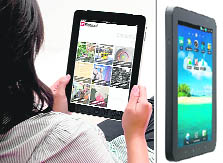 The iPad, Apple Computer's touch tablet-type personal computer, officially came to India today, a year and a day after it was introduced in the US. iPad is priced at Rs 27,900 for the basic model (Wi-Fi, 16GB).
Tablet PCs are invariable smaller and thus more portable than laptop computers, and instead of an actual keyboard, you have a virtual keyboard, i.e. you tap in the text directly onto the screen. They also have a wireless adapter for the Internet and local network connection.
Six versions of the iPad would be available in India, with 16GB, 32GB and 64GB memory in Wi-fi and Wi-Fi plus 3G versions. The hi-end Wi-Fi+3G, 64GB model costs Rs 44,900, according to information available on Apple's website.
Internationally, the iPad has been a runaway success, and its impact on the Indian market will be significant. Samsung, which has a tablet PC called Galaxy Tab, has been available to Indian consumers since November last year, and according to industry estimates, is expected to sell 7,50,000 to 10 lakh units in a year.
Ruchika Batra, General Manager Corporate Communication, Samsung, South West Asia reacting to the official launch of iPad said it would further fuel the consumer interest in tablets. "2011 would the year of the tablets," she said. Samsung is looking at garnering a 50 per cent market share in the tablet segment.
Significantly, Samsung slashed the price of its base model from Rs 38,000 to Rs 29,299 a day before the official launch of iPad in India. OlivePad, from Olive Telecom, retails at Rs 23,000 and then there is also Dell Streak, which is yet to make a significant impact.
While the iPad uses Apple's propriety operating system famed for ease of use and great user experience, both Tab and OlivePad use Google's freely available Android software that has gained much popularity among tablet PC and smartphone makers.
The iPad will also face competition from Dell, RIM and other players who are also looking at the world's second biggest mobile market after China with 730 million customers. However, the price conscious consumers will demand good products at low prices.
Telecom operator BSNL announced dedicated 3G plans for the iPad at Rs 999 (unlimited monthly usage), Rs 599 (6GB free per month, 1p/10 kb after free usage) and Rs 99 (unlimited daily usage). Other telcos are also expected to launch tariff plans specifically for iPad.
Apple is expected to launch the next version of the iPad, known as iPad 2 soon, perhaps in weeks.
The article was published in The Tribune on January 29, 2011.