A NEW literary publishing company was born last week. Penguin Canada's former boss and author David Davidar and Rupa Publications India Managing Director Kapish G. Mehra announced the birth of the Aleph Book Company, a joint venture. Aleph will have its headquarters in Delhi.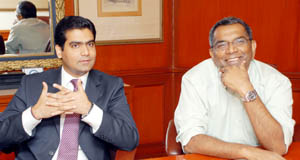 The following are excerpts from Roopinder Singh's exclusive e-mail interview with David Davidar:
Since when have you been thinking of launching your own publishing house?
I've been thinking of launching my own publishing company for about six months now.
What made you tie up with Rupa?
Over the past few months, I had conversations about my future plans with nine companies in total. While eight companies approached me, I approached one. After all the talking was done, there were three options to consider – some of them wanted me to be CEO or publisher of their firms, some wanted me to start an imprint for them and some were interested in backing (financially) the company I was proposing to start.
Of all the companies, Rupa checked the most boxes for me – they were one of the country's leading publishing firms and, in my opinion, sold and distributed their books better than anyone else (importantly, they owned their distribution infrastructure, so they could distribute Aleph's books effectively); they were happy to partner with me to start a new company; their publishing was completely different from the sort of publishing I was proposing to do, so the books the two firms put out would complement each other; we shared a common vision of where we wanted to be five years from now; and I had a high degree of trust in them as potential business partners – this last qualification was especially important to me.
What kind of books will Aleph be publishing?
Broadly speaking, upmarket literary fiction and non-fiction.
How will Aleph titles be different from those published by Rupa?
While Rupa is a strong mass-market publisher, Aleph will be a literary publisher.
Which authors do we expect to join the Aleph stable?
I can't tell you yet, but we will be announcing our first list in December and will publish three-four months later.
Is your novel Ithaca on schedule? Who will be publishing it in India?
Yes, it is. HarperCollins will publish it in September.
Will you have a role in Rupa publications as well?
Yes, I will be a consultant to Rupa on editorial matters and publishing strategy.
How do you see the future of digital publishing in India? What kind of digital platforms will Aleph be embracing?
I think digital publishing will play a very large role in Indian publishing a few years hence. It hasn't caught on in the way it has in North America, for example, but it will only be a matter of time – two years at the outside. Aleph will explore every form of digital publishing available – straightforward e-books, enhanced/interactive e-books, standalone e-books, and anything else that might come along.