Roopinder Singh
Tribune News Service
Chandigarh, August 10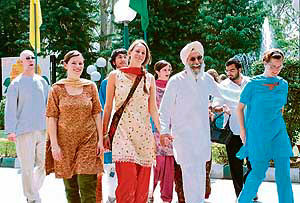 Gerlind Spekat is a 10-year veteran of the Royal Canadian Mounted Police from Surry in Canada. "The best thing I have done for myself," she says, "is to be a part of a summer programme on Punjab studies run by the University of California, Santa Barbara (UCSB), in Chandigarh."
It was the murder of two Punjabis that set her on this course. She found it difficult to communicate with the families of the victims. Determined to learn more about the community, she took some courses that took her to this programme.
In the past 11 years, 152 students from 58 universities in 10 countries have participated in the programme. On the concluding day today, Jessie C. Fidler, a global studies student at UCSB, said: "This is an amazing programme. I feel that I will realise its impact more and more when I return home. I am proud to say that I can read Gurmukhi, and I understand and know Punjabi, know it very well."
Other students from the same campus were Alexis T. Donkin, Joy Davis, Rana Ajrawat, Cori Montegomery, and David Fowler. Kathryn Lum came all the way from the University of Lund, Sweden, to learn more about Punjab.
Ravneet Tiwana was four when she left India. She lives in California and studies at UC Los Angles. Also from the same campus is Madeline Kleiner, a budding scriptwriter with a background in science and engineering.
Ashveer Singh studies anthropology at UC Berkeley and has worked on the availability of resources for the cancer-stricken Indian diaspora in California. Fakhra Shah, a history student at San Francisco State University, said she was exposed to the Punjab's plural culture.
Prof Gurinder Singh Mann, director of the Centre for Sikh and Punjab Studies at UCSB, whose brainchild this programme is, said he was touched by the participants' cooperation and local scholars' willingness to share knowledge.
Some of the alumni of the programme now held important positions as faculty members in North America and Europe. They were a great help in realising the wider objective of the programme — promoting Sikh and Punjab studies in the West — he added.
Prof Mann is helped in his endeavour by Prof Shinder S. Thandi, head of department, economics, finance and accounting, Coventry University, UK, a regular for five years now.
At a debriefing session today, Shoaib Memon, a student of Chicago Medical School, expressed satisfaction on the way the Sufi philosophy and movement was explained while Harpreet Singh, a computer engineering student of the Institute of Technology, NZ, wanted more emphasis on contemporary history in the course.
These students were going back with keenness to know more about Punjab and Punjabis.
This news was published in The Tribune on August 11, 2007