Dr Harish Dhillon, a well-known educationist, died at a hospital in SAS Nagar today. He was 74. He is survived by his son Jai Singh, and daughters Priya and Naina. The cremation will be held at 2 pm on Saturday.
Author, educationist, pianist, collector and lover of antiquities, above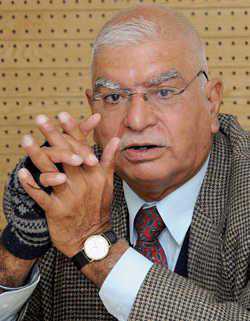 all, Dr Dhillon was a teacher who shaped many young minds who passed through the portals of two of the most popular schools in the region, the Lawrence School, Sanawar, and Yadavindra Public School at Patiala and SAS Nagar.
Dr Dhillon studied at The Lawrence School, Sanawar. His father Dr Hari Singh served in the Indian Army and was a prisoner of war in Singapore during World War II. Harish too trained for the Army but had to leave after he lost a leg following a gunshot injury gone bad. He then studied English literature at Lucknow University, from which he earned his Master's degree and doctorate. He also taught at the university for seven years. He was principal of Yadavindra Public School, Patiala; The Lawrence School, Sanawar; and Yadavindra Public School, SAS Nagar, from where he retired in 2010. He was adviser to the Board of Governors of YPS, and a member of the Governing Body of The Tribune Model School. He was a prolific writer and his middles were often published in The Tribune. He wrote a number of articles on education, and short stories.
A collection of his middles became a book, as did his love stories and short stories. His book "The Lives & Teachings of the Sikh Gurus" was a bestseller, and had recently been revised and re-launched and now his book on the Janamsakhis is expected to be published posthumously.
"Sir" to many students as well as the teachers that he mentored, Dr Harish Dhillon was a man who will be remembered fondly for his warmth, wit, humour and wise words.
This obituary by Roopinder Singh was published in The Tribune on August 22, 2015.
You may also like to read
Book Review: Of Cabbages and Kings
Book Review: The Sikh Gurus