INDIA is the land of serpentine queues, and power and influence are often defined by the ability of a person to circumvent them. Yet, on Thursday morning, there was a phenomenon that defied the norm.
My better half and I were told that there are 1,200 voters in the first six sectors of Chandigarh. When we went to the polling booth at the MLA Hostel in Sector 4, it seemed that too many of them had decided to cast their vote at that time! Separate queues for men and women meant that Jaspreet moved ahead, whereas I was left quite behind, this time physically too!
They were all there, the rich, the powerful, and those who made them rich and powerful. Yet on this day, these were citizens who stood with each other. Many eminent people stood in line along with those who worked for them or their peers.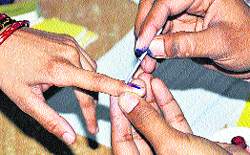 Voting here had never taken this long. I found myself in the queue next to a soft drink magnate and his son. Our conversation soon got to how important it is to vote and how this was one time we had to register our presence as voters so that we could contribute to society we were hoping to build.
We spoke about how voting in India had evolved. I recollected my article about the superiority of the Indian machines to those used in the US Presidential elections. The US faced  problems during the 2000 election when it used the Votomatic machines in Florida for the election between the Republican candidate George W. Bush and the Democratic contender Al Gore. Such machines punch card ballots and in case the punch is not clean through the card, it can result in an improperly punched card that is not counted as a vote. Bush's brother Jeb was then Governor of Florida. A recount was done. George Bush won.
A number of young people were in the queue, many of them first-time voters. Given the waiting time, a suggestion was made that we could come again. It was dismissed immediately by a gentleman who commented: "We must vote now, since a higher number of early voters will encourage others to vote." So, dutifully, we stayed put.
As we spoke, a major automobile dealer came to shake hands with the soft drink magnate, before rejoining the queue behind us. One of his competitors, met us as he walked out, and I saw a despondent Sita, who had looked after me for years. She could not cast her vote now since she had moved from our house after retirement. Her name was not in this voters' list now.
"Who shall I vote for, sir?" a woman asked her boss. "You must decide that, but you must cast your vote," he replied.
As we waited, we discussed the initiatives taken by the Election Commission. There is no doubt that this body has cleaned up the electoral system to an extent that would have been hard to imagine over three decades ago, when I started voting. There were no EVMs then, and elections were a time when raw power helped aspirants grab their seats.
The failure of the Commission to curb malpractices like the much-reported distribution of free liquor also came up, but the focus remained on the positive changes.
Booth-capturing is now history, election expenditure is monitored more effectively, candidates are forced to become more civil and voting officers fear the wrath of the Commission that they served during this period.
As we moved forward came a distinguished old lady, wearing dark glasses, infirm in the way she walked, but firm in her decision about who she wanted to vote.
Many of the voters were first timers, all rather enthusiastic about casting their vote, somewhat excited to be a part of the largest democratic exercise in the world. A topic assiduously avoided was who someone was voting for.
The voting took time, but was conducted efficiently. The beep of the EVM as one's vote was registered was an audible affirmation of having participated in forming the next government.
As I joined Jaspreet, who had patiently waited after having quickly cast her vote, we met her former principal, and a senior IAS officer standing in the queue, which by now had extended well outside the booth. He was chatting to a friend, quite determined to make his vote count.
Yes, it was probably one of the few times that he had stood in a queue, certainly after he had joined the service, but there he was, a powerful person standing with fellow citizens, seeking a different kind of empowerment by doing something as simple yet empowering as casting his vote and thus enabling our democracy.
A shorter version of this Middle by Roopinder Singh was published in The Tribune on April 11, 2014.