Teacher, scholar & an
institution
Roopinder Singh
"A thick-set a grave face which often broke into a smile. He was always dressed in simple homespun clothes. And he seemed so preoccupied that we called him, behind his back, philosopher, though he really taught us history," This is what Mulk Raj Anand writes about Principal Teja Singh, whom he describes as a "teacher, educationist, scholar, publicist, and critic."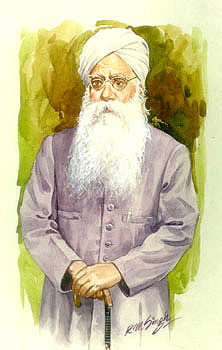 There are few people who have done so much that they are practically venerated by one and all. Teja Singh is who dominated the pre and post-independence educational, cultural and religious scene of Punjab.
Born of Bhai Bhalakar Singh and Srusti on June 2, 1894, in Adiala village, district Rawalpindi, Punjab. He grazed livestock and studied within the village till 1908, when he shifted to Rawalpindi to avail of proper educational facilities.
Teja Singh had to support himself by working as a domestic servant, a massage boy, till he passed his middle examination, after which he shifted to Amritsar. He came back to Rawalpindi in 1912, and it was here that he earned his M.A. in history in 1919. During this period, Teja Singh also participated in various along with Giani Sher Singh, and joined Gordon College, Rawalpindi as lecturer.
He joined Khalsa College, Amritsar, in 1919 where he became Professor of History, Divinity and English and played tennis whenever he could. He and his colleague Bawa Harikishan Singh were so vehemently anti-British, that the British authorities asked the college Principal, Mr. G.A. Wathen, to suggest two Sikh for nomination to Panjab University, but warned him not to mention "those anti-British professors Teja Singh and Harikishan Singh." To this Wathen replied: "They are the only two pro-British professors on my staff, because they love Shakespeare and Wordsworth and so lovingly teach them."
He also took part, along with his colleagues in the Gurdwara Reform Movements which culminated, though the Guru-ka-Bagh Morcha to the morcha for the keys of the Golden Temple, in the formation of the Shiromani Gurdwara Prabhandak Committee. He was commended by none other than Mahatma Gandhi. He was to go to prison in 1923 go these activities, a sentence he accepted as an inevitable conclusion of his convictions.
Teja Singh was imprisoned for a year or so in Amritsar and Lahore jails. While in jail, he began his work on the Guru Granth Sahbdarth, which was published by the Guru Sewak Sabha, and the royalty of which he donated.
"Next to Bhai Vir Singh perhaps, the substantial contribution to the progress of the Punjabi language is that of Prof Teja Singh, wrote the celebrated Punjabi historian, Sita Ram Kohli. He works included a translation of Japji Sahib (1919) and of Sukhmani Sahib, which he called
The Psalm of Peace (1938), published by Oxford University Press. Reviewing a reprint of this book, The Sunday Tribune, Ambala, dated 7.1.1951, said: "The English speaking world owes Prof Teja Singh a debt of gratitude for his translation."
Other famous books by this scholar in English include: Growth of Responsibility in Sikhism (1919): The Asa-di-Var (1926): Highroads of Sikh History in three volumes (1935): Sikhism: it's Ideals and Institutions (both published by Orient Longman); Punjabi-English Dictionary) revised and edited for Lahore University, and English-Punjabi Dictionary, Vol.1 (Punjabi University, Solan).
He also wrote a number of books in collaboration with other scholars, including The Short History of the Sikhs. Besides this, he also penned 18 books in Punjabi, including his famous autobiography Arsi.
Teja Singh was released in 1923 because of ill-health and the very next year he rejoined Khalsa College, Amritsar, and resumed his role as an educationist. He always encouraged students and others who came in his contact, and the warms hospitality which he and his wife, Dhan, provided was legendary.
He was involved in some way or the other with practically; every important book which was published, including Bhai Khan Singh's Mahan Kosh, by writing introductions, editing the books and interacting with the authors.
The authors whom he helped include Nanak Singh, the novelist; Dr. Ganda Singh, the historian; Prof Mohan Singh Mahir, the poet and Sant Singh Sekhon, the critic. The famous theatre person, Balwant Gargi, was also a part of this group.
Teja Singh was also instrumental in organising the first course of M.A., Punjabi, which he taught himself.
His students did well for themselves. They include the late Dr. Gopal Singh, Lt. Governor of Goa; two former Vice-Chancellors of Punjabi University, Patiala, Mrs Inderjit Kaur Sandhu and Dr. Amrik Singh: eminent people like the late Surjit Singh Talib, Prof Harbans Singh, Editor-in-Chief, The Encyclopaedia of Sikhism, Prof Pritam Singh and Prof Darshan Singh Maini.
Mulk Raj Anand, who was also a student, reminisces of how when he was in exile in London, he (Anand) was, as a result of disillusionment from his European studies, "involved in a deep spiritual crisis of hopelessness and lack of belief," after the end of this research studentship when he found a copy of Teja Singh's translation of Japji. Anand read it and he says: "My heart and mind opened to receive other echoes from the tradition of India, through the return of which has lain my somewhat tortured course of self-education and development."
Prof Teja Singh was a man who loved good life. The late Kapur Singh, ICS, described his first encounter with this famous professor of Divinity in Amritsar. Kapur Singh had just come back after studying as Cambridge and had developed a dislike to all that was "within the province of eschatology, dogma and homiletics." He says he was quite ready to burst out on the first Sikh theologian who crossed his path when a friend brought him and Teja Singh together at a restaurant.
"The mutual friend, in the meantime, had ordered fish and chips, which was duly served at the table before serious conversation start, and Professor Teja Singh started consuming his fried fish with such relish, punctuated by delightful remarks about the gastronomically value of various varieties of fish and their cooking methods that the half my prejudice against theology and divinity had vanished."
Teja Singh went to Bombay in 1945 to take over as Principal, Khalsa College, an institution he was to serve till 1948 when he became Secretary, Publication Bureau, Panjab University, Shimla.
In 1949 he was appointed Principal, Mahendra College, Patiala, and Director, Punjabi Department, Punjab.
It was in 1956 that he was presented an Abhinandan Granth by the Pepsu government, in which a veritable galaxy of prominent Indians, who had been in contact with this many-faceted man contributed.
The Abhinandan Granth includes messages from S. Radhakrishnan, then Vice-President of India: Yadavindra Singh, H.H. the Rajpramukh of Pepsu; Bhai Vir Singh; Baba Kharak Singh; Master Tara Singh; Bawa Harkishan Singh; Baldev Singh; Gurmukh Nihal Singh and others.
In his tribute, Kapur Singh said: "It is his essential humanity and his this-earthiness which strikes me as his most endearing characteristic and it is this essential humanity and simplicity of his which marks the great work he had done during the last quarter of a century" by interpreting Sikh dogma and religious theory and by evolving standards for Punjabi prose which shall endure long after he quits this earth."
The man who had contributed so much to the life of Punjab and Punjabis died on January 10, 1958. He left behind a rich corpus of work on Sikhism and the Punjabi language, as well as beautiful memories in the minds of those who came in contact with him—recollections which are still fresh in their minds even as they mark the 100th birth anniversary of this teacher, scholar and as institution.
May 28, 1994