Rejecting babudom for the love of art
Roopinder Singh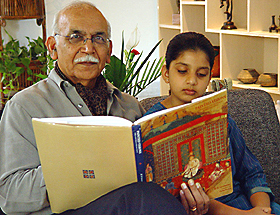 "Anonymity in Indian art is an accident," says Dr Brijinder Nath Goswamy, having devoted several years of research in his bid to put a face to Indian miniature artists of yore. While doing research, he asked a panda if his records had any reference to painters. The panda allowed him to browse through the ancient texts and, after three days, Goswamy came across an entry about a painter. Conscious that he was on to something spectacular, he devoted the next three years to visiting various places of pilgrimage in order to find such references, and thereby establish a base for further work.
Dr Goswamy does not need any introduction. He is familiar to the readers of The Tribune through his popular column, 'Art n Soul'. He is known the world over for causing a paradigm shift in the way the world looked at schools of art in India. The western model associated places like Florence or Vienna with various schools of art. The same model was applied to India by early scholars, though in this part of the world, art was more like a gharana in music.
Dr Goswamy carries his knowledge as lightly as he carries his 70 years. He is a man who is comfortable with himself, and puts a visitor at ease. He has written the only book on any Indian painter of the past. Nainsukh of Guler: A Great Indian Painter from a Small Hill State is a classic, as is Pahari Masters: Court Painters of Northern India, which identifies the hand of 12 master artists for the first time.
Dr Goswamy was recently in the spotlight because of his involvement in the exhibition called Piety and Splendour: Sikh Heritage in Art, which also resulted in a book by the same name. He is also active as a consultant to the National Institute of Design on the Anandpur Sahib project, where he will help "recover the texture of the time — the cultural context and visual references," for the proposed museum.
Dr Goswamy's artistic roots draw sustenance from the culture of the region he has spent most of his life in. He studied in Punjab, in towns where his father, B.L. Goswamy, served as District and Sessions Judge. He did his intermediate from Hindu College, Amritsar. There his batchmate, former Finance Minister Manmohan Singh, and he topped their respective disciplines. His strong liking for history saw him bagging top honours at the graduate and post-graduate levels and also set a new university record,
He joined the Indian Administrative Service in 1956. Two years in Bihar were enough to convince him that this is not what he wanted to do, even though he was the seniormost in his batch. The seed of studying art had already been sown in his mind while he was travelling in a train from Delhi to Patna to join his new assignment. He read Dr M S Randhawa's book on Kangra paintings, and was fascinated by it.
He came back to Panjab University and expressed his desire to Vice-Chancellor Dr A.C. Joshi who told him: "I can give you a readership or a lecturership, but get a doctorate first, or you will be at a disadvantage." Dr Goswamy took the advice seriously.
He resigned from the IAS and worked on a doctorate under the legendary historian, Hari Ram Gupta. On a Rs 300 per month scholarship he worked on the social background of Kangra valley paintings. His thesis was examined by A.L. Basham of The Wonder That Was India fame and eminent British art critic W.G. Archer.
Even before he was awarded a PhD in 1961, Goswamy had begun teaching in Panjab University where he spent his entire career, with short stints in universities of Heidelberg, California and Zurich.
Asked why he always came back and not settled abroad, or even out of Chandigarh, Dr Goswamy says in his typically mater-of-fact manner: "I have never seen myself settling down abroad, since you are never at home. I value my cultural roots and the positive things in them pull me. I am at home with the cultural mindset."
Married to Karuna Goswany, an art historian and critic in her own right who retired as a Professor in the Department of History, Panjab University, the couple have two children, Apurva Goswamy, who works for Bosch and Lamb in Scotland; and Malavika Goswamy-Sharma, who is with Roche group in Switzerland. They also have a granddaughter, Damini.
After more than 20 scholarly works and hundreds of articles and papers published worldwide, what is next? Dr Goswamy wants to devote himself to the task of popularising art. "All that an art historian can do is bring a reader into close contact with his subject," he says. For this, he has been holding workshops in India and abroad to make Indian art more accessible.
In this endeavour, designers like Rohit Bal and Ritu Kumar also help when they acknowledge the contribution of Goswamy's seminal Indian Costumes in the Calico Museum of Textiles in their works. Old patterns woven with new threads? You will have to find it out for yourself.
The article was published in The Tribune on August 9, 2003.
Note: Dr Manmohan Singh is now Prime Minister of India.