Guru Nanak in Hindi: Press coverage in English
The Indian Express had the following report: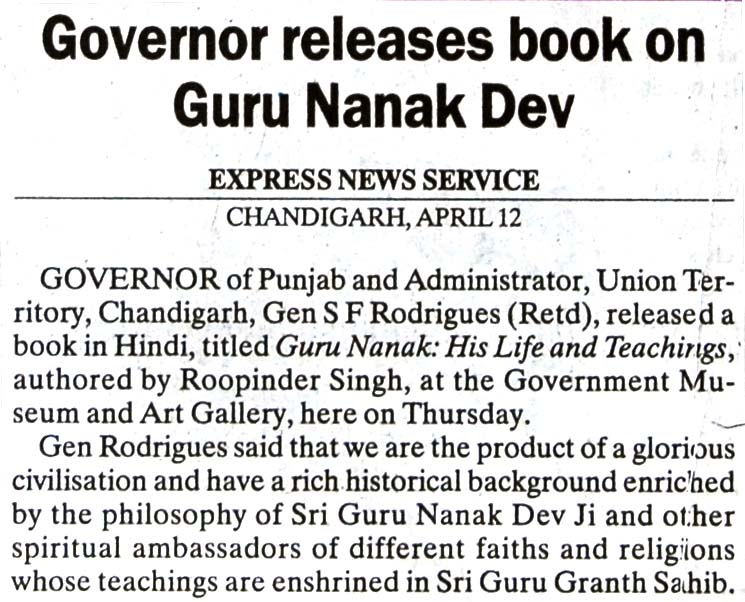 Governor releases book on Guru Nanak Dev

Express News Service
Chandigarh, April 12: GOVERNOR of Punjab and Administrator, Union Territory, Chandigarh, Gen S F Rodrigues (Retd), released a book in Hindi, titled Guru Nanak: His Life and Teachings, authored by Roopinder Singh, at the Government Museum and Art Gallery, here on Thursday.
Gen Rodrigues said that we are the product of a glorious civilisation and have a rich historical background enriched by the philosophy of Sri Guru Nanak Dev Ji and other spiritual ambassadors of different faiths and religions whose teachings are enshrined in Sri Guru Granth Sahib.
The following item was published in Simplicity.

Spreading the word
Roopinder Singh's Guru Nanak His Life & Teachings has now been translated into Hindi. Up next, a Punjabi version.
To reach to a larger audience, the younger generation, even children, and communicate simply and in a contemporary fashion, the life and teachings of Guru Nanak, prompted Roopinder Singh to write, a beautifully illustrated book, Guru Nanak His Life and Teachings (published by Rupa & Co.) back in 2004. And now, the Hindi edition of the book has been released, simply for the same purpose, to spread the word further. "The book has done wonderfully well outside Punjab and Rupa felt that through a Hindi edition, we would be able to reach out to more readers," explained Roopinder, at a release function. In fact, readers can also look forward to a Punjabi edition of the book soon.
As to why it was not done in Punjabi first, Roopinder says he initially felt what could he tell Punjabis about Guru Nanak and so, the non-Punjabi reader was his target audience. "But when I began the extensive and hard research, I realised there was al lot of confusion even about the basics as there was lot to know about him and so, I went back as far as possible". For the Hindi edition, which is the work of three translators, some additions have been done in the form of interaction with people and also inputs by NRIs, to make it more universal and it took about a year to translate it from English to Hindi. Special stress has been laid on discussing the morning prayers, Japiji, establishment of sangat and langar and the Guru's message for improving the status of women.
Guru Nanak, founder of Sikh religion, was born in 1469 and declared that there was only one God and travelled far and wide to spread the word. The book comprises detailed maps of the Guru's travels and visuals, reproductions of rare 18th century Pahari miniature paintings and a series from a 19th century janamsakhi, that has never been published before. "All captions are highly descriptive, while footnotes act as hyperlinks", explains Roopinder, who describes the writing of the book as a fulfilling journey, an edifying experience.