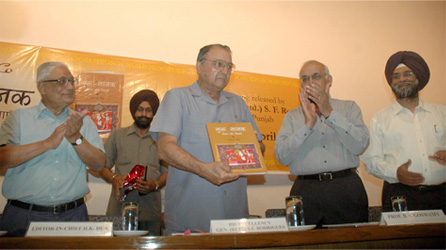 GURU NANAK: HIS LIFE & TEACHINGS (Hindi) was released today, i.e. Thursday, 12 April 2007 at 11.00 a.m. at the Govt Museum and Art Gallery, Sector 10-C, Chandigarh by His Excellency Gen. (Retd) S. F. Rodrigues, Governor of Punjab.
Mr H. K. Dua, Editor-in-Chief, The Tribune, was the Guest of Honour and Dr B N Goswamy, an eminent art critic, was the Guest Speaker. My publisher, Kapish Mehra of Rupa and Co came all the way from Delhi and a large number of friends and well wishers were there for the event
My friends Rajiv, Cheena, Sandeep and their team at Intelligaia have helped me put up a nice section on the main page that gives details of the event, please don't miss out on the photo gallery…do remember to click the pictures and see the full images, not just the thumbnails!
I am looking forward to your comments and mails!