Indian authors, including expatriates, made their mark in many ways, with Jhumpa Lahiri on top
Roopinder Singh
WOMEN authors had a special place in the minds of readers this year. The world celebrated the Nobel Prize going to Canada's Alice Munro, whose works suddenly became familiar to Indian readers. Then, there was the woman who took a man's name and did quite well, until Robert Galbraith was revealed to be J.K. Rowling. Thereafter, her book, The Cuckoo's Calling, did even better.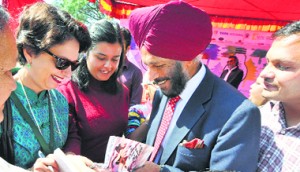 Khaled Hosseini's And the Mountain Echoed delivered as promised and Nassim Nicholas Taleb's Antifragile: How to Live in a World We Don't Understand showed how failed ideas impart lessons.
When US President Barack Obama went shopping for books on Thanksgiving weekend, he picked up the Indian-American Pulitzer prize-winning author Jhumpa Lahiri's latest book The Lowland, which is is a bestseller in India too. Indeed, in the world of books, the world has become quite flat. Indian authors, expatriates or natives, made their mark in many ways during the year.
Ramachandra Guha continued to bring out meaningful books with Patriots & Partisans,followed by Gandhi Before India. Fali S. Nariman held forth on The State of the Nation In the Context of India's Constitution; Jean Dreze and Amartya Sen collaborated to give us An Uncertain Glory: India and It's Contradictions; while Jaswant Singh warned us of India at Risk. Rajmohan Gandhi's Punjab: A History from Aurangzeb to Mountbatten focused on the region.
William Dalrymple, the king of historical recreation, scored yet again with his Return of a King: The Battle for Afghanistan 1839-1842. The Test of My Life is Yuvraj Singh's inspiring story of his battle with cancer. Gen V. K. Malik brought out hisIndia's Military Conflicts and Diplomacy — An Inside View of Decision Making, while UK-based Amandeep Singh Madra and Parmjit Singh went back into time to present Warrior Saints : Four Centuries of Sikh Military History Vol.1. Harish Dhillon took a similar route with his title First Raj of the Sikhs: The Life and Times of Banda Singh Bahadur.
Arundhati Roy took a long, hard look at The Hanging of Afzal Guru and on a related yet different topic, so did Nitya Ramakrishnan's In Custody: Law, Impunity and Prisoner Abuse in South Asia.
People wanted to know about their favourite stars, Milkha Singh and Sonia Sanwalkar brought out The Race of My Life: An Autobiography; Rahul Chandan wrote K.P.S. Gill — The Paramount Cop;Gen V. K. Singh and Kunal Verma teamed up to give us Courage and Conviction — An Autobiography.
Eventful times are often looked at again, and in this genre we had Bruce Riedel'sAvoiding Armageddon: America, India, and Pakistan to the Brink and Back; The Siege: 68 Hours inside the Taj Hotel by Adrian Levy and Cathy Scott-Clark; Brig Onkar S. Goraya's Operation Bluestar… and After — An Eyewitness Account.
If Tavleen Singh's Durbar explored the world of Emergency, Rahul Pandita dwelt on the reality of displaced Kashmiri Pandits in Our Moon has Blood Clots and Jaspreet Singh's Helium looked back at the 1984 riots. Shauna Singh Baldwin's The Selector of Souls won rave reviews in India and in her native Canada. Ravinder Singh scored again with Like It Happened Yesterday as did Ravi Subramanian with Bankrupt. Khushwant Singh's titles continued to be published, be it Khushwantnama or The Good, the Bad and the Ridiculous. India still loves the grand old author who has written more books than he can remember.
This article was published in The Tribune 2013 Yearend Special titled: Year of Corrosion