Your data can move online and be accessible through any computer or smartphone with big Internet companies now offering unlimited storage using cloud computing
Roopinder Singh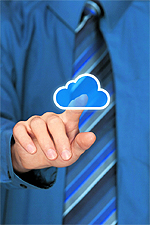 Anywhere, anytime, on any machine. The world's top technology companies promise you the moon, and all that they expect you to do is to rise up to the clouds to get it. They are giving you services that will keep your data safe and make it accessible, provided you have internet or data connectivity, of course.
Google launched the much-anticipated Google Drive or GDrive as it is popularly known, recently and users can now access it for storing their files. Basically, it is an online locker where you can store files so that you can access them later or share them with others.
All that you have to do is install a small application, and once you have it, you can synchronise the cloud storage with the hard drive on your personal computer, or on another device.
Cloud computing
We know that many computer users have computers at home as well as their offices. They may even have smartphones, which are, in effect, small computers. Often, the files that they sa
ve on one computer are not accessible on another, unless they physically transfer these files, normally using flash or pen drives.
This is where cloud computing comes in. It is basically a service that delivers computing requirements to end-recipients through the internet. These services could be storage or even using software that is not on your computer, but one that you have access to through the Net. We will focus on the storage aspect in this article.
Other alternatives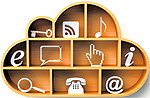 Long before GDrive came on the scene, the cloud was a crowded place. Box (founded 2005), Dropbox (founded 2007) and Microsoft's Live Drive, which has now become SkyDrive, all had made a place for themselves, as did many other cloud-storage services.
Dropbox  dominates the cloud-storage market right now. It offers 2GB of online storage for free, as compared with 5 GB for Google Drive and 7 GB for SkyDrive. Dropbox is compatible with practically all popular mobile and desktop platforms, which is a huge advantage, right now. SkyDrive is Microsoft's answer to GDrive. It preceded GDrive by many years and its recent re-launch has brought the traditional rivalry to the fore.
Online office
Both Google and Microsoft have online office suits that they seek to promote through their cloud storage offerings. SkyDrive favours Microsoft Office file formats and, thus, editing a Word document on the go, is a snap. On the other hand, GDrive is deeply integrated with Google's own office suit, Google Docs, to an extent that it seems like an extension of Google Docs. The downside to this is that your files have to be converted to the Docs format if you want to edit them. However, you can export these files in a variety of formats, and 450 new fonts and 60 templates have just been added.
Google is already the most-preferred search engine. It has a popular e-mail service, and a dominant smartphone operating system. It is perfectly poised to take advantage of the fact that many Google users simply do not want to leave the Google universe, and appreciate the tight integration that comes by being on one platform.
Dropbox advantage
As we have noted, the big giant on the cloud is an old-timer, Dropbox. It scores with its simple, uncluttered style, and has added new features with which you can upload and share photographs online, even as you take them with your smartphone.
As cloud storage becomes more popular, we will have more features from a variety of companies. We have just discussed the top three, there are many. The online world is getting better, and you have nothing to lose but the shackles of your personal computer that you trade in for the cloud that will put you data at your fingertips, no matter where you are.
TOP THREE
Google Drive

Free storage: 5 GB
Paid storage: Extra storage available in tiers from 25 GB ($30/year) and 100 GB ($60/year) all the way up to 16 TB ($9,600 per year)
Online document editing: Yes, with Google Docs
Operating System: Windows, Mac, Android
Dropbox

Free storage: 2 GB
Paid storage: Free; Pro packages available in tiers of 50/100 GB for $99/$199 per year
Online document editing: No
Operating System: Windows, Mac, Linux, iOS, Android, BlackBerry
SkyDrive

Free storage: 7 GB
Paid storage: Extra storage available in 20/50/100 GB increments, at $10/$25/$50 per year, respectively
Online document editing: Yes, with Office Web Apps
Operating System: Windows, iOS, Windows Phone, Mac; Android apps via third parties
 This article was published in the Trends pullout of The Tribune on June 12, 2012.