From being 'Facebooked' in Mumbai, to the fall of a much-decorated general in Washington; Anonymous cyber attacks on Israeli websites and British Twitterati facing legal threats; people are seeing the consequences of cyber activities impacting the real world.
Roopinder Singh
IT'S war. Not quite world war, but almost. In the US, a respected General resigned in disgrace after his tryst with a biographer was exposed; in the UK, a Lord retaliated with the threat of barrage of lawsuit against people who had sullied his name; in the Middle East even as two of the most intransigent enemies fired missiles at each other, another group joined the fray with a different set of weapons; and back home, the long arm of the law in Mumbai nabbed two girls, one of them had posted something many felt, another had liked that comment.
All these are recent instances of cyber world colliding with the real one, and the negative consequences triggered by this collision. Let's look at these instances one by one.
Daft drafts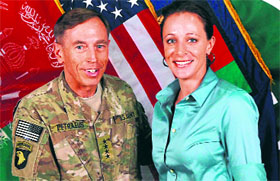 By now, the story of how the head of one of the most powerful intelligence agencies in the world could not hide his affair with his biographer is familiar enough.
We all know that an anonymous email triggered the events that led to the resignation of the then CIA Director David Petraeus, who is 60 years old and is one of the most decorated generals in the US. Petraeus had met a graduate student Paula Broadwell at Harvard University in 2006.
He met her again two years later when she was studying his leadership. She continued her work, as he moved up the rank ladder and in 2010 became the commander of operations in Afghanistan. She met him a number of times, and their extra-marital affair (both are married and have children) apparently started in November 2011.
The 40-year-old Broadwell's biography, 'All In: The Education of General David Petraeus' was published in January. At some point, Broadwell had set up an e-mail account through which the two communicated, not by mailing each other, but by saving these messages in the 'drafts' folder, in an apparent attempt to keep their communication under wraps. It did not work as planned and the mails saved in this account became the evidence of the affair.
In May, she sent letters to a Florida socialite Jill Kelley, which Kelley complained were threatening. At Kelley's request, the FBI started an investigation, which led to the whole affair being exposed, and eventually to the resignation of General Petraeus.
Gen. John Allen, the US commander who replaced Petraeus in Afghanistan, is also under a cloud because of his "inappropriate communications" with Kelley. Apparently the two exchanged hundreds of emails. Widely tipped as the next commander of US European Command and the commander of NATO forces in Europe, General Allen is now cooling his heels pending an internal investigation from the Pentagon.
What we have to remember is that it was an electronic trail that did these people in.
Twitter troubles
Now, let's go to another troubled land. The UK is in a bit of a tizzy. Nightline, the prestigious BBC programme, on November 2 aired a report about alleged sexual abuse in a children's home in Wales in the 1970s and 1980s. One of the victims said during the programme, that he had been abused by a senior Conservative Party figure.
Although the BBC had not identified him, some people on Twitter concluded that the person being referred to was the 70-year-old Lord Alistair McAlpine and this was re-tweeted about one lakh times.
As it turns out, the former treasurer of the Conservative Party, Lord McAlpine, was wrongly accused and the BBC has been forced to not only apologise to him, but to also to pay £185,000 plus costs to him. Many heads too rolled at the old august institution, including that of the recently-appointed Director-General George Entwistle.
Now, the Lord and his solicitors are threatening to identify the people who tweeted about him, and sue them. A number of individuals have posted tweets apologising for their comments. The British comedian Alan Davies, who has more than 4,44,000 followers on Twitter, posted: "I've just written to Lord McAlpine to apologise for retweeting his name in relation to false allegations following a BBC investigation."
Lord McAlpine's lawyers and experts are reported to have found 1,000 "original" tweets and a further 9,000 retweets and have threatened to make each one of them to pay a nominal amount, which will be given to charity. Many of these people have apologised, and the every hyperactive twitter sphere has been somewhat muted since.
Cyber attacks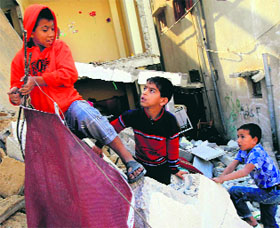 When Israel attacked Gaza with rockets, some kind of retaliation was expected and it came in the form of missiles. What it may not have anticipated was a cyber attack on its networks and websites by a group called Anonymous.
The hacker collective that calls itself Anonymous attacked a large number of Israeli websites, with varied degree of success. It says its #OpIsrael is in retaliation for the air raids by Israeli military.
In a message, the hackers said: "Anonymous does not support violence by the IDF (Israel Defence Forces) or by Palestinian Resistance/Hamas. Our concern is for the children of Israel and Palestinian Territories and the rights of the people in Gaza to maintain open lines of communication with the outside world."
Hackers who attack for political reasons, not for any monetary gains, are called hacktivists and they have been able to attack various nations and businesses from time to time. They have repeatedly shown expertise in attacking targets that give them a good amount of publicity while also embarrassing governments and institutions.
In recent days the attacks have intensified and Anonymous recently issued a statement that said: "November 2012 will be a month to remember for the Israeli defence forces and internet security forces. Israeli Gov. this is/will turn into a cyber war."
Facebook fracas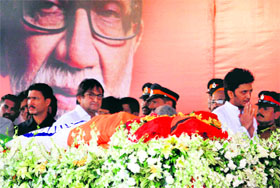 Shiv Sena patriarch Bal Thackeray changed Bombay into Mumbai and his writ ran large over India's commercial capital. It was hardly surprising that Mumbaikars turned out in large numbers for the cremation of their leader, even as the world media tuned in to this massive funeral cortege and provided live coverage. The city virtually came to a standstill, as the peaceful procession wound its way to the cremation ground.
Among the lakhs of people affected by the event was a girl. Only, she had her own take on the issue and she said in the now widely-quoted Facebook post: "With all respect, every day, thousands of people die, but still the world moves on. Just due to one politician who died a natural death, everyone just goes bonkers. They should know, we are resilient by force, not by choice. When was the last time, did anyone show some respect or even a two-minute silence for Shaheed Bhagat Singh, Azad, Sukhdev or any of the people because of whom we are free-living Indians? Respect is earned, given, and definitely not forced. Today, Mumbai shuts down due to fear, not due to respect."
The 21-year old Shaheen Dhada who wrote the post and her 20-year old friend Renu Srinivasan who 'liked' it could not have imagined that they would be arrested for their online activities. However, the girls were arrested, under Section 295(a) of the Indian Penal Code (for hurting religious sentiments) and Section 66(a) of the Information Technology Act, 2000, (punishment for sending offensive messages). They were sent to judicial custody from which they were bailed out.
The act provoked widespread condemnation, including a letter by the Chairman of the Press Council of India, Justice Markandey Katju, to the Maharashtra Chief Minister Prithviraj Chavan demanding action against the police officers who arrested the girls (see box). Even the Telecom and IT Minister Kapil Sibal said he was "deeply saddened" by the arrests.
Practical lessons
Anyone who uses computers must, however, be cautious. Many think of cyber space as ethereal and esoteric. It is, in many ways. The cyber world, is also an extension of the real world.
While the internet gives its users a false sense of anonymity, you must remember that all that you have done can be traced back to you. It, however, has the power to explode with you have posted to hundreds of thousands of people. It also maintains files that you may ardently wish had vanished, Petraeus realised, at the cost of his career. It has the power explode your comment and make it available to millions of people, as the people who tweeted about Lord McAlpine have discovered. It can dislocate normal life in any civilised nation, as Israelis are seeing. It can disrupt a perfectly anonymous life, as Dhada has unfortunately found out.
As individuals learn the limits of freedom they have on the Net, and come to terms with its uglier side, they also realise the need to act responsible. The society at large too, must break the mindset of the otherworldliness of the cyber world and realise that it is totally integrated into our lives now.
MUMBAI FACEBOOK ARRESTS
Not a fascist dictatorship
The following is the text of the letter written by the Chairman of the Press Council of India, Justice Markandey Katju, to Maharashtra Chief Minister Prithviraj Chavan:
I am forwarding an email I have received stating that a woman in Maharashtra has been arrested for protesting on Facebook against the shutdown in Mumbai on the occasion of the death of Mr. Bal Thackeray. It is alleged that she has been arrested for allegedly hurting religious sentiments.
To my mind it is absurd to say that protesting against a bandh hurts religious sentiments. Under Article 19(1) (a) of our Constitution freedom of speech is a guaranteed fundamental right. We are living in a democracy, not a fascist dictatorship. In fact this arrest itself appears to be a criminal act since under Sections 341 and 342 it is a crime to wrongfully arrest or wrongfully confine someone who has committed no crime.
Hence if the facts reported are correct, I request you to immediately order the suspension, arrest, charge sheeting and criminal prosecution of the police personnel (however high they may be) who ordered as well as implemented the arrest of that woman, failing which I will deem it that you as Chief Minister are unable to run the state in a democratic manner as envisaged by the Constitution to which you have taken the oath, and then the legal consequences will follow.
Justice Markandey Katju
The Law
Section 66A of the Information Technology Act, 2008
Punishment for sending offensive messages through communication service, etc.
Any person who sends, by means of a computer resource or a communication device
(a)  Any information that is grossly offensive or has menacing character; or
(b)  Any information which he knows to be false, but for the purpose of causing annoyance, inconvenience, danger, obstruction, insult, injury, criminal intimidation, enmity, hatred or ill will, persistently by making use of such computer resource or a communication device,
(c)   Any electronic mail or electronic mail message for the purpose of causing annoyance or inconvenience or to deceive or to mislead the addressee or recipient about the origin of such messages, shall be punishable with imprisonment for a term which may extend to three years and with fine.
Explanation: For the purpose of this Section, terms "electronic mail" and "electronic mail message" means a message or information created or transmitted or received on a computer, computer system, computer resource or communication device including attachments in text, images, audio, video and any other electronic record, which may be transmitted with the message.
This article was published on the OpEd page of The Tribune on November 21, 2012