The Last Word
by Roopinder Singh & Vibha Sharma
Courageous and charismatic, this is one woman who has lived life on her own terms. She has also rubbed many an important person the wrong way in the process of achieving her goals. She attracts cameras, has recently shown her ability to work crowds, and in the process, attracted much ire from political leaders.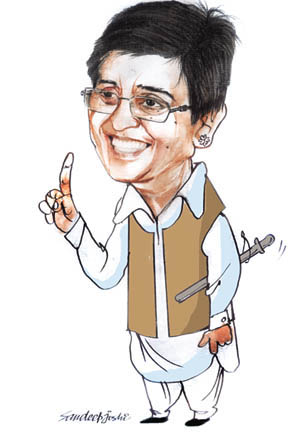 She is totally unapologetic about caricaturing politicians on stage, or identifying Anna with India during the recent popular protest against corruption, in which she played a leading role. But then, Kiran Bedi, 62, is not known to have been apologetic about anything, be it managing crowds by leading from the front, taking action against a car from the Prime Minister's pool that was illegally parked, or reforming Tihar Jail when she was posted there as Inspector General of Police. The first, at the beginning of her career, had male students screaming, "Bobby go back" even as they backed off while she charged at them. The second earned her the 'Crane Bedi' title, and the third contributed to her getting the prestigious Magsaysay Award.
Kiran Peshwaria grew up in Amritsar, living in the comfort and security of a large family that had land holdings as well as a dharamshala and hotels like the Volga and Savoy. "Amritsar was a safe, clean city for me to grow up in," says Kiran Bedi. She would cycle down to her school, Sacred Heart, and college, Government College for Women. Later, she bought herself a Luna moped. She and her three sisters had access to "facilities and opportunities" like tennis courts, and they made full use of them, winning tournaments, and travelling.
Playing tennis well led to participating in tournaments in Amritsar, and for Punjab. It also gave her the first brush with sports bodies that worked on considerations other than merit. "It was my first brush with official corruption and because of these officials, I lost out on many opportunities," she recollects.
After Amritsar, she moved to Chandigarh as a student, and is particularly proud of getting both a sports and an academic scholarship at Panjab University, Chandigarh, where she studied for her MA in political science with teachers like JC Anand and MM Puri. On the debating side, she sparred with the likes of Mac Sarin, now a noted local lawyer, and the Leader of the Opposition in the Lok Sabha, Sushma Swaraj.
A teaching stint took her back to Amritsar and then came the call of the uniform. She became India's first woman police officer. "Being the first woman IPS officer, she was always trying hard to prove that she was an equal in a man's world," a senior journalist recalls, recounting an incident when Kiran tackled a violent mob, using Hindi abuses just as her male counterparts would have done in the given circumstances.
Sartorially, not too many remember her in a traditional sari or a salwar kameez-dupatta ensemble. She wore shorts on the tennis courts, uniform trousers, a kurta or a shirt, a pathani style suit with a Nehru jacket or a band gala suit as in her TV show Kiran Ki Adalat.
Ironically, her male colleagues have sometimes accused her of taking advantage of her gender. "Her being a woman worked in her favour rather than being a disadvantage. Seeing a woman at the head of the Police Contingent Spectators during the 1973 Republic Day Parade, the then Prime Minister lndira Gandhi was so impressed that she invited Kiran for breakfast the very next day. Would any male officer get the same privilege?" asks a senior serving IPS officer, who requested anonymity.
She understood the power of media even in the days when the maddening 24×7 media channels were not there to follow her every move. She engaged the media effectively, whether it was as DCP (Traffic) when she controlled traffic during the 1982 Asian Games, towing away offending vehicles without caring for their VIP owners.
She met Anna only on November 14, 2010 at the 'India Against Corruption' rally near Jantar Mantar on Parliament Street in Delhi that called for registering of an FIR against corruption in the Commonwealth Games. Her media management skills were well utilised by her Team Anna colleagues.
Labelled a "hardliner" during negotiations with politicians during Anna's fast, she openly criticised them by name. She followed the tirade against the holy cows by saying that she felt "let down" by Nehru-Gandhi scion Rahul Gandhi's lack of support for the anti-corruption movement, even terming the young Congress leader as the "biggest loss of faith in our trust".
Courting several controversies in her career, it has not always been an easy run for Kiran. She was transferred out of offices for trying to turn things around or at times proving too difficult for others in command. When she was posted as IG Chandigarh, she was accused of instigating junior officers to defy the administration.
She has been controversial. She is charged with walking away without completing her tenure on at least two occasions. "She left her post as SP Goa and DIG range (Mizoram) without permission. The Mizoram Governor even issued a formal note of displeasure for leaking information to the Press," a senior police officer said.
Cribbing and complaints apart, Kiran continues to be an inspiring public figure. In 1977, she put an end to the Akali-Nirankari riots at India Gate and as DCP (West Delhi) in 1979 broke up the 200-year-old illicit liquor trade. In 1985, as DCP (headquarters) she ordered 1,600 pending promotions to be made in a single day. Standing instructions were issued that if any file were not cleared within three days, the person concerned would be called personally to explain the delay. In 1993, as the Inspector-General of Tihar Jail (9,100 inmates, including 300 women) she turned the unliveable jail into a humane institution that focused on educating prisoners.
She has her fans. Eminent writer Khushwant Singh in one of his columns described Kiran as "the gutsiest woman" he ever knew. She has adroitly managed to keep her personal life out of the limelight. She is married to Amritsar-based industrialist and philanthropist Brij Bedi and they have a daughter. Kiran lost her mother in 1999 and ever since her father has been staying with her. She enjoys a great relationship with her sisters, Sashi, who teaches philosophy in Canada; Rita, a London-based expert on autistic children, and Anu, a San Francisco-based immigration expert.
After leaving the police force, she has concentrated on her NGOs, Navjyoti and India Vision Foundation. When the Income Tax Department sent notices for scrutiny to these two NGOs regarding certain exemptions enjoyed by them under various provisions of the Income Tax Act, she typically refused to see a conspiracy in that, saying there was no evidence of it.
"We are in the process of getting ISO 9001 certification for these NGOs and the chartered accountant is competent to answer these queries," said an unruffled Kiran.
A woman can do anything, it is said. Well, here's one who has been a lecturer, a tennis champion, a debater, a police officer, a social activist, an actor, a television show host, a columnist, an author, an inspirational speaker, and an inspiration for both TV serials and even a film, Tejaswani. She lives life on her terms, and seems to enjoy every moment of it.
This article was published as the Last Word column in The Tribune on October 6, 2011. It was also simultaneously published in Dainik Tribune and Punjabi Tribune.