Microsoft wants Yahoo!
Internet users want innovation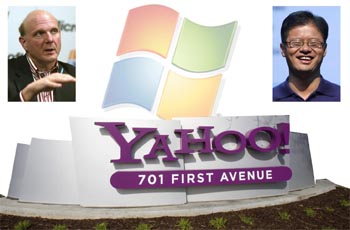 by Roopinder Singh
Yahoo! It could well have been a battle cry as Microsoft's knights Steve Barmer and Bill Gates sallied forth to take on the mighty Google's Sergey Brin and Larry Page. Well, it isn't.
At stake is a vision of the future of computing, a clash of paradigms and, of course, billions of dollars for the companies that are fighting for a place in the Internet world of tomorrow, and the advertising revenues that accrue from it.
Microsoft has offered to buy out Yahoo! in order to add a competitive edge in its battle against the industry leader, the search engine company Google. It has offered $44.6 billion in a mix of cash and stock for Yahoo, and if the deal goes through, would be Microsoft's largest acquisition ever.
Microsoft has been struggling in the Internet space. Many, many years ago, it managed to ward off the threat of Netscape browser by launching Internet Explorer and bundling it with the Windows. The tactic was a success, although it exposed Microsoft to anti-trust charges that have bedevilled the software giant since.
Microsoft bought Hotmail from its co-founder, Sabeer Bhatia, in 1997 for $400 million. At that time, it had more than 8.5 million subscribers. Hotmail soon became the world's largest e-mail service and in February 1999, it had more than 30 million active members.
How numbers change, as do the players. Now Yahoo! has the biggest e-mail service in the world, with 300 million Yahoo! Mail users, while Hotmail has 250 million users. By all accounts, Gmail is way below, at the 50 million mark. Thus, if you were to have Yahoo! Mail and a Hotmail (or Windows Live Hotmail, to use the current Microsoft term) combination, they would totally dominate the e-mail sector, which is what draws eyeballs to advertisements, whose revenue all the players are fighting for.
However, things are seldom as simple as they seem to be. While e-mails fulfil the need to communicate, search engines satiate another need of the modern IT-enabled person, that to find information-immediately. It is in this sphere that Google dominates the market. The search engine built by two Stanford students has become so ubiquitous that it has become generic – you "google" for information rather than search for it.
Google has added many value additions to the search engine, including g-mail, picture sharing through Picasa, blogging software and other services. It is also now adding software that allows you to use word processing and spreadsheet programmes over the Net. Not only are they free, it is also very easy to share them with other and take in their comments etc.
In a slow but significant manner, the future of computing is moving away from the individual computers to networked machines. We know that most of the computers worldwide are powered with some or the other version of Microsoft Windows, and have the Microsoft Office suit of programmes. The company just made billions of dollars on strong sales of Vista operating system and Office suit this year.
If Google's offerings are taken up by large number of people, it gives the users the option of being independent of any operating system software, as well as of not paying for the Office suit. In any case, there are options, like Linux and Apple operating systems, and other free software that competes with MS Office, like the WordPerfect package.
Who can predict the pace of innovation? Computer users find different ways of using their machines every day. Their needs and expectations change and companies have to evolve with them. Google has made many inroads because it has been able to keep its finger on the pulse of the Internet users. You just have to look at the vast number of offerings from Google and you see where Internet trends are headed.
Many analysts are rightly questioning whether the deal will be allowed to go through, given anti-trust examination that is bound to slow down any potential merger. Also, there will be many issues regarding the integration of work cultures and different technologies that both companies use. There is a definite danger that two also-rans in the business will not combine to be a market leader, but become bigger also-rans. There is also talk about Google and Yahoo forming an alliance. Yahoo is very clear in maintaining that "no decisions have been made."
The Microsoft bid for Yahoo! is, to the mind of this writer, a business decision in the industry where innovation changes the playing field with tremendous speed. Remember when Google declared unlimited storage space for Gmail! The company left everyone playing catch-up and generated for itself tremendous goodwill, publicity and consumer loyalty. Soon everyone was announcing that they would give more free space, but none could match Google in élan. Even now, while Google makes most of the money in the online advertising business, it is aggressively exploring the avenue of delivering advertising over mobile phones.
The online advertising dollars that Microsoft and Yahoo! are chasing, which Google seems to have cornered for the time being, are not where the future of the Internet is. Perhaps pundits will do well to look at Stanford University's young students. It was Stanford researchers that created Excite, one of the earliest search engines, in 1993. A year later, Jerry Yang and David Filo created Yahoo! And by 1996, Larry Page and Sergey Brin were collaborating on BackRub, a search engine named for its ability to analyse the "back links" pointing to a website. You know where they all went to school? No prizes for guessing that it was Stanford.
This article was published in The Tribune on February 5, 2008