Indian Persuasions: 50 years of Seminar: Selected Writings



Ed. Rudrangshu Mukherjee.
Roli Books. Pages 544. Rs 695.
Reviewed by Roopinder Singh
TO judge a book by its cover would be a transgression for whom only the written world matters. Yet, this cover comprises letters that when read together become the names of some of the finest minds in India, collectively representing a formidable intellectual legacy. Their coming together on the same page, so to say, shows the vision of the people who brought them together.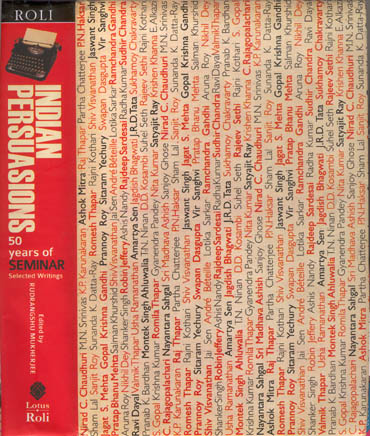 Seminaris a magazine only in a strictly technical sense. It is far removed from the glossies that populate newsstands and purvey what purports to be opinion and information. Seminar, ever since its inception, has been a periodical that devoted itself only to one issue every month and encouraged experts to write on different aspects and express their views freely and frankly.
Raj and Romesh Thappar, the founders, brought out the first issue in September 1959, and kept it going till they both died in 1987. Romesh Thapar dallied with the Left in the 1940's and 1950's, and after spending some time in Bombay, where he was involved in films and art, he settled down in Delhi. His wife was his partner in every sense, and together with some friends, every month they brought out a new issue that provided fresh food for thought.
After their death, their daughter Malvika and her husband Tejbir Singh have kept the flame alive by continuing the legacy. Seminar provided a platform for new ideas, and it attracted the best—Nirad Chaudhuri, K.N. Raj, Amartya Sen, Nirmal Kumar Bose, and Beteille, have all contributed to it.
Rudrangshu Mukherjee, the historian who is editor with the Telegraph, has put together a collection of 60 articles divided into five sections:
Maximizing the Possibilities: Personalities, Parties and Politics
 Does the Centre Hold? Trends in Indian Politics
 Growing Out of Planning: Problems of Economic Development
Education the Nation: History
Other Themes; and Culture, Art, Identity.
India's finest intellectuals find the space here to discuss various problems and issues. As we read them, we see how these articles are still as pertinent as they were the day they were written.
Perusing the volume, we find ourselves nodding our heads as the late Ravi Dayal describes Delhi as "a collection of villages, each with its own ways and mannerism, and altogether more provincial than stylish, integrated city of not so long ago".
Krishna Kumar rightly focuses on the anti-rural bias in the Indian education system and points out that the rural school's timetable is totally out of tune with the socio-economic routine of village life throughout the country. Robin Jeffery gives us a perceptive insight into Indian language newspapers. In India and History, Romesh Thappar gives an account of Indira Gandhi and her 19 years of rule as only someone who knew her well could have.
Reading the book, the reviewer often found himself looking at the end of each article to find out which issue it had originally been printed in. How Seminar brought out such insightful issues on relevant topics was something that one often wondered about as a student in Delhi when one was introduced to the magazine, became a reader and a collector. At first one only bought of immediate interest, then one started picking up those which could be of interest later, and soon all. For those who missed out issues, or are new converts, the magazine has an online presence and is now available in a digital format, as CDs.
One does not read such compendiums cover-to-cover in a linear fashion. One started at the beginning, which set the tone of the tome, but also dipped, skipped and jumped backwards and forward. The distinctive cover is typographical, echoing the technique used for the magazine since its inception—this book can thus be judged by its cover, since it reflects the content, while establishing a connection with the original magazine. The editor and the publishers deserve to be congratulated on putting together such a fine and relevant collection of essays. Indeed, this is a rich fare, to be savoured, mulled over, ruminated upon and revisited, much as people who have issues of Seminar tucked away in their shelves have been doing for over 50 years.
This review was published in The Tribune on Sunday, November 22, 2009.