Technology first, people foremost
Hit Refresh: The Quest to Rediscover Microsoft's Soul and Imagine a Better Future for Everyone
By Satya Nadella, Greg Shaw and Jill Tracie Nichols.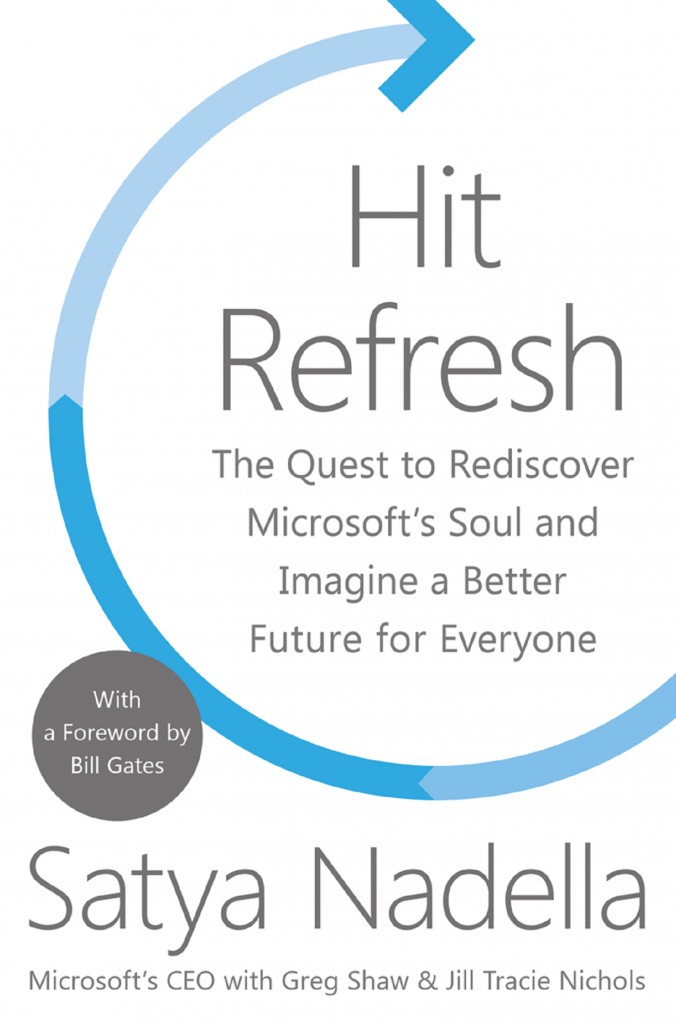 The man who gave up his Green Card to get a wife was unusual enough, but when Microsoft picked him up to be their third CEO, he found himself in the spotlight, under a microscope, and in a leadership position at the PC-centric behemoth.
Satya Nadella devoted much of the initial period on renewing the culture of Microsoft. "My approach has never been to conduct business as usual. Instead, it has been to focus on culture and imagine what's possible." He credits cricket, along with experiences as a husband, a father and as a young Microsoft engineer thrilled to be a part of the company's "visionary accent", for underpinning his leadership style.
What a person does is shaped by his personal experiences. In this mixture of a vision statement, a manifesto, and a biography, the latter takes a back seat. The personal punctuates the narrative gently, underlining without intruding. We learn about his childhood. His father, an IAS officer, and his mother, a Sanskrit teacher, have been a major influence on him. The family moved around a lot when he was a child, but Nadella spent some meaningful years in Hyderabad.
His marriage to a childhood friend, duly approved by both sets of parents, makes for a perfect Indian narrative; yet exchanging a Green Card for an H1B visa gives it a unique twist.
He has battled many challenges, both personal and professional, but these seem to have brought out the best in him. On the personal front, he has a son who has cerebral palsy and requires constant care. When Nadella describes how technology makes young Zain's life a bit better, the human face of the interface hits us forcefully, as it does when he talks about special programmes for children with special needs and medical interfaces that enable better care of patients.
Empathy — Nadella seeks it in others and exhibits it in his actions. He is harsh on himself when he fails on this count. He has been able to turn around the culture at his company in the last three years, and along with that has come a much more tangible change, a kind of Copernican Revolution that has shifted the focus from devices to services. "I encouraged Microsoft to become 'mobile-first and cloud-first'. Not PC-first or even phone-first." The earlier stress on devices had now shifted to people.
Nadella is betting the future of Microsoft on three areas of innovation — mixed reality, artificial intelligence (AI) and quantum computing. He dwells on each and gives us a bird's-eye view of the progress and the challenges that the industry, as a whole, and Microsoft, in particular, face. Naturally, when we think of cutting-edge technologies, ethics have a major role in shaping and crafting these.
He has successfully initiated many partnerships with rivals, and in some prominent cases, done so even in the midst of litigation between the two parties. Among his prominent wins is the placement of Microsoft apps in Apple devices and Samsung phones. He has also wielded the knife when it did not fit into his scheme of things, notably axing the Nokia acquisition soon after he took over as CEO.
There is much talk about what machine learning, AI, and robotics will transform the world into, making many of the skill-sets acquired by children obsolete. Nadella's take on these makes for an interesting read:
"To stay relevant, our kids and their kids will need:
Empathy: Empathy, which is so difficult to replicate in machines, will be invaluable in the human AI world. The ability to perceive others' thoughts and feelings, to collaborate and build relationships, will be critical.
Education: Developing the knowledge and skills needed to implement new technologies on a large scale is a difficult social problem that will take a long time to resolve.
Creativity: One of the most coveted human skills is creativity and this won't change. Machines will enrich and augment our creativity, but the human drive to create will remain central.
Judgment and accountability: We may be willing to accept a computer-generated diagnosis or a legal decision, but we will still expect a human to be ultimately accountable for all the outcome."
Satya Nadella's story, vision and its statement, are interwoven in this interesting book, which is already a bestseller and deservedly so.
The book review by Roopinder Singh was published in The Tribune on September 15, 2017.