Voluminous and informative but not revealing
YOU have to make hard choices to be a winner, and no one knows this better than a person who has just lost a race. Hillary Clinton knew she was losing ground in the run-up to the 2008 Democratic nomination to a fellow Democrat, Barack Obama. At nearly the end of their gruelling campaign, the two met each other. "We stared at each other like two teenagers on an awkward first date. Finally, Barack broke the ice…" He asked her to help him unite the party and to help him win the election. She did so by convincingly endorsing his candidature. After the election which they both fought as allies, he became the 44th President of the US.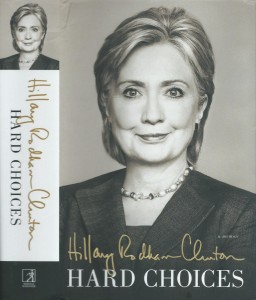 The newly elected US President asked his rival-turned-ally to be his Secretary of State. This was not an offer that Senator Hillary Clinton expected. It was also an offer that could not be taken lightly. She discussed it with her husband, former President Bill Clinton, and her advisers. She mulled over it and eventually, after meeting President Obama, agreed to serve his administration as America's 67th Secretary of State, or foreign minister.
"I quickly learned that Secretary of State is really three jobs in one: the country's chief diplomat, the President's principal advisor on foreign policy and the CEO of a sprawling department," she writes. Hillary drew on her exposure as a former First Lady as well as her extensive experience in public life. Widely recognised and admired abroad, Hillary managed to notch up almost a million miles in the sky as she winged across in a special US aircraft to various capitals, building bridges and fighting fires, and all the while also combating the perception of America's diminished ability to lead the world.
No one expects a former high functionary of the government to provide a truly revealing account in his or her memoir, and Hilary is no exception. However, the book is a chronicle of the crises the US faced at the time, it even gives some insight into how she made choices, and admits the differences she had with the Obama White House on some issues.
There is little doubt that Hillary Clinton left her own stamp on US foreign policy, even as she carried out her duties on behalf of the President. She had an equation with a number of world leaders she met with President Clinton. She also focused more on Asia, with a degree of success.
Hillary brought to the table a deft touch of personal diplomacy. The manner in which she interacted with leaders and their wives brought to the fore a softer side of American diplomacy. She especially reached out to women and children, thus reflecting her own inclination, as well as the State Department's outreach. As she says, many people were impressed that a former rival was working for the new President, a great example of democratic functioning, seldom seen in the US or abroad.
Hillary Clinton had a ringside view of some of the most important events that occurred during her tenure. Perhaps the most dramatic of them was the mission to kill Osama bin Laden in his lair in Abbottabad, Pakistan. She was clued into the action before it happened and was with President Obama in the White House when Osama bin Laden was killed in a US raid. And she had to deal with irate Pakistanis after it happened!
India figures in the book, but not in as much detail as one would have liked. But then, it is one of the 112 countries that Secretary of State Hilary Clinton travelled to during her tenure.
As we turn pages we realise that Hillary was indeed a woman in charge even as we feel a sense of what transpired during the four-year tenure. We also get some glimpses of the non-official life of a leader. The book is informative, but restrained.
It is an impressive volume of one who may one day soon be a presidential aspirant with impressive credentials as a problem solver; someone who successfully shaped the American response to world events and represented her country well internationally.
Hard Choices: A Memoir by Hillary Clinton. Simon and Schuster. Pages 635. Rs 999. This review by Roopinder Singh was published in the Spectrum magazine section of The Tribune on August 3, 2014