Comics with sagas of battles make for tremendous stories and are a good way to engage young minds
by Roopinder Singh

Achtung! Nostalgia! Schoolchildren of a certain vintage, had more than a passing acquaintance with the battles and warriors of World War II, all thanks to often-forbidden, always-frowned-upon comics that brought alive the stories of courage, cowardice and camaraderie alive in our minds.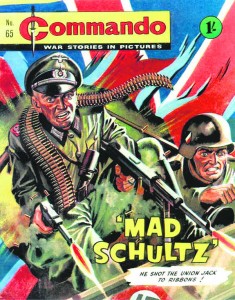 These school-days staples were profusely illustrated with pithy stories, told from the point of view of the Allied Forces. A convenient 7×5½ inch size allowed these to be portable; the standard 68 pages ensured a good read from a comic that did not bulge out inconveniently.
Commando Comics were often bartered, exchanged, begged for and even stolen. For schoolboys, these were the ultimate escape into a world of adventure and action that allowed them to break away from the mundane routines and the oppressive discipline that all public schools manage to impose on their students. The cover was well executed in colour while the rest of the comic was full of black and white line drawings that gave a foxhole account of soldiers in battle. The Germans, often derogatorily called Krauts, were a villainous lot, some were humane though, if the story demanded them to be so.
That comfortable world of black and white had — not a shadow of the greys of political correctness, sharply delineated character lines and easily identifiable enemies. We were too young to know the difference, but the stories had a strange allure. It was only much later that the horrors of, say, the bombing of Dresden, came into our consciousness. Commando Comics eventually took up other wars, including World War I, Spanish Civil War, the Falklands War and the conflict in Korea and Vietnam. For aficionados of a certain generation, Commando Comics have a special significance. Likewise, Tin Tin was forever on one campaign or the other.
Near home, Amar Chitra Katha rose to the occasion, with stories of heroes from Indian forces. The Kargil and Siachen conflicts, too, had compelling stories of courage, and became subjects of graphic publications. AAN Comics has published a number of these including Siachen: The Cold War, which Rishi Kumar wrote, and a series on Param Vir Chakra winners — Capt Vikram Batra, Lt Manoj Kumar Pandey, Rifleman Sanjay Kumar and Subedar Yogendra Singh Yadav. Aditya Bakshi published Yeh Dil Maange More! on Capt Vikram Batra.
Sagas of battles make for tremendous stories, and comics are still a good way to engage young minds. Commando Comics, which date back to 1961, are still published regularly and are now available digitally as well.
This article was published in The Tribune on December 7, 2017.