Granta: Pakistan
Ed. John Freeman.
Granta. Pages 288. Rs 599.
THE world seeks to understand Pakistan, even as that nation seeks to define itself, and who better to guide us than a collection of celebrated contemporary writers from the country that has gripped the imagination of the world for all the wrong reasons.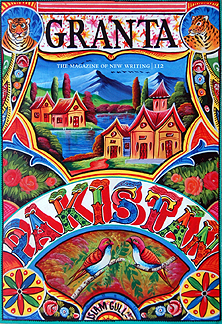 We often forget that it is this land that gave such legends like Heer-Ranjha and Sassi-Panu, two of the most powerful love stories that form a part of our folklore; that the poets of the region have a centuries-old tradition of stringing together soul-stirring verses; the biting humour that expresses serious political critique-there is much more to Pakistan than terror, which it is experiencing as well as exporting.
Is it a magazine or a book? It is the former-the tag line says The Magazine of New Writing, Issue 112-but so well-knit together that it reads like the latter. Through this special issue of Granta, we are introduced to Pakistan that seems familiar, yet different. The feudalistic mindset, chauvinism, intolerance and intense competition between well-placed peers, along with female foeticide are brought out well by Nadeem Aslam in Leila in the Wilderness, with which the volume opens. The quest for a boy, who will take forward the family line, blaming the mother for not producing one, eating special foods to produce a male, inordinate faith in oracles and talisman, all are so familiar, yet served in a distinctive, somewhat exotic flavour.
Portrait of Jinnah is Jane Perlez's perceptive reportage of the life and impact of the founder of Pakistan on his country, and in the same genre, Basharat Peer's Kashmir's Forever War gives a different, if one-sided view of how and why Kashmir continues to burn and bleed.
Uzma Aslam Khan's Ice, Mating is good, erotic and intelligent. This San Francisco-based author's first book, The Story of Noble Rot, was reviewed in these columns.
In The House by the Gallows, Intizar Hussain's memoir of censorship, and the ham-handedness of the censors, will draw a chuckle or two from those who suffered briefly when Mrs Indira Gandhi imposed it in India during the period of Emergency in 1976. The swashbuckling character Anwar Kanwal in Arithmetic on the Frontier by Declan Walsh, took one back to Aatish Tasweer's account in Stranger to History: A Son's Journey Through Islamic Lands, of another person, sophisticated in urban setting, and a feudal lord in his ancestral, pastoral setting. We see them in India, too, though mostly in the past sense, since it is obvious that feudalism has a far greater hold in Pakistan, which never renounced it.
Mohammed Hanif is familiar to many in India because of his best-selling novel, A Case of Exploding Mangoes, and its black humour. His latest work, the soon-to-be published Butt & Bhatti, starts off as a romantic story, in a hospital, but then comes in terror triggered by events that would have been innocent, had they been in a less terror-ridden environment.
Three pages of sheer shock grip you in A Beheading, where the protagonist is the victim. Mohsin Hamid the author of The Reluctant Fundamentalist is a work of fiction-the stuff nightmares are made of-that sometimes spills into reality, as it did for Daniel Pearl.
In Pop Idols, Kamila Shamsie starts with Nazia and her brother Zoheb Hassan of the "Disco Deewane" fame. Deftly weaving pop culture and political observations, she reminds us of how Zia-ul-Haq sucked Pakistan's soul with his Islamisation drive, and how betrayed people felt when Benazir Bhutto did not reverse the trend. Had not Pakistani teens gyrated to "Jeay Jeay Jeay Bhutto Benazir", expostulates this Karachi-bred expat who now lives in London.
Fatima Bhutto's political account in Mangho Pir, Lorraine Adams and Ayesha Nasir's reportage in The Trials of Faisal Shahzad, Sarfraz Manzoor's quest for a matrimonial match in White Girls, and certainly not to be missed High Noon, which showcases the work of 14 Pakistani contemporary artists; many gems are waiting to be explored in this volume.
You should never judge a book by its cover. In this case, however, the cover of the Granta edition gives an interesting insight about its contents. It is based on vehicle art, seen on trucks in India and on both trucks and buses in Pakistan-a shiny, stylised, raw mosaic of many vignettes united by a common vision of the artist, or, in this case, the editor. As the Granta bus trundles along various highways and pot-holed byroads of Pakistan, it takes us on paths that strike a note of familiarity, even as some exotic notes tease our sensibilities.
This review, by Roopinder Singh was published in the Sunday Reading section of The Tribune.