Even greater then the feeling of being acknowledged is the pleasure of acknowledging achievers. It was this that made July 9 a most memorable day for me.
Dr Kiran Bedi. The first woman police officer in India, is one of the icons of modern India. This internationally recognised lady is a policewoman, who won the Magsaysay award, columnist and writer, who also runs the Vision Indian Foundation. Currently, she is Director-General of the Bureau of Police Research and Development, New Delhi.
She was in Chandigarh and it is always an invigorating and positive experience to spend some time with her. She is so full of energy and positivity! I have known Dr Bedi for a long time, and she has generously often called me her friend, so it was only natural that when I went to meet her, I should take another friend with me.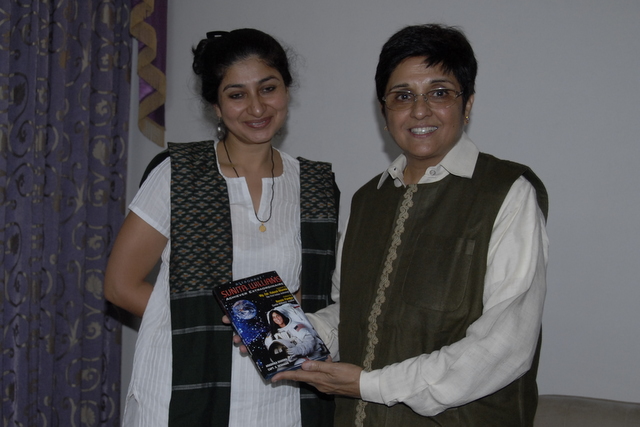 Aradhika Sharma, co-author of Astronaut Sunita Williams: Achiever Extraordinaire had met Dr Bedi and my mother, Sardarni Inderjit Kaur, and our family at our residence earlier. She wrote a beautiful article, based on the interaction of these two achievers, my mother being an eminent educationist and administrator. She was Principal of Government College, Amritsar, where Dr Bedi studied and in 1976, she became the first woman Vice-Chancellor in North-India, one of the three in the world at that time.
Aradhika is a remarkable person who has had an interesting career. She has been a teacher of English, a School Coordinator, a free-lance writer of note, a book reviewer and is now a published author.
She is also someone who devotes considerable time and energy to causes dear to her heart, including helping the Blood Bank and cancer-afflicted children by holding workshops and exhibitions. Over the years, we have taken great pleasure in seeing Aradhika's growth.
Now, Sunita Williams is the great achiever that everyone is talking about these days, and Aradhika and our friend Capt. S. Seshadri have written her biography: Astronaut Sunita Williams: Achiever Extraordinaire.
The book made its mark in various ways. It was published, by Rupa and Co, New Delhi, within days of the Space Shuttle Atlantis landing and Sunita returning home safely. The biography has been reviewed widely all over the country and the first print run, said to be over 10,000 copies, was sold out within days of it being released in the market. A rocket-assisted catapult has put these two first-time authors firmly on the bestseller lists in India.
Since Aradhika has written about this great achiever in space, she particularly wanted to present a copy of her book to Dr Bedi. What a wonderful, comfortable conversation flowed as the two had tea together, even as I interjected from time to time. Both these ladies have been very generous in acknowledging my (meagre) contribution in their books rather prominently, for which I am grateful, through somewhat embarrassed. Another highlight of the evening was meeting the young Neetu Bhatia, Dr Bedi's goddaughter who has left a high-profile career as a New York-based investment banker to come to India and launch a new website called
www.kyazoonga.com It is going to be an aggregator site that allows users to buy tickets from a variety of multiplexes.
Achievers all. My kismet has been to be among them, without being one, and you know what, I revel in it.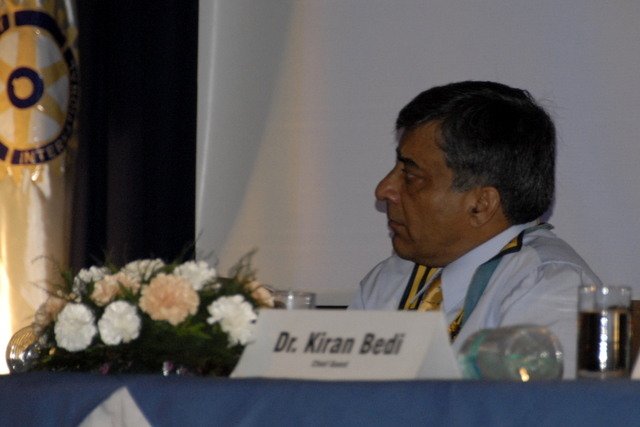 Later that evening we were celebrating the installation, as president of Rotary Club of Chandigarh, Arvind Mehan, a dear friend with a heart of gold. Arvind is an engineer-turned-industrialist. He went to the US in 1974 and after completing his masters in engineering at the University of Minnesota, Minneapolis, USA, he worked in the US, memorable with Amdahl Computers and Intel. Arvind came back to Chandigarh in 1987 to attend to family matters and business. He is humble to a fault, and thus it is necessary to introduce him in this manner.
He has a great vision for the Rotary Club of Chandigarh — his Gift of Light programme, through which he wants to help to restore vision to the needy. Arvind has been a part of my life for years and I know that he will sincerely work towards his objective in his usual low-key manner.
It was only fitting that Dr Kiran Bedi was the Chief Guest on his installation, since Arvind wanted only her to come. She was very busy, but managed to squeeze out the time.
Dr Bedi appreciated the objectives of Arvind Mehan's programme. She also suggested that once a year the seven Rotary clubs in Chandigarh should poll in their resources and together to a programme, and idea that Raja Saboo, past president of Rotary International, said he would be glad to take forward.
What a day it was, celebrations and positive visions of the future, empowered by interaction with achievers.