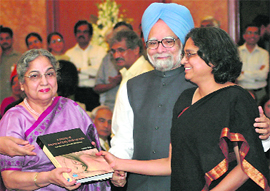 A new book,A History of Ancient and Early Medieval India: From the Stone Age to the 12th Century, was released on August 5, 2008, at the Taj Hotel in Delhi, and it was my proud privilege to be there for the occasion.
Jaspreet and I had been invited by the author, Upinder Singh, and we drove down from Chandigarh to be a part of the celebration of a wonderful volume that is the product of much hard work and solid research.
The warmth that we received from the hosts and our Stephanian friends will be with us for a long, long time. Upinder spoke from the heart and the passionate teacher in her was very evident, as was her command of the subject.
Well-known photographer, Aditya Arya, who studied with me in college and whose photographs have definitely enhanced the volume, also made relevant points about the importance of archival photography, the need to give museum photographers their due, as well the paucity of good museum catalogues in our country.
Upinder was a year senior to me in college and her husband, Vijay Tankha, was my guru, mentor, guide, friend— who taught me much more than Philosophy. Strong bonds were forged in St Stephen's College three decades ago. Earlier in the day, we met other Stephanian friends, Madhu, Shubra and Abhimanyu, Ritu Grover Seghal and Sangeeta Pant Mishra as well as our old dear friend, Belu Maheshwari.

I was lucky enough to receive a pre-release copy of the book and it is a handsome volume that sees history not as one of kings and wars. It takes a much wider look and pleasantly involves the reader in the love graffiti by an artist called Devadinna for a devadasi called Sutanuka in the Jogimara cave of Chhattisgarh, and other subtexts that enliven this picture of history. This book is profusely illustrated and right now I can't say much about it because my mother, Sardarni Inderjit Kaur, has appropriated it and is reading the 700-page volume that has been published by Pearson Longman.

The proud father Dr Manmohan Singh and mother Gursharan Kaur, were in the audience as their eldest daughter took centre stage. It was an audience selected more for the relationship they had with the author than anything else.
The legends who had taught us were there among us— Amin Sahib, resplendent in his achkan, Dwivedi Sahib, and Dr. D.E.V. Baker, who still makes the college his home. Old friends like Nitya Ramakrishnan, Ritu Grover Seghal, and Sanjoy Roy kept the Philosophy flag high. Sanjoy's Teamwork Productions had produced playcards that very artistically displayed Aditya Arya's photographs that have illuminated the book.
Of course, there were many Stephanians, and many students of this teacher who has spend her adult years living and teaching in the vicinity of he Delhi School of Economics, where her father once taught.