On a Stormy Course: In the Hot Seat at St. Stephen's
Hachette. Pages 300. Rs 599
By Valson Thampu.
Review by Roopinder Singh
A sense of balance is required when reviewing a book, or any serious endeavour that a person undertakes. A convenient way of ensuring impartiality is to avoid any personal interest in the matter at hand.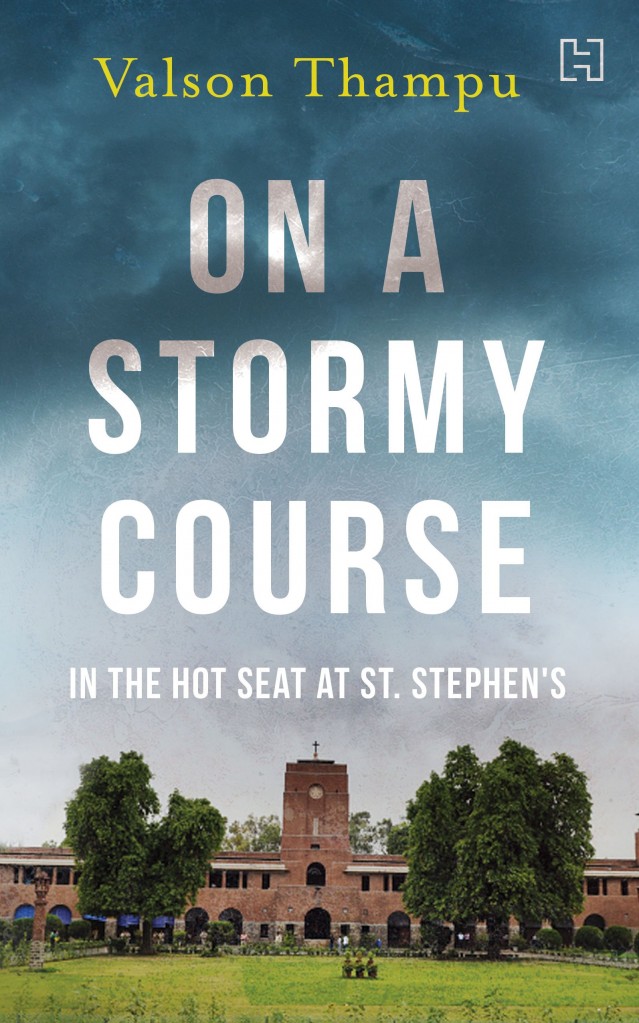 I dare say that this isn't possible in this case since most of the readers of Rev Valson Thampu's book on his tenure as Principal of St Stephen's College, Delhi, would be Stephanians, like me. Many would have been intrigued enough by the headlines that punctuated his stewardship of the college. Yet, there is a certain distance when your stint as a student was a few decades before 2007 when Thampu took over as Principal.
A log of the controversial storms that St Stephen's rode through with Thampu as the captain, the book bares details about the life of the author before and after his tenure at the college.
Touching is the story of how Thampu's father, a Hindu zealot and government servant married to a Christian, reduced his family to penury by attacking the Chief Minister of the Madras state. The family suffered thereafter, and it was the kindness of some Christian relatives that the family stayed afloat and the children received education. However, after his mother passed away, Thampu writes: "At 16, I became a father and mother to three siblings."
Thampu studied in Kerala. He fills out relevant details of his life with a light brush. Through these, we learn how he joined St Stephen's College in 1973 as an English lecturer, and in 1982, became the chaplain. Barely three months later, on instructions of the then Principal W S Rajpal, he joined Bishop's College, Calcutta, for theological studies. However, we see that he had a troubled history with the authorities, including officials of the church. And that contributed to his leaving the organisation on a bitter note but only to be invited to head the college he had left. Thampu became the 12th Principal of the college. And then, with an evangelical zeal, the Reverend gives an account of the nine years of tumult and his travails at the hands of church officials, teachers and the media.
Every Stephanian, who opened the newspaper those days, is aware of the various controversies that arose during his tenure. Admission policy; encroachment on academic freedom, chalks not markers, no markers; Cricketer Unmukt Chand's attendance issues, questions regarding the validity of his PhD degree, Delhi University Teachers Association (DUTA) protests — all these hit headlines, and none brought any credit to the college, still widely regarded as the best in the country.
Every story has two sides. On some issues, Thampu wrote in newspapers, but here we have it all in a detailed chronological order, complete with annotated footnotes, illustrated liberally with quotes from various intellectuals.
When it comes to the basic character of the college and its mission, it is true that the college started in 1881 with evangelism as the primary goal of its founders. However, it nurtured freedom fighters, including Amir Chand and Avadh Bihari, who were hanged by the British for their role in the Delhi Conspiracy Case. During this trial, Amir Chand was supported by CF Andrews, Cannon Allnutt and SK Rudra. It is also true that the college became a bastion of liberalism.
Like many other colleges that were started with religious motives, like Khalsa Colleges and DAV institutions, many educational establishments evolved according to the changed requirements of the society. It is certainly true that St Stephen's College has an elitist image but by no means was it simply playground of the elite. It was a place where students received education that enabled them to give a good account of themselves in their adult lives. Many became civil servants, some became journalists; others pursued their passion, or found vocations most suitable to their situations, much as they would have done in any other institution.
As one turns the leaves of the book, there is a feeling that the author has tried too hard to justify steering a course that took him into so many storms. Naturally, those who rode the vessel in those stormy days also suffered as waves of controversies, not of their own creation, rocked the ship that was to be their nurturing Arc. Should not the great helmsman have set a course that avoided the storms even as it took longer to arrive at the destination?
In the coming days, many a conversation will revolve around such queries as the book, its author and his actions are debated, but then, now that we do have his version too, the tone has been set for further discourse.
This review was published in the Spectrum magazine of The Tribune on December 3, 2017