Adrift: A Junket Junkie in Europe
By Puneetinder Kaur Sidhu.
Leadstart.
Pages 106. Rs 150.
Reviewed by Roopinder Singh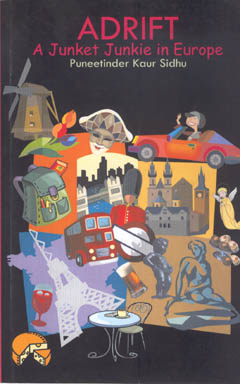 SOMETIMES you can judge a book by its cover. The light-hearted graphic impressions of various important European landmarks, including items of food and drinks, standing out against a dark background-well, the story is like that only. 'Life gone temporarily wrong' becomes a backdrop. To escape it, the author wings her way to the Continent, making sure that the capital of romance, that certain Paris, is last on her itinerary.
As we all know, having friends and relatives at the right places helps, and Puneet, who traces her decent to the Arnauli family, certainly has them. Her sister gets her a ticket, the Captain of the plane puts her in Executive Cabin and so begins a journey that takes the reader to a tour-of people and their relationships; places, often taking the road less travelled by; and food, glorious food. The author's wry wit is infectious, and she spares none, especially not herself.
Her thin wad of foreign currency has made sure that she will have to stay with people she knows, rather than hotels. Trading expertise for hospitality, she cooks Indian foods for her hosts, even though she herself likes to check out the local stuff and all kinds of beverages for which Europe is justly famous.
The account of a 'Goa' recreated in Germany, where "a certain suspicious odour, evocative of evenings in and around Manali, pervaded the air," has a wistfulness about it, which finds fulfilment during a visit to Amsterdam and legally-purchased, bartender-rolled joint.
'Mitfahzentrale', a government-encouraged car pool service for travellers, literally gives wheels to her attempts to see more and takes her to Sweden, Denmark, the Netherlands, Hungry, Austria and France. Each has adventures, succinctly told, and we join the author in exploring the paintings of Vincent Van Gogh, and share her agony in not being able understand them, in spite of a prior thorough reading of Irving Stone's Lust for Life, a 1934 biographical novel on the artist.
We have a lump in our throat as she visits Anne Frank's home and later, pays pilgrimage to the concentration camp at Dachu, the ground zero of Nazi horrors, and shares her voyeuristic streak as she traipses through not one, but two red-light areas. For a self-confessed control junkie, this junket in Europe would have been an experience of being set free, from all that bound her back home.
Even though it masquerades as an easy-read, it is a layered work and quite unpretentious. This tightly written book is rich in characters that pop in and out of the journey-Anne Aunty, Moni, Kristen, Zina, Joszef, Eszter, Sanjay, Gunjan, Kaushik, Georges. It is an interesting work, written by someone who has a good turn of phrase, and a dash of self-depreciatory humour.
Now, if only the author had not bound herself to those "cardinal travel rules" (you will have to read the book to find out which), there would have been another story! In any case, you will be happy to curl up and become a part of this journey of a plucky single woman who dared to travel alone and came back with these stories.
The review was published in The Tribune on May 2, 2010