Books, conventional as well as electronic, took us to worlds beyond our individual immediate. Readers took to memoirs as well as fiction, even as they sought perspectives, both Indian and Western, to understand life and people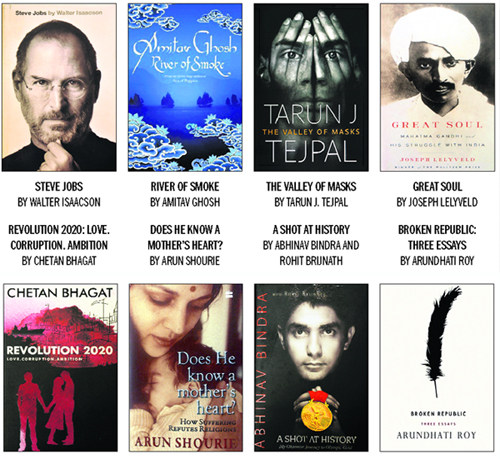 THE story of the man who contributed the most towards moving us from words printed on paper to those on electronic screens became a runaway bestseller of 2011. Steve Jobs gave us the devices that changed our reading habits, and here he was, being celebrated not only in his preferred media, but also in the conventional pulp book format. Reports of the 'death of the book' have been greatly exaggerated. Readership expanded, and both traditional publishers and e-book publishers gained.
Internationally, authors too gained, since they were now being courted by both kinds of publishers. Of course, those who wrote really good books, like the Delhi-born Siddhartha Mukherjee, added new feathers to their cap. This doctor-author got fresh recognition for his last year's much-acclaimed book, The Emperor of All Maladies: A Biography of Cancer. While on his side of the pond, he won the prestigious 2011 Pulitzer Prize in the general non-fiction category, on the other side; he also bagged the Guardian First Book Award just before the year ended.
The writer of tomes Arun Shourie's Does He Know a Mother's Heart? touched the heart of everyone who read the story of his family's battle with disabilities. We had yet another book, and another controversy, on Mahatma Gandhi, with Joseph Lelyveld's Great Soul: Mahatma Gandhi and his Struggle with India.
Arundhati Roy, the great cerebral controversy queen, published a book without writing one, and thus we had Broken Republic: Three Essays. Talking of writers who published books without writing them, the king of the bestseller charts continued his winning streak with Khushwant Singh on Women, Sex, Love and Lust, which was compiled and edited by Ashok Chopra, as was Agnostic Khushwant: There is No God! which came out near the end of the year.
The man who has changed what the word 'bestseller' means for Indian publishing, Chetan Bhagat, built on his reputation by selling lakhs of books within days of releasing Revolution 2020: Love. Corruption. Ambition. Often books that critics love don't make that much of an impact on bestseller lists. Among the top-10 list we consistently have two other Bhagat titles — 2 States: The Story of My Marriage and The Three Mistakes of My Life. Talking of numbers, we now have Nielsen BookScan which is gathering data from book stores and publishers nationwide.
We seek new understanding of the new world order and this has brought new books like Indian Mujahideen: The Enemy Within by Shishir Gupta and The Good Muslim by Tahmima Anam.
On the fiction front, Amitav Ghosh won much acclaim with his detailed and multi-layered work River of Smoke, Aravind Adiga gave us Last Man in Tower, Aatish Taseer Noon, and Tarun J. Tejpal The Valley of Masks.
Memoirs formed a significant part of our reading appetite, be they those of the veteran journalist S. Nihal Singh who wrote Ink in my Veins, or No Higher Honour by the former US Secretary of State Condoleeza Rice. Chandigarh's own Abhinav Bindra teamed up with sports writer Rohit Brijnath and gave an interesting account in A Shot at History: My Obsessive Journey to Olympic Gold.'Business tycoons gave their accounts of their lives, be it Vinay Bharat Ram whose From the Brink of Bankruptcy: The DCM Story made it to the bestseller list, or real estate magnates Ansals and DLF.
Yes, while international publishers sold many books to Indian readers, including some through various kinds of electronic devices and e-book readers, it was the traditional book that ruled the roost, and largely Indian authors found resonance among avid readers.
This article by Roopinder Singh was published in a special yearend issue of The Tribune titled 2011: The Year of Uprisings