India for a Billion Reasons
Ed. Amit Dasgupta.
Wisdom Tree.
Pages 222. Rs 3,495.
BRILLIANT colours and images attract you the moment you look at the book. Then you flip through it, and find more, and more, reflecting the many facets of Indian life, rituals, traditions, modernity, democratic processes, including elections, people and their festivals-all find representation in this volume.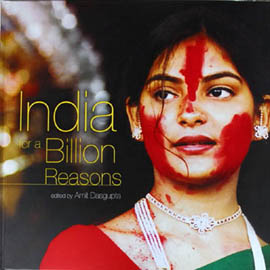 No, it is not yet another coffee table book on India. What helps India for a Billion Reasons carve out its own identity is a substantial body of text. The editor has wisely allowed many expert voices to reflect on slices of the Indian experience, yet the introduction by this diplomat writer, whose book Indian by Choice had been reviewed in these columns two years ago, serves its purpose by explaining the format of the book, and introducing the essays that together make the book. While many of them are young minds, some are young at heart, together they lure us to add substance to the attractive colour pages and draw us to the text.
Any picture book on India has to negotiate cliches, so does this, often quite successfully? Atri Bhattacharya contends that the "downside of the Indian experience is that it leaves us a little jaded for the rest of the world". Anita Ratnam is seeped in the dance tradition, and it shows in her article. Anjum Katyal tackles the difficult subject of art from India, while Ritu Sethi writes on the unbroken tradition of the living crafts.
Powerful, colourful and beautiful pictures have their own story to tell, and the editor and publishers are to be commended for putting forth a fine, pertinent selection. Captions are generally informative, although those from pictures sourced from foreign agencies have captions that address foreign audiences, like the one that starts, "Indian heart-throb Shah Rukh Khan."
Meenakshi Shedde's take on Bollywood is personal and interesting. Pratik Kanjilal's overview of contemporary Indian literature, incisive, with due emphasis on literature in the 50 languages that are written in India. The editor is the author of the article on food, enriched by both recipes and colourful pictures. Harpal Singh Bedi looks at Indian sports.
The black and white photograph of Milkha Singh winning the 400m race in Paris is lovely, and there is one of his son, Jeev, too. Rohan Mukherjee writes about Indian polity, Bibek Debroy on economics, Tarun Basu on the media, and L. K. Sharma explores the ascent to modernity.'The book has a rich fare for readers.
Quotes by people about what India means to them, illustrated with cartoon from Sudhir Talang are a good read. Visually, the book is rich, has diverse sources and some really stunning pictures. It will be widely gifted and displayed, and those who read it would gain a lot more than those who just flip through it.
This review of the book by  Roopinder Singh was published in the Spectrum magazine section of The Tribune on September 19, 2010,