THE MAKING OF THE REVOLUTIONARY
Roopinder Singh
Committed communicator, perceptive, passionate, admirable…any young person would be flattered to be the subject of any one of these adjectives. What would happen if all of them, and many more, were used for the same person? Well, he would be a legend-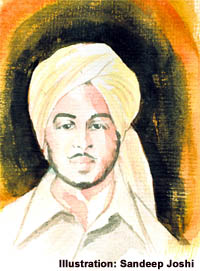 Shaheed. The legacy of the man is such that his name sounds incomplete without this prefix. Bhagat Singh, the freedom fighter, has been immortalised as martyr, so much so that we often forget to acknowledge the person who accomplished the feats that helped change the course of Indian history.
Was it his sacrifice alone that made Bhagat Singh great? No, not at all! There is much more to this man who did not get to celebrate his 24th birthday, but has left a robust and inspiring legacy recognised even 80 years after he was martyred, so much so that numerous political groups want to appropriate his legacy, in order to gain from association with his name.
To understand Bhagat Singh is a difficult task. Though he did not live for long, as we journey through his life, we realise that it was action-packed-events around him shaped Bhagat Singh's mind. Eventually, he was to have a tremendous effect on shaping history.
The Punjab, during the days of Bhagat Singh's childhood, was in turmoil. He was only 12-year-old when, on April 13, 1919, Brigadier-General Reginald Dyer ordered his soldiers to open fire at the Jallianwala Bagh, Amritsar, on an unarmed gathering of men, women and children. The firing lasted about 10 minutes and 1,600 rounds were fired. Official sources placed the casualties at 379, others said the number was over 1,000, with more than 2,000 wounded. It is one of the most horrific events of Indian history.
Although he initially studied at District Board Primary School in Banga, Layalpur district, which is now in Pakistan, Bhagat Singh was studying at DAV High School, Lahore, by this time. It was regarded by the British as a "nursery of seditious activities". Bhagat Singh was precocious, but not studious. He read a wide range of books, and was fluent in Urdu, and he used this language to write his first letter to his grandfather, Arjan Singh.
He was 14 when, on February 20, 1921, at Nankana Sahib, the birthplace of Guru Nanak, there was an incident that left a deep impact on him. Narain Das, who was the custodian of Nankana Sahib, and his men, fired on Akali protesters who wanted the management of this important historic gurdwara to be given over to the Shiromani Gurdwara Prabhandak Committee, which had been formed for this express purpose. Their leader, Bhai Lachhman Singh, and many others were killed. The firing was widely condemned, and an agitation was launched till the control of this historic gurdwara was restored to the Sikhs. Bhagat Singh served langar (food) to volunteers who passed through his village on their way to Nankana Sahib.
When he was 16, there came the Jaito Morcha of 1923, which was an Akali agitation for the restoration of Maharaja Ripudaman Singh of the Sikh princely state of Nabha to his throne. The Maharaja had strong nationalistic sympathies and had overtly supported the Guru-ka-Bagh Morcha and donned a black turban as a mark of protest against the massacre at Nankana Sahib. The protest against the removal of the Maharaja was eventually quelled by the British colonial authorities. Among the protesters at this morcha was Jawaharlal Nehru.
It was in this backdrop of unrest and the harsh coercive power of the state, which was being used to quell legitimate protests, that Bhagat Singh the martyr was shaped. Often the youth are accused of being rudderless, but what is forgotten is that sometimes young people have a clear vision of what they see as their role in future, and single-mindedly work on it.
By the time he was 16, Bhagat Singh had made conscious choices about what he had to do with his life-he dedicated it to the cause of securing freedom for India. In doing so, he did not follow the constitutional approach of B.G. Gokhale and his supporters. Mahatma Gandhi's non-cooperation movement did not hold his interest for long. For Bhagat Singh, his course lay in following a revolutionary course, even if it meant taking a route of violence in facing the might of the British Raj.
National College, Lahore, which Bhagat Singh joined in 1923, was affiliated to the Punjab Quami Vidya Pith and was founded and managed by Lala Lajpat Rai and Bhai Parmanand. The college was set up as an alternative to the institutions run by the government, bringing to the field of education the idea of swadeshi. The philosophy behind the establishment of such a college was to produce 'self reliant, aggressive (in order to be progressive) men and women that new India wants'.
In college, Bhagat Singh made a positive impression, academically. He was also a member of the college dramatics society. One of the very few pictures available of Bhagat Singh is a portrait of the members of dramatics club taken at National College Lahore in 1921-22. The picture features Bhagat sporting a turban. By this time, he was fluent in Urdu, Hindi, Gurmukhi, English, and Sanskrit.
In the article, Why I am an Atheist, Bhagat Singh writes about his days in college: "Though a favourite with some professors and disliked by certain others, I was never an industrious or studious boy. I could not get any chance of indulging in such feelings as vanity. I was rather a boy with a shy nature, who had certain pessimistic dispositions about (my) future career."
Bhagat Singh won an essay competition organised by the Punjab Hindi Sahitya Sammelan in 1923. His essay, Punjab's Language and Script, quotes Punjabi literature and discusses the problems of Punjab.
He joined the Hindustan Socialist Republican Association, and a year later, upon being pressurised by his family, which wanted him to get married, Bhagat Singh left his house in Lahore and went to Kanpur. In a note left behind for his father, Bhagat Singh said: "My life has been dedicated to the noblest cause, that of the freedom of the country. Therefore, there is no rest or worldly desire that can lure me now…."
Bhagat Singh was arrested in 1927 on charges of association with the Kakori Train Robbery Case and accused for an article written under the pseudonym Vidrohi (Rebel). He was also accused of being responsible for a bomb explosion at Lahore during the Dussehra fair. He was let off for good behaviour against a heavy security of Rs 60,000.
In September 1928, a meeting of various revolutionaries from across India was called in Delhi under the banner of the Kirti Kissan Party. Bhagat Singh was the secretary of the meet. His later revolutionary activities were carried out as a leader of this association.
Ajoy Ghosh, a compatriot who had not been impressed by Bhagat Singh's demeanour the first time he met him, saw a changed person: "One day in 1928 I was surprised when a young man walked into my room, and greeted me. It was Bhagat Singh, but not the Bhagat Singh that I had met… before. Tall and magnificently proportioned, with a keen, intelligent face and gleaming eyes, he looked a different man altogether. And as he talked I realised that he had grown not merely in years…. All those who met Bhagat Singh then and afterwards have testified to his remarkable intelligence and to the powerful impression he made when talking. Not that he was a brilliant speaker. But he spoke with such force, passion and earnestness that one could not help being impressed. We talked the whole night and as we went out for a stroll… it seemed to me that a new era was dawning for our party. We knew what we wanted and we knew how to reach our goal".
Bhagat Singh and his compatriots killed a British police officer to avenge the death of Lala Lajpat Rai who succumbed to his injuries following a brutal beating by the police. Later, Bhagat Singh and Batukeshwar Dutt, another revolutionary, threw a bomb in the Central Assembly to protest against the Defence of India Act which gave more power to the police. The Act was defeated in the council by one vote. However, it was passed under the ordinance that claimed that it was in the best interest of the public. Later, they were arrested. Bhagat Singh used all his court appearances not to press for his acquittal or freedom, but to espouse the cause of the freedom of the nation, till the very last, and, in fact, even beyond that.
Shaheed Bhagat Singh became an even more potent rallying point against the Raj than Bhagat Singh alive. The slogan Inqulab Zindabad that he has rallied under, as he lived the life of a revolutionary, was now substituted by another one-Bhagat Singh Zindabad.
Shaheed Bhagat Singh became too much of an icon-everyone wanted to adopt him. In the course of the decades that followed, the young man was appropriated by political groups that claimed him as their own. The Congress, which had been lukewarm to the revolutionary, now said that he was its own, as did the Left, with far more justification. Even the Bharatya Janata Party, at one point, "discovered" Bhagat Singh. Today, the same game is afoot in Punjab.
We should be grateful that Bhagat Singh wrote a fair deal and through his articles and diaries, we get glimpses of the mind of the man. The picture that emerges is of a person with an intellect and expression far beyond his years. He was well-read, and a number of his letters from the Lahore Jail refer to books or request his friends to send him book and other reading material. On March 23, 1931, Bhagat Singh, Rajguru and Sukhdev were hanged in Lahore.
He was a nationalist, a hero and a youth who became an icon. Even as political parties seek mileage by associating with his name, one cannot but help feeling that Bhagat Singh would have taken to task the pretenders who are not, by any stretch of imagination, as committed to ideals as he was.
A shorter version of this article was printed in as Last Word in The Tribune on March 23, 2011.