Sarbjit Dhaliwal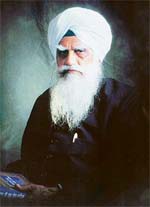 Chandigarh, September 24, 2006
 


Way back in the 1960s, when late Balraj Sahni, a famed film actor, came to Punjab from Bollywood, renowned Punjabi novelist Jaswant Singh Kanwal and poet Prof Mohan Singh handed over to him a Punjabi book, which became a cherished gift for him.
After reading the book, Sahni invited the author of the book to stay with him in Mumbai. While inviting the author Sahni wrote, "This book will transform Punjab. You have done wonders! It has satiated me."
The writer to receive invitation was Giani Gurdit Singh. And the book was Mera Pind, a recognised classic work in Punjabi literature. Published in 1961, it is now in its seventh edition. "I stayed with Sahni for a month," said Giani Gurdit Singh, who suffered an heart attack last week, recalling the days he spent amid film stars.
Even international bodies like Unesco recognised the worth of the book and awarded the author in 1967. But unfortunately, neither the Punjab Government nor its Languages Department has given any recognition to Giani Gurdit Singh and his works till date. The Sahit Akademi has also not bestowed any honour on him.
Sahni, himself a man of letters, was not the only eminent person to hail Mera Pind. About the book, late Dr M.S. Randhawa had written: Mera Pind is a unique, unparalleled work. Late Amrita Pritam had commented, "With his pen, Gurdit Singh has picked twigs of the lifestyle and culture of Punjab to create a literary nest through which we hear the call of the bird that is Punjab."
Prof Pritam Singh had observed, "This is not just a book, it is a village Veda or a jat Purana." The book is now part of syllabus at the school, college and university level and many scholars have done doctorate on it.
Asked about the birth of the book, Giani Gurdit Singh told The Tribune, "First I wrote an article in my daily newspaper Parkash under the title Mera Pind. Literary circles lapped up that article immediately. Prof Pritam Singh and others asked me to write further on the subject. My style of writing Punjabi prose made me popular. It was my unique style that was immensely liked by literary circles", he said.
"In 1956, I became a member of the Punjab Legislative Council. As a member I invited late Partap Singh Kairon to lay the foundation stone of the government school in my Mithewal village in Sangrur. We had both travelled from Chandigarh to the village. By chance that day I was carrying the rough draft of the Mera Pind. Kairon took the draft from and started reading it on the way. After going through its first chapter, he was elated. He motivated me to get the book published at the earliest and to write more on rural life," recalled Giani Gurdit Singh.
Mera Pind, a vivid picture of village life in prose, has been often compared with great classic Mera Dagistan authored by late Rasool Hamjatove.
Giani Gurdit Singh is not only a prose writer. His research work on Guru Granth Sahib, other Sikh religious scriptures and religious literature has been recognised worldwide by the Sikh community. He is about to complete a book on "Purtan Birs" of Guru Granth Sahib. While honouring him in 1991, the SGPC had given him honorific of Gurmat Acharya.
The heart ailment has not dampened his passion to write. "I daily spend a few hours to finish my book on 'Purtan Birs'. And then I give final touches to three more books on the rural life, which are in a way extension of Mera Pind. The title of the books will be: Pind Da Ik Din, Mere Pind De Lok and Pind de Atamkatha.
The Tribune, Monday, September 25, 2006, Chandigarh, India
You can read more about Giani Gurdit Singh